Last week, T-Mobile began offering a plan with unlimited minutes, unlimited texts, and 2GB of data for only $15 per month. A few days later, AT&T responded by offering its own $15 per month plan with unlimited minutes, unlimited texts, and 2GB of data.
Plan terms
I dug around to learn about the plan's policies. Here are my impressions at the moment:
New subscribers need an AT&T prepaid SIM (costs $4.99).
Mobile hotspot and tethering are permitted.
Unused data rolls over for one month.1
Taxes and fees are not included in the $15 base price.
Unlimited international texting to over 100 countries is included.
Streaming video traffic will be throttled by default, but subscribers can turn the throttle off.
The plan is not eligible for AT&T's discounts for paperless billing or automatic payments.
Data has a soft cap—once 2GB of regular data has been used, additional data can be used at significantly reduced speeds.
Limited time offer
AT&T has repeatedly described its new $15 plan as a promotion and a limited time offer. I don't know when the plan will cease to be available.2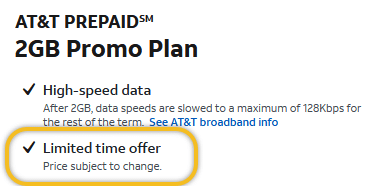 T-Mobile Connect vs. AT&T's plan
AT&T's $15 plan has a handful of substantial advantages over the $15 T-Mobile Connect plan:
AT&T has better nationwide coverage.
SIM cards are cheaper from AT&T ($5 vs. $10).
Only AT&T offers data rollover.
AT&T has a soft cap on data, while T-Mobile Connect has a hard cap.
However, it's not clear how long AT&T's plan will be around. People who take advantage of AT&T's offer today won't necessarily get the same great deal each month for the foreseeable future. On the other hand, it looks like the T-Mobile Connect plans will continue to be available to new and existing subscribers for years.
Update: The $15 plan from AT&T is no longer available.