Even cellular industry insiders can't order phones and service without trouble. Prakash Sangam, an industry analyst, shared this tweet last month:
Dealt with @Verizon twice in last 2weeks. Both were utter disasters. Don't know whether its just me or that's how they work! Two >$1k orders and new lines, both badly botched. I could salvage one after hours on multiple calls, but not the other. @VerizonSup @VZWSupport

— Prakash Sangam practicing #socialdistancing (@MyTechMusings) July 6, 2020
I've been thinking about the tweet a lot. In the last few months, I've opened accounts with all three of the major networks. Two of my ordering experiences were quite bad.
I'll run through my experiences with each network. Go ahead and skip to the second half of the post if reading about my experiences doesn't sound interesting.
Order 1: T-Mobile
I ordered a new line of service and an iPhone SE from T-Mobile. Everything went as expected. T-Mobile was the clear winner in terms of the customer experience.
Order 2: AT&T
I tried to order service from AT&T's website while making use of AT&T's bring-your-own-device (BYOD) program. AT&T was running an online-only promotion for BYOD lines that involved a waived activation fee and a $250 visa gift card for new subscribers.
A canceled order
A day after placing my order, I got an email from AT&T explaining that the company canceled my order. Here's an excerpt:
We couldn't verify this order [redacted] really came from you. For your security, we canceled it. Don't worry. If there was a hold on your card, we'll release the funds. Let us help you reorder your item(s). Visit an AT&T store. Be sure to bring your identification.
I have no idea why AT&T outright canceled the order. It would have been more convenient if AT&T paused the order until I could verify my identity.
Attempted phone resolution
I called AT&T to see if I could resolve the issue without going into a store. The agent I spoke with encouraged me to restart the order over the phone. I was worried that ordering by phone would make me ineligible for the online-only promotions. The agent told me she could add on the promotions at the end of the ordering process. I was skeptical, but I proceeded.
The reordering process was aggravating. I had to slowly re-share all of the information I had previously sent through AT&T's website. After over an hour on the phone, the line dropped before I finished my order. AT&T didn't call me back.
Going in a store
After two failures, I gave up and went into an AT&T store. I was worried placing an order in a store would make me ineligible for the promotions I wanted to take advantage of.
The AT&T sales representative I met with told me that the store could waive my activation fee and match the $250 visa card promotion with a bill credit of the same size. After sitting at the AT&T store for a bit while the AT&T representative consulted his colleagues, I was informed that the store actually couldn't match the $250 promotion. I decided to cut my losses and pulled the trigger on service anyway.
A long-running problem
AT&T's support forum is full of people frustrated with the same issue. Worse yet, complaints about this problem with promotion eligibility have been showing up for more than two years. In that time, AT&T hasn't done a damn thing to solve the problem.
Order 3: Verizon
Along with a new line of service, I ordered a Galaxy S20 UW and a smartwatch from Verizon. The customer experience sucked.
Trade-in fiasco
When I placed my order, I decided to trade in an iPhone 6. While Verizon typically valued an iPhone 6 trade-in at $12, Verizon was running a promotion where customers who upgraded to the S20 5G UW could get a $350 credit for an iPhone 6. Based on the terms on Verizon's website, it wasn't clear whether I'd be eligible for the promotion as a new customer. Here's a screenshot of the terms: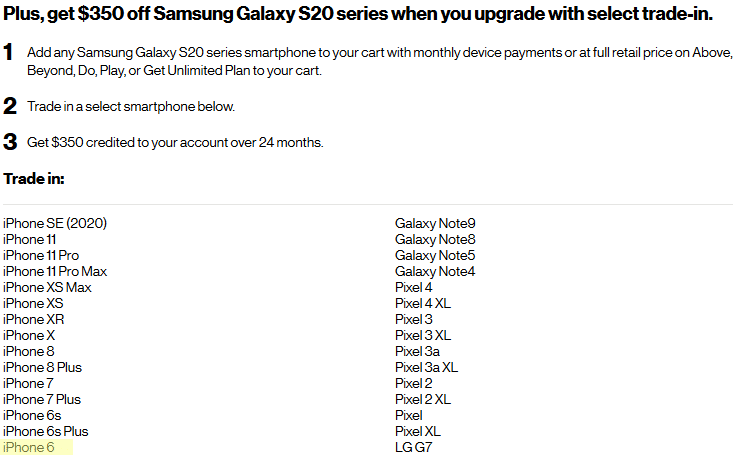 When I checked the value of my iPhone 6 on Verizon's website, I was offered $200 for it. I couldn't quite figure out what was going on. I ultimately assumed I was ineligible for the $350 credit but eligible for some other promotion.
During the checkout process, Verizon's website continued to suggest I'd get a $200 credit. Once the phone was actually inspected, Verizon revised its value down to $12. Here's a screenshot from the email I received: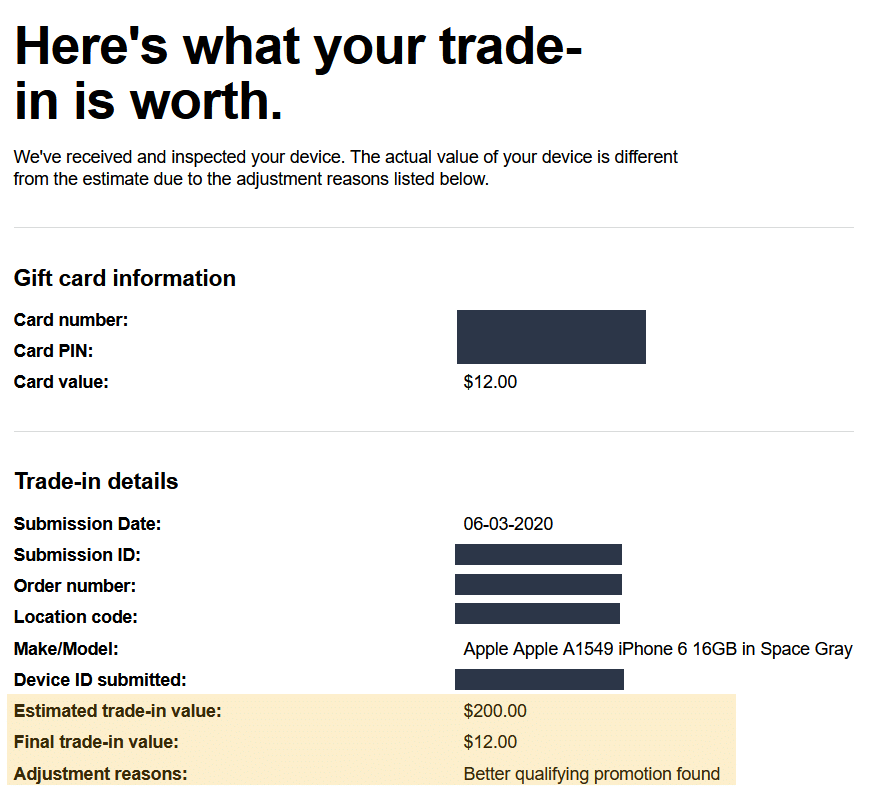 I don't know why Verizon wrote, "Better qualifying promotion found." Looking at my Verizon bills, I don't see any credits that would correspond to either a $200 or a $350 credit.1
Contacting support
I reached out to Verizon's support to figure out what happened with my trade-in. It didn't go well.
The agent I talked to through Verizon's chat-based support initially agreed that something went wrong:

The agent ran into trouble trying to make adjustments: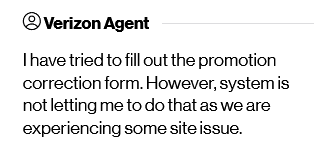 The agent later told me that I wasn't eligible for the bill credit since the promotion started after I submitted my trade-in: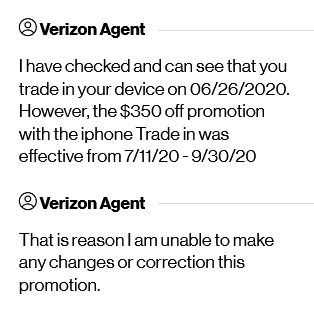 A promotion for a $350 bill credit was running in June. My earlier screenshot was taken at that time. I don't know why the agent suggested otherwise.
Per the advice of the original agent, I switched over to contacting Verizon's trade-in department by phone. After a few unsuccessful hours with Verizon's support, I cut my losses and gave up.
Wrong phone specs
The S20 5G UW I ordered arrived with different specs than Samsung initially advertised. I previously wrote a whole post dedicated to the issue.
---
Why the hell are customers' experiences so bad?
I've described the cell phone industry as a "confusopoly." Scott Adams coined the term and defined a confusopoly as:

A group of companies with similar products who intentionally confuse customers instead of competing on price.
In my recent orders, I came out several hundred dollars behind my expectations. If Verizon and AT&T had user-friendly ordering systems and less confusing policies, that wouldn't have happened. Still, I don't think the confusopoly concept fully explains my bad experiences.
By canceling my online order, AT&T made me ineligible for its gift card promotion. There's a sense in which that saved AT&T a few hundred bucks. On the other hand, I don't think AT&T intentionally screwed me. New customers are worth a lot to AT&T. Each time AT&T cancels an online order, there's a chance that they'll entirely lose a customer. Many people won't bother coming into a store after a canceled order.
I'm left scratching my head. In most industries where new customers are valuable, a lot of effort goes into making customer experiences positive. What's going on in the cellular industry?