Verizon just released the Samsung Galaxy S20 5G UW. While other carriers had already released versions of the S20 5G, Verizon's UW (ultra-wide band) model of the phone is the first version compatible with Verizon's millimeter wave 5G service.
I pre-ordered the phone. The device I received does not have the specs Samsung advertised. Here's an archived Samsung web page with the specs as of June 2. Here's the page as of today, June 9.
No SD Card Slot
Unlike other models of the S20, Verizon's UW model doesn't have an SD card slot. Those who pre-ordered the phone couldn't have figured that out from the information on Samsung's website.
The June 2 specs page shows an SD slot:


Mention of the SD slot is dropped in the newer, corrected version of the page:

The listing for the phone on Verizon's website is getting a lot of one-star reviews from pre-order customers annoyed about the missing SD slot.
Missing network bands
I like it when phones have extensive cross-network compatibility. I was pleasantly surprised when I saw Verizon's S20 5G would be compatible with band 71 (a low-frequency band T-Mobile uses extensively). Here's a screengrab from Samsung's early specs page: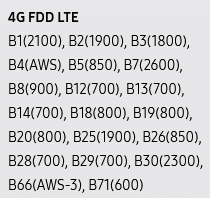 It turns out the phone doesn't support band 71 (or bands 1, 29, and 30). Here's the updated specs page:
Less RAM than other carriers' models
Verizon's version of the S20 5G comes with 8GB of RAM. Samsung listed this correctly on the early specs page. Other carriers' versions of the S20 5G come with 12GB of RAM. For most users, I expect the reduced amount of RAM in Verizon's model won't cause performance issues.