Ting had a phenomenal reputation for its customer support. Given that lackluster support is par for the course in the cellular industry, it's particularly impressive that Ting managed to buck the trend while offering a low-cost service.
Earlier this month, DISH acquired Ting's subscriber base. DISH's customer support has a lousy reputation. I'm worried that a lot of what made Ting special will disappear as subscribers gradually become integrated with DISH.
While I'm sad to see Ting changing, the recent moves were reasonable for Tucows, Ting's parent company. Here's a screenshot I took showing the change in Tucows' share price in the handful of hours after the news about the acquisition of Ting's subscribers went public: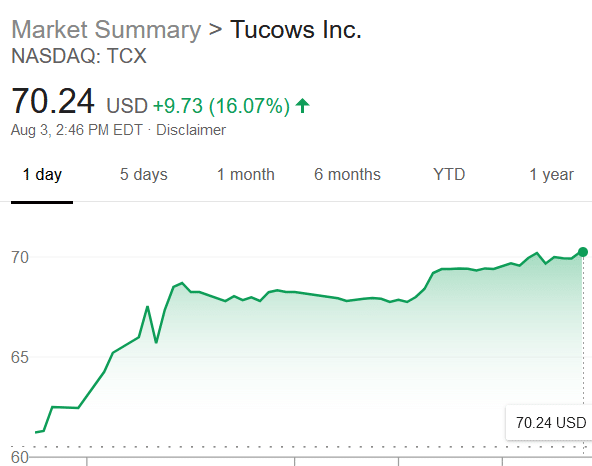 Changes for Ting subscribers
I've found Elliot Noss, Tucows' CEO, and many of Ting's employees to be unusually straight talkers. While understandable, it was a bit disappointing that some of the usual candor was missing in statements and discussions related to the acquisition. Still, light was shed on important factors that could affect Ting subscribers going forward. The excerpts below come from Elliot Noss' Reddit post.
Pricing
For those following, DISH is now becoming a fourth competitor in mobile with T-Mobile taking over Sprint. We are going to help them grow their business and try and make tens of millions of customers as happy and satisfied as you all have been. And for you, soon, DISH will be offering much improved pricing.
I have no reason to doubt that prices will come down. Ting did a great job pushing forward pay-for-what-you-use pricing, but Ting's data charges haven't been competitive with the rest of the market for several years. While I expect data prices will come down, I don't know if DISH will let Ting's customer base stick with pay-for-what-you-use pricing indefinitely.
Customer support
Our customer service people will still be the ones answering your calls, etc. for the first while and before they are not we intend to help DISH be able to provide service that has you just as happy.
In my view, Ting managed to offer far better support than any of the major carriers offer their own, postpaid customers. I seriously doubt DISH's customer support will offer the same quality that Ting's support agents offer.