Red Pocket is a mobile virtual network operator (MVNO) that offers plans on each of the Big Four networks (AT&T, Sprint, T-Mobile, and Verizon). Coverage maps for each network are available on Red Pocket's website.
Red Pocket offers several plans with varying allotments of minutes, texts, and data. In my view, the plans running over AT&T's network and Verizon's network are priced very well relative to the competition.
Summary of my experience
I've tested both Red Pocket's Verizon service and Red Pocket's AT&T service. I ran into issues with the Verizon service and don't recommend it. My experience with the AT&T service was better.
I've found Red Pocket's customer support unimpressive and the company unprofessional. People who don't mind making a few sacrifices may still find Red Pocket a good option thanks to the carrier's excellent prices. If you're looking for a carrier with better customer support, you may want to consider alternatives on my list of recommended phone plans.
---
Visit Red Pocket's Website
---
Networks
Red Pocket offers plans on all of the major networks. Due to Red Pocket's legal agreements, the carrier often can't use its network partners' names. Red Pocket instead has its own name for each networks' service:
GSMA: AT&T's network
CDMA: Verizon's network
GSMT: T-Mobile's network
CDMAS: Sprint's network
Coverage maps for each service are available on Red Pocket's website.
Thanks to a merger between Sprint and T-Mobile, the Sprint network will be decommissioned. While Red Pocket still offers service over the legacy Sprint network, I suggest that new Red Pocket subscribers choose a different network.
Plans and pricing
Red Pocket offers monthly plans at six price points. I run through the plans below, but you can also read about them directly on Red Pocket's plans page.
Low-use plans
At the lowest two price points, plans are identical and available on any of the four networks:
$10 per month – 500 minutes, 500 texts, 500MB data
$15 per month – 1,000 minutes, unlimited texts, 1GB data
Mid-range plans
Plans at the middle price points are only available on AT&T, Verizon, and Sprint's network (no T-Mobile option is available). These plans allow extra data use at sluggish, 128Kbps speeds for customers that run out of regular data.
$20 per month – Unlimited minutes and texts & 3GB data
$30 per month – Unlimited minutes and texts & 8GB data
High-use plans
Red Pocket's second most expensive monthly plan is a bit confusing. Versions of the plan that run over Verizon's network or T-Mobile's network come with 10GB of data. Versions on AT&T's network or Sprint's network include 20GB of data. This plan allows extra data at sluggish speeds for subscribers that use all their regular data.
$40 per month – Unlimited minutes and texts & 10GB-20GB data
Finally, Red Pocket offers an unlimited plan at the highest price point. The unlimited plan is not available over T-Mobile's network. While the plan is labeled "unlimited," be aware that Red Pocket has vague usage restrictions in its terms of service. People who use egregious amounts of data may want to choose unlimited plans offered by other carriers.
$60 per month – Unlimited everything (allegedly)
Verizon service experience
Purchasing service
In April 2019, I ordered a $15 per month plan running over Red Pocket's CDMA (Verizon) service. I paid $0.25 in tax on top of the $15 base price.1 I didn't have to pay any extra for the SIM card or shipping.
Activating service
Several days after ordering, I received my SIM card and some introductory materials from Red Pocket: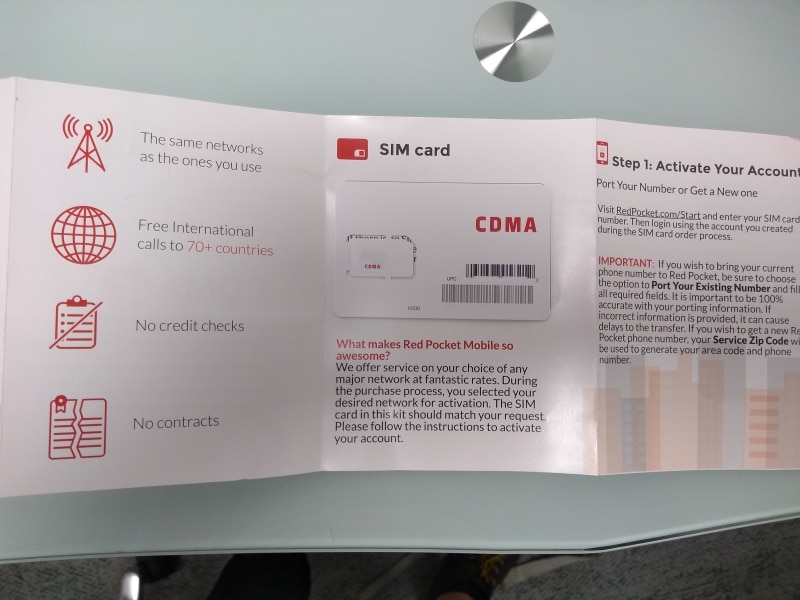 The SIM card came in the standard 3-in-1 style.2 I inserted the SIM card into my Motorola G6 Play and went to RedPocket.com/Start to activate service. On that page, I entered the ICCID that came along with my SIM card. Next, I was prompted to enter my device's IMEI. I was surprised that Red Pocket didn't conspicuously explain how a customer could find his or her IMEI. While that wasn't a problem for me, I could see this step confusing some customers. Instructions for finding an IMEI could be pulled up by clicking "Need help?" on the activation page, then clicking another item labeled: "If you are using a CDMA phone or device." I don't think requiring those two clicks to view instructions was a good design choice. Many people who don't know what an IMEI is will also not know whether they have a CDMA device.
After entering my IMEI, I confirmed some personal information (e.g., my address) and finished the activation. This was when problems started.
Activation problems
After completing the online activation process, I was able to send texts. I didn't have data service yet, so I adjusted my phone's settings in an unsuccessful attempt to make the data service work. Red Pocket's website suggested I place a test call after the online activation, so I eventually did that. When placing a call, I didn't directly connect with the recipient. Instead, I heard some activation-related messages. I was told to press "1" if I wanted my messaging language to be set to English and then told in Spanish to press "2" if I wanted the messaging language set to Spanish. When I pressed "1", I was told I had entered an invalid input. After multiple calls and several attempts at pressing "1", I decided to try and go through the activation in Spanish by pressing "2". I still got the invalid input message.
Calling support
Since I was struggling, I called the customer service line. I connected immediately with a Red Pocket support agent without being put on hold. To get started, I had to share a bit of information to verify my identity. One item I had to share was the last four digits on my SIM card. I thought that was a bit odd and inconvenient.
The Red Pocket agent said it sounded like my phone was not actually unlocked. I insisted that my phone was unlocked. I explained that I'd bought the phone unlocked from a third-party seller and had previously used it on multiple networks with several different carriers. The support agent was not convinced. He confirmed that my service appeared to be activated then tried resetting the service. The reset did not solve my problems. Every few minutes, the agent reiterated that he thought my phone was not unlocked. While I told him multiple times that the phone was not purchased from Verizon or branded with Verizon's logo, the agent repeatedly told me I should call Verizon to confirm the phone was unlocked.
After some time, the conversation became confusing. From my perspective, the agent was telling me that my phone was probably not working because it was locked and that Red Pocket could only guarantee good service on Verizon's network if I initially purchased the device from Verizon (which I hadn't). After about 20 minutes, the agent and I agreed that we should end the call so I could try the SIM card in another device.
Dealing with the activation issue
I switched the SIM card into another device (this device was unlocked & Verizon-branded). I did not immediately have data service, so I went ahead and made a test call. I was promoted with the same information about setting my messaging language. This time, when I pressed "1", everything worked as expected. After completing the call, my service was fully active. I switched the SIM card back into my original phone, a Motorola G6 Play, and everything worked fine.
Reflections
I'm baffled by the "invalid input" issue. The G6 and G6 Play are common phones. I don't think the issue I experienced should have been rare or obscure if it was device-related. I'm also not sure why an additional step was necessary after the online activation process.
My experience with Red Pocket was the most frustrating I've had while activating service with an MVNO. I don't think most Red Pocket subscribers experience the issue I had or the sort of unproductive interactions with customer support that I had. That said, issues may not be uncommon with Red Pocket's Verizon service. Joe Paonessa of BestMVNO.com shares troubles he experienced in part of his review of Red Pocket. Several people who've commented on this review have also encountered problems with Red Pocket's Verizon's service.
Another solution
A discussion I found on HowardForums mentioned a method that might help people who encounter the issue I did. The excerpt below comes from forum user MWink:

You have to DISABLE VoLTE/HD Voice before making that first call, which asks you to select your language. After you have successfully made that first (activation) call you should go back and re-enable VoLTE/HD Voice. I hope this helps.
Using the service
During my trial of Red Pocket, speeds were all over the place. I did not identify any obvious throttling. Here are a few screenshots from unsystematic speed tests:



AT&T service experience
In August 2020, I ordered Red Pocket's $15 plan running over AT&T's network. My experience with the AT&T plan was much better. During the ordering process, I called Red Pocket's customer support and didn't have a great experience getting a question answered, but the call was pretty inconsequential.
Activation of the AT&T plan was straightforward. While I had a few speed tests fail early on, the other tests I ran showed solid speeds. Since speed is location-dependent, I wouldn't take these speed tests results too seriously unless you also happen to live near Boulder, CO: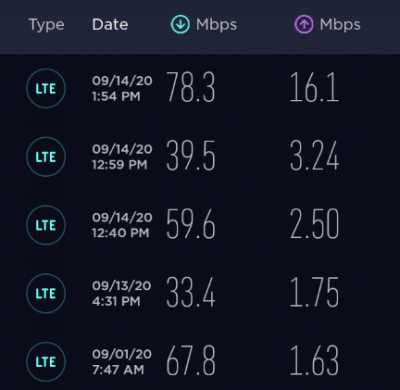 Red Pocket's eBay store deals
Red Pocket has an eBay store. At the moment, Red Pocket sells 360-day service options through its eBay store that are not available for purchase via the Red Pocket website. Below, you can find some of the notable options that were available as of 4/30/2019. Except where noted otherwise, each option was available on any of the Big Four networks and included free shipping. The quantities of texts, minutes, and data indicate monthly allotments.
360 days of service:
$60 – 100 minutes, 100 texts, 500MB of data
$99 – 500 minutes, 500 texts, 500MB of data
$169 – 1000 minutes, unlimited texts, 1GB of data
$205 – unlimited minutes, unlimited texts, 1GB of data
$229 – unlimited minutes, unlimited texts, 2GB of data
$240 – unlimited minutes, unlimited texts, 5GB of LTE data, additional data at reduced speeds (no option for Verizon's network)
$399 – unlimited minutes, unlimited texts, 10GB of LTE data, additional data at reduced speeds (no option for Verizon's network)
---
Visit Red Pocket's Website
---
Footnotes