This review is very brief and not up to my usual standards.
---
Twigby is a mobile virtual network operator (MVNO) that runs over Sprint's network. While the coverage from Sprint's network is lackluster, Twigby offers solid performance in most well-populated areas. Twigby's low prices make the service a good option for those that don't mind limited coverage.
Key details
Service over Sprint's network
Voice & text roaming over Verizon's network
Unlimited texting included on all plans
Flexible plans that can automatically adjust to allow additional usage
---
Visit Twigby's Website
---
Performance
Twigby runs over Sprint's network and will generally offer subscribers performance that is similar to the performance they would experience as Sprint customers.
Coverage
Among the four major wireless networks in the U.S., Twigby's host operator, Sprint, has the worst coverage. Fortunately, worst coverage doesn't mean awful coverage. Sprint's network works well in most moderately populated areas.
Roaming on Verizon's network
Twigby supplements its Sprint coverage with talk and text roaming over Verizon's more extensive network (data access is not available while roaming):1
If a Twigby customer is ever outside of the Nationwide Sprint® Network, the Verizon® voice network can be used for talk and text at no additional charge.
Speeds
In areas where Twigby offers a strong signal, speeds will usually be solid. The screenshot below shows a handful of results from speed tests I ran. That said, speeds are location-dependent. I wouldn't put too much stock in my personal experience unless you also live in Boulder, CO.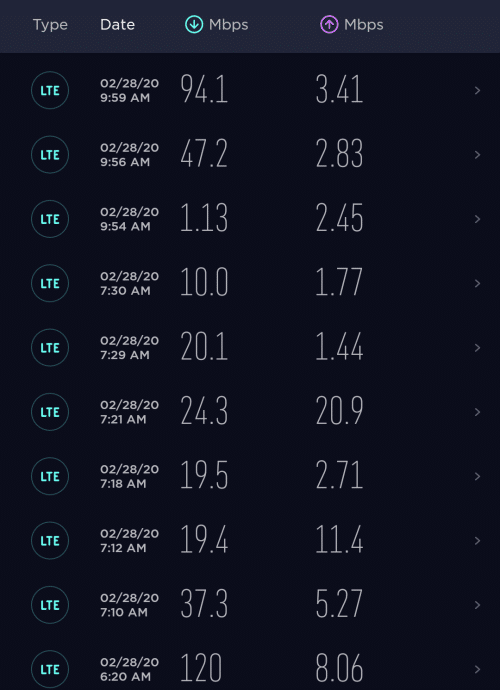 In a few cases, I saw Twigby deliver outstanding download speeds of over 100Mbps:
Plans and pricing
Twigby offers customizable plans, and subscribers can flexibly move between plans if they have an unexpectedly high level of use in a given month:

Simply use what you need. If you move up to the next plan, you're only charged the difference in the next plan price. When each month starts over, you'll restart with your originally chosen plans.
Subscribers' rates are determined based on their usage of data and minutes. Twigby includes unlimited texting with all plans. The prices below are Twigby's monthly rates as of March 2020.2
Minutes:
+$9 – Up to 300
+$11 – Up to 500
+$13 – Unlimited
Data:
+$0 – No data
+$3 – 200MB
+$6 – 1GB
+$10 – 2GB
+$15 – 3GB
+$20 – 5GB
+$30 – 10GB
At the time of writing, Twigby is offering new subscribers 25% off the rates above for the first six months of service.
Customer experience
I found the ordering and activation process pretty easy with Twigby. For subscribers that experience issues, Twigby offers an extensive online FAQ and live chat agents:

Twigby live chat agents are available from 7 am – 9 pm CST Monday through Friday and from 10 am – 6 pm CST Saturday through Sunday.
Twigby does not offer support over the phone. I haven't needed to get support, so I don't have a sense of how helpful Twigby's support agents are. In two tests of the live chat system, I was connected with a support agent without having to wait.
---
Visit Twigby's Website
---
Footnotes
From Twigby's coverage page on 3/16/2020.
From Twigby's Plans page on 3/13/2020.