2022 Update: I haven't kept this review up-to-date. My friend Stetson's Mint Mobile review may be a better resource.
---
Mint Mobile offers service over T-Mobile's network and has some of the best prices in the industry. Mint's four plans all include unlimited minutes and texts. The plans come with different monthly data allotments:
4GB
10GB
15GB
"Unlimited" (really 35GB)
Mint Mobile doesn't have any brick-and-mortar stores and instead operates using an online-only business model.1 Provided your device is compatible, Mint Mobile's plans include both Wi-Fi calling and mobile hotspot use.2
My experience trialing Mint Mobile was so positive that I ended up purchasing an annual plan for my personal use. A whole year of service with unlimited talk, unlimited texting, and a few gigabytes of data each month cost me $192 ($16 per month) after taxes and fees.3
I strongly recommend Mint Mobile if you're looking for good prices and live in an area where T-Mobile's network performs well. You can check coverage quality at your location with Mint's interactive coverage map.
Most phones that aren't locked to another network are compatible with Mint Mobile. You can check a specific device with Mint's compatability tool.
Key details
Extremely good prices
Runs over T-Mobile's network (see coverage map)
Deprioritized data when the network is congested
Unlimited data at low speeds after high-speed data is used up
Included mobile hotspot and tethering
Wi-Fi calling and texting
Easy one-time payments to add extra high-speed data
---
Visit Mint Mobile's website
---
This Mint Mobile review is unusually comprehensive. The review is structured so that users can read straight through or skip to the portions of the review that they're interested in. For a more accessible overview of Mint Mobile, see 9 Things You Should Know Before Subscribing To Mint.

---
Mint Mobile plans and pricing
Mint Mobile's standard plans all include unlimited minutes of talking and unlimited texting. The plans differ in their allotments of high-speed data. Subscribers can select a plan with either 4GB, 10GB, 15GB, or 35GB of high-speed data each month. Mint, somewhat misleadingly, calls its 35GB plan an "unlimited" plan.
On all plans, subscribers that run out of high-speed data can continue to use additional data at sluggish, 128Kbps speeds at no extra charge.
Subscribers have the option to pay for either 3, 6, or 12 months of service upfront. The longer the term of service, the better the price.
Pricing for 12 months upfront:
4GB – $15 per month
10GB – $20 per month
15GB – $25 per month
35GB – $30 per month
Pricing for 6 months upfront:
4GB – $20 per month
10GB – $25 per month
15GB – $35 per month
35GB – $35 per month
Pricing for 3 months upfront:
4GB – $25 per month
10GB – $35 per month
15GB – $45 per month
35GB – $40 per month
The prices mentioned do not include taxes or fees. In my own orders with Mint, taxes and fees added between 5% and 20% to the total cost of my orders.
New subscriber promotion
Mint Mobile allows new subscribers to purchase their first three months of service at the monthly rates that are normally offered on 12 month plans. For example, new users can purchase 3 months of service on the plan with 4GB of data per month for only $45 ($15 per month).
Add-ons
Mint Mobile makes it easy to adjust your data allowance mid-month. After logging into Mint's website, users can select to add 1GB of high-speed data for $10 or 3GB for $20.

Given that Mint both (a) offers additional data beyond your allowance at low speeds and (b) lets you easily add data, it is unusually easy to get by with small-allowance plans from Mint. With other providers, it often makes sense to buy more data than you expect to use in a typical month so you'll be prepared if your data use is abnormally high.1
Performance
Mint Mobile speed
Mint Mobile uses T-Mobile's network. When networks are not congested, Mint Mobile will offer service with essentially the same performance that T-Mobile's direct subscribers experience. Data speeds are not throttled for Mint Mobile's customers.
Prioritization on Mint Mobile
Prioritization policies govern how wireless networks handle traffic when networks are congested. Mint Mobile subscribers receive lower priority than most subscribers on T-Mobile-branded plans.2 When networks are congested, the lower priority subscribers will tend to experience slower data speeds than prioritized subscribers. When networks are not congested, prioritization should not affect users' speeds.
I discuss prioritization policies on T-Mobile's network in more detail here.
Mint Mobile coverage
The following coverage map was taken from Mint Mobile's website in June 2019: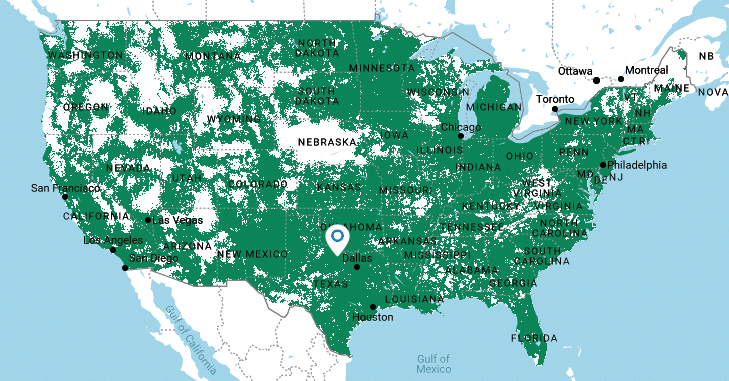 Mint Mobile's coverage map looks similar to T-Mobile's primary coverage map, but there are a few regions T-Mobile appears to cover that Mint Mobile does not.3 Both T-Mobile subscribers and Mint Mobile subscribers have essentially full access to T-Mobile's own network. However, it's my impression that Mint subscribers are able to roam onto only some of the partner networks that most direct T-Mobile subscribers can access. I discuss coverage differences in more detail in another article.
To check coverage at a specific location, use Mint's interactive coverage map.
Phone compatibility with Mint mobile
Most unlocked GSM phones will work with Mint Mobile. If you already have a phone you'd like to use with Mint Mobile, you can confirm compatibility by checking the device's IMEI number on Mint's website.
Most carrier-locked phones will not work with Mint Mobile. If you're considering purchasing a new phone, I highly recommend buying a nearly universal unlocked phone. These devices will work well on Mint Mobile and nearly all other major carriers in the U.S.
Mint Mobile support
Mint Mobile offers a community support forum and phone-based support. The phone support is only available at certain hours:4
Monday to Friday: 5am-7pm PT
Saturday: 8am-5pm PT
Sunday: 9am-6pm PT
Mint Mobile features
Mobile hotspot & tethering
Mint allows tethering and mobile hotspot on compatible phones. Speeds while tethering are not throttled. Data used while tethering will drain subscribers' regular data allowances.
On the 4GB, 10GB, and 15GB plans, Mint does not place an artificial cap on hotspot data (e.g., a subscriber on the 10GB plan could use all eig. On Mint's "unlimited" (35GB plan), subscribers are capped at 5GB of hotspot use
Wi-Fi calling
Mint allows Wi-Fi calling and texting on compatible phones.
International roaming
Mint Mobile offers international roaming in a whole bunch of countries. Subscribers who want international access can add funds to their roaming balance in their Mint Mobile accounts. Mint allows subscribers to add funds in $5, $10, or $20 increments.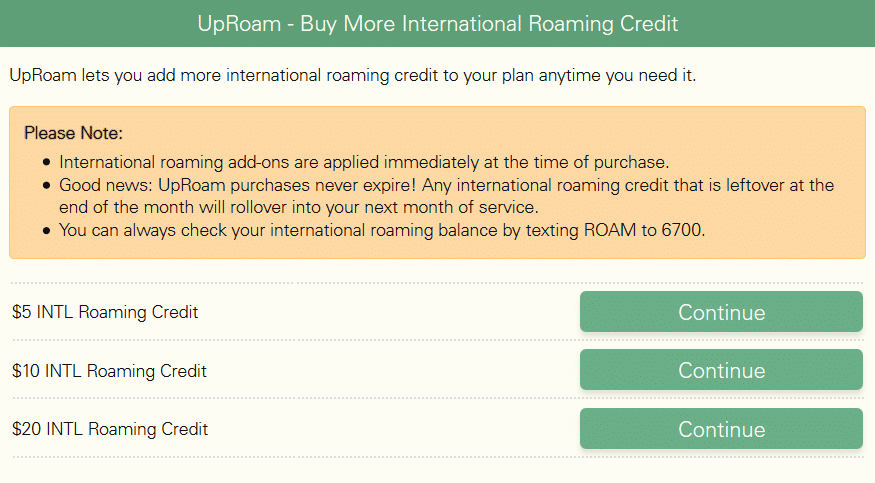 Once subscribers have added funds for roaming, they can talk, text, and use data in other countries at rates that vary by country. It looks like this is the most common cost structure:
Voice – $0.20 per minute
Text – $0.05 per text
Data – $0.20 per megabyte
The costs are higher in some places and much lower in others. For example, in Canada and Mexico, calls cost 6 cents per minute, data costs 6 cents per megabyte, and texts cost 2 cents.
In most cases, Mint's roaming charges are low enough to make Mint a reasonably cost-effective option for light use during short trips. Long-term travelers may be better off purchasing prepaid SIM cards from local carriers in the countries they visit.
International calling
Mint allows free international calling to Canada and Mexico. Subscribers can place calls to other countries at varying rates. In most cases, the rates are extremely reasonable (often only 1 or 2 cents per minute).
My experience
Purchasing a plan
On February 21, 2019, I went on Mint Mobile's website to purchase a plan. First, I entered my ZIP code to confirm that Mint Mobile offered coverage where I live (Boulder, CO).
Next, I was brought to a page to confirm that my device would be compatible with the network Mint Mobile uses.5 When selecting a plan, I had the following options (Mint's plans when I first tried the service were different from Mint's plans today):

I went for the plan with 8 gigabytes of 4G LTE data. Note that all plans would have allowed me to use additional data at lower speeds. Here's an excerpt from Mint Mobile's FAQ:6
All Mint Mobile plans include unlimited data, and you get to choose how much 4G LTE data you need each month—4GB, 10GB or 15GB.
When getting towards the end of the checkout process, I saw there would be two additional costs:
Regulatory Recovery Fee — $3.25
Federal & State Taxes — $0.24
By default, Mint Mobile had checked an option for my plan to auto-recharge after going through the months I had already paid for. This was transparent and easy to uncheck.
Shipping was free, and I received an estimated delivery date of 2/23/2019 (two days later).
The entire checkout process was quick and easy. That said, there were a few things in Mint Mobile's copy that I found obnoxious:
"We offer awesome wireless service at the lowest monthly price. Period."7
"We're coast to coast on the nation's fastest, most-advanced network."8
As I discuss in The Mobile Phone Service Confusopoly, all of the major networks have come up with ways to slice the data to portray their networks in favorable light. In my opinion, AT&T and Verizon pretty obviously have better nationwide networks than T-Mobile, the network Mint Mobile relies on.
While I brought my own device, customers also have the option to purchase a device from Mint Mobile. I quickly browsed some of the offerings, and I got the sense that there weren't a lot of especially good deals. If I needed a new device, I probably would have bought an unlocked phone from another retailer. That said, I wasn't systematic and didn't spend long browsing the options. I might have missed something.
Starting the service
A few days after ordering, I received some mail with:
A 3-in-1 SIM card
A SIM card tool
Some instructions
A trial SIM card I could give to someone else for a brief free-trial of Mint's service

The activation process was easy. I popped the SIM card in my phone and went to mintmobile.com/activate. Next, I entered an 11 digit code from the materials Mint mailed me. From there, I was directed to a page where I needed to check a box acknowledging that I understood I could try things out and get a full refund without needing to return my SIM card if I decided within 7 days that I didn't want Mint service. I thought it was awesome that Mint reminded me of this post-purchase. Next, I was presented with the option to auto-top my plan or store the credit card information I initially used for future use.
An automated text came through to my phone immediately, and the service was fully functional after restarting my phone.
Using the service
Performance
Overall, I found Mint Mobile's service quality to be similar to the quality I'd expect from a plan purchased directly from T-Mobile. I didn't notice any unanticipated limitations or speed caps.
At the nationwide level, the extent of T-Mobile's coverage is superior to Sprint's coverage but inferior to AT&T and Verizon's coverage (I discuss this in much more detail in Reliability of Nationwide U.S. Wireless Networks).
Spam
Initially, I experienced a high volume of spam calls and texts. I suspect this is related to the phone number I received on signup. Since I don't know much about how phone numbers are allocated, I'm unsure if Mint deserves any blame. Fortunately, the spam was easily dealt with by calling support and switching numbers.
Support experience
Mint Mobile customers have access to an online virtual agent for chat support and a community support forum where users can browse or ask questions. In my very limited interactions with the virtual agent, I found it unhelpful. To deal with my spam issue, I contacted Mint via phone. I was initially put on hold, but I was talking to a support agent in less than a minute. I found the agent a bit hard to understand (I expect she was not a native English speaker), but she was extremely helpful. The whole exchange was unusually efficient. In just a few minutes, my Mint account was associated with a new phone number and the spam problem was solved.
My experience with support may have been unusually positive. My impression from digging around the internet, especially reading Reddit's NoContract community, is that Mint doesn't have a great reputation for support quality. That is inline with my expectations—given Mint's low cost relative to the competition, I'd be surprised if Mint offered top-notch support.
Renewal experience
I had a very positive experience with Mint Mobile during my initial three-month trial. Given how much I liked Mint and its low price, I decided to use Mint's 3GB per month service for my personal line (Mint's current 4GB plan only included 3GB of data at the time). I went ahead and renewed by paying for 12 months of service upfront at a base price of $15 per month.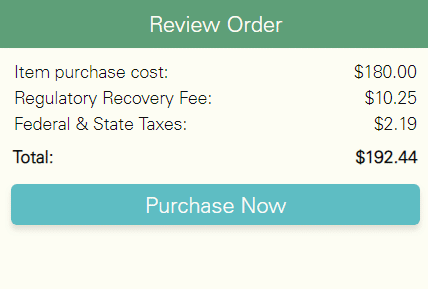 I ended up paying an additional 7% or so in taxes and fees on top of the base price. The renewal process was super easy.
Replacing A Mint Mobile SIM Card
In August 2019, I lost my phone and my Mint SIM card when tubing down a river. Replacing the SIM card was surprisingly easy. I logged into my Mint Mobile online account and navigated to the "Order Replacement SIM" section. I paid $9.95 to get the SIM and have it shipped to my apartment. The website said the SIM was estimated to arrive in 5-7 business days, but it actually came faster. Once I received the card, I logged back in and navigated to another part of Mint's website. After entering some information, my service was operating with the new card.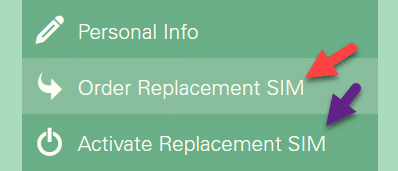 Company background
In 2016, Ultra Mobile (another MVNO using T-Mobile's network) launched Mint SIM. Mint SIM which was later renamed Mint Mobile. In late 2019, actor Ryan Reynolds acquired an ownership stake in Mint and became involved in the company's promotional efforts.
Mint Mobile alternatives
Light data users may want to consider T-Mobile's Connect plans as alternatives to Mint Mobile's plans. The $15 per month Connect plan comes with 2GB of data, unlimited minutes, and unlimited texts. I expect subscribers on Connect plans will experience better prioritization during congestion than subscribers on Mint plans. The Connect plans also do not require upfront payment for multiple months of service.
Potential conflict of interest
I have financial relationships with a lot of wireless service providers, including Mint Mobile. For details about those arrangements, see my transparency page.
---
Visit Mint Mobile's website
---
Last updated: 7/13/2021
Footnotes