Summary
All three of the nationwide cellular networks cover the large majority of Americans. Verizon is the clear winner in terms of overall network reliability. AT&T comes in second place. While T-Mobile has the smallest coverage profile, the network still has a strong presence in most well-populated areas.
Each of the major network operators shares an interactive coverage map on its website:
Comparing Maps
I pulled snapshots of maps from each of the major networks' websites.1 Here's Verizon's map: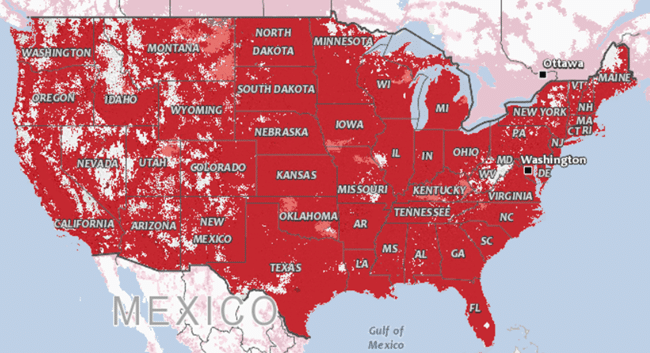 Now AT&T's map: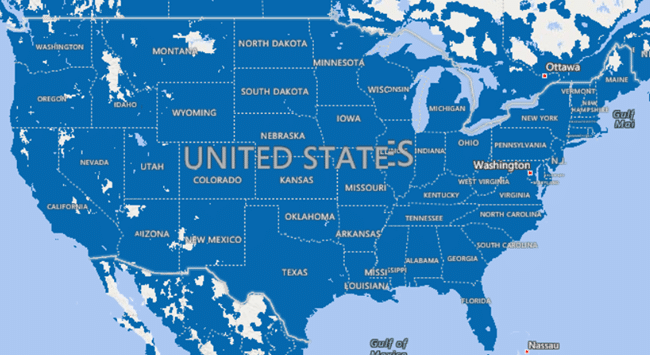 And finally T-Mobile's map: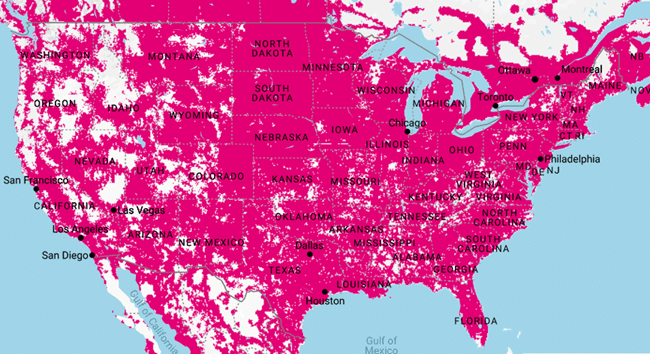 A few things become apparent when comparing the coverage maps:
T-Mobile has the smallest coverage profile.
All three networks cover most Americans.
All three networks almost always cover densely populated areas.
The western U.S. has spottier coverage than the rest of the U.S.
Misleading maps
Coverage maps are often misleading. It's not just an issue caused by shady marketers. Figuring out coverage is tricky. It's not always clear cut whether a specific location has coverage. Factors like precipitation, humidity, and phone hardware can alter whether a signal is available in a particular spot.
Network operators have to make a lot of hard choices when building predictive models to estimate their coverage. There's also a lot of flexibility in how coverage predictions get displayed. Comparing the maps above, you might think AT&T has the best coverage. However, it looks like AT&T smooths its nationwide map by hiding small areas lacking coverage.
Independent evaluations
Instead of taking maps at face value, it's helpful to look at the results from independent companies that collect data on networks' performance.2 I've spent a lot of time digging into these companies' methodologies and results. In my view, RootMetrics is in the best position for assessing network reliability at the national level.3
Here's how the three networks scored for reliability at the national level in RootMetrics' report for the second half of 2019:4
Verizon – 96.3
AT&T – 94.9
T-Mobile – 87.7
Choosing a network
Before choosing a network, I recommend checking out coverage at your own address using networks' interactive maps. Here are those links one more time:
If you need great coverage, you should probably go with Verizon's network. If you spend all your time in big cities, you might be able to save a few bucks by opting for a network with less impressive coverage.
---
Last updated: August 2020
Footnotes