U.S. Networks
There are four U.S. wireless networks with nationwide infrastructure: AT&T, T-Mobile, Verizon, and Sprint. These carriers are sometimes referred to collectively as the "Big Four." Any other carrier that offers nationwide service in the U.S. is, at least in some regions, piggybacking off of one or more of the Big Four networks.[1]
Consistency matters
While average download speed is a commonly used network-performance metric, I think it's overrated. For most consumers, it's going to be more important that a network can deliver good enough speeds consistently.
Evaluation firms
Several third-party companies collect data on wireless network performance. I've written about many of their methodologies: RootMetrics, Tutela, Opensignal, Nielsen.
RootMetrics
I believe RootMetrics' methodology is particularly well-suited for assessing nationwide reliability. RootMetrics drives high-end phones connected to the major networks all around the country. During the drives, the phones conduct tests of network performance. The company's testing has substantial geographic coverage, and RootMetrics' nationwide results may be less prone to selection bias than other companies' results.[2]
As of April 2019, RootMetrics' most recent national report is based on data collected in the second half of 2018. In that report, Verizon takes the top spot overall with AT&T coming in a close second. T-Mobile comes in a more distant third. Sprint takes the last spot in the rankings. Here's a snapshot showing the "Overall performance" scores: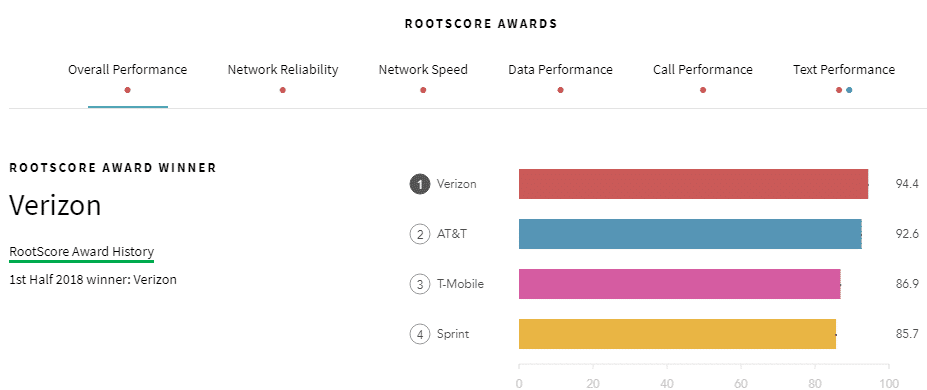 When considering only network reliability as opposed to overall performance, the rankings are unchanged: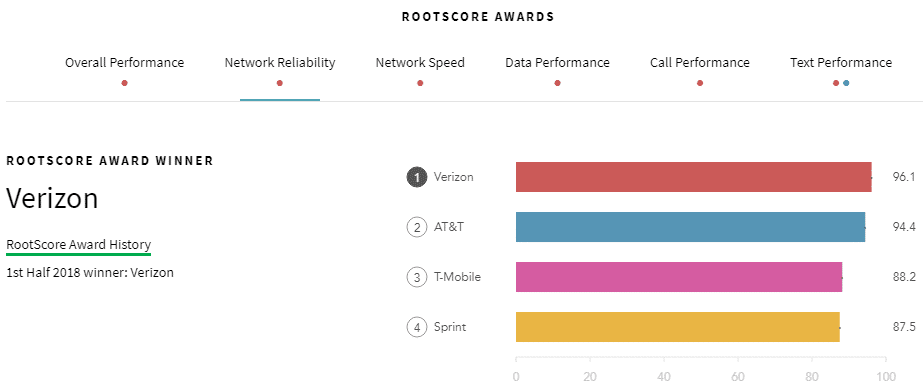 Verizon didn't just do well in the most recent reporting period. Verizon has taken the top overall ranking and the top network reliability ranking in every biannual period since at least the second half of 2013.[3]
Unfortunately, RootMetrics is not transparent about how exactly it reaches its final scores or what exactly the scores mean.[4] While I expect RootMetrics does a better job of ranking major networks in terms of nationwide quality than other evaluators, it may still be worth considering results published by other evaluators.
Opensignal
Opensignal relies on crowdsourced data from consumers. While I'm concerned that Opensignal's nationwide results may be affected by massive selection bias—especially geographic selection bias—the methodology Opensignal uses has a lot going for it. Opensignal tests real-world scenarios via crowdsourced data from actual consumers.[5]
As of April 2019, Opensignal's most recent report was published in January 2019. The report was based on a data collection period from mid-September to mid-December of 2018.[6] The report doesn't appear to list an overall winner but instead ranks carriers in a couple of different categories. Verizon alone wins in 3 of the 5 categories, and Verizon ties for the top spot in another.[7] Here's a snapshot of the results in the "4G availability" category (the category I think is most relevant to overall reliability):

The results seem to indicate that T-Mobile has substantially more 4G coverage than AT&T. I doubt that's true. T-Mobile may have an atypical proportion of its subscriber base in densely-populated areas, which could cause the results to skew in T-Mobile's favor. It's also worth keeping in mind that the category only accounts for 4G reliability. AT&T likely has substantially better coverage than T-Mobile under pre-4G technologies.
Unlike RootMetrics' awards, Opensignal's awards have moved around a lot between recent reports.[8] For example, T-Mobile won most of the awards in the July 2018 report.
I would like to see analyses of Opensignal's data that include attempts to control for geographic differences and other, potential sources of selection bias. Unless I see Opensignal transparently attempting these sorts of analyses, I expect I'll remain skeptical of Opensignal's national assessments.[9]
Other firms
I don't take other evaluation firms' nationwide results too seriously due to limited public information and/or concerns about methodologies.[10] That said, if you want to view other firms' results as weak signals, it looks like most firms come up with results similar to RootMetrics' results. Based on my interpretation, Consumer Reports' metrics related to network quality come out in Verizon's favor, with AT&T and T-Mobile coming next, and Sprint coming in last.[11] Tutela's most recent U.S. report as of April 2019 isn't exactly national in scope, but it covers 10 large cities. Verizon takes the top ranking among Big Four carriers in 9 of the 10 cities.[12]
Conclusion
None of the third-party firms evaluating wireless network performance are as transparent as I would like. Despite the lack of transparency, I expect RootMetrics' methodology is better suited for assessing nationwide network quality than other evaluators' methodologies. RootMetrics' results suggest that Verizon has the best nationwide network followed in order by AT&T, T-Mobile, and Sprint. This ordering fits with my personal experience and is, for the most part, consistent with recent results published by other somewhat-rigorous evaluation firms.
Footnotes