Visible is a relatively new wireless carrier owned by Verizon. Visible offers only one plan: unlimited talk, text, and data over Verizon's LTE network. The plan has a regular price of $40 per month, but it drops to as low as $25 per month with Visible's Party Pay Program. For many people, Visible's plan will be cheaper than any unlimited plan available directly from Verizon. To save on costs, Visible has no brick-and-mortar stores and instead only sells phones and service over the internet.
If you're a heavy data user and want low-cost service over Verizon's extensive network, Visible may be a good option. Just be aware that you will have to deal with a limited set of compatible devices, low-priority data during congestion, and possible issues as Visible fine-tunes its service.
Key details
Unlimited minutes, texts, and data
$25-$40 per month
Service over Verizon's extensive LTE network
Online-only retail presence
Compatibility with a limited number of phone models
Unlimited mobile hotspot with a 5Mbps max speed
Primarily chat-based customer support
Coverage
Visible offers coverage over Verizon's 4G LTE network. Since Verizon has the most extensive coverage among the national networks, Visible has great coverage as well.1 However, Visible's subscribers may not have full access to service from Verizon's roaming partners.
Coverage map
The coverage map below is based on a screenshot taken from Visible's website.2 To zoom in on areas or view coverage at specific addresses, use Visible's interactive coverage map.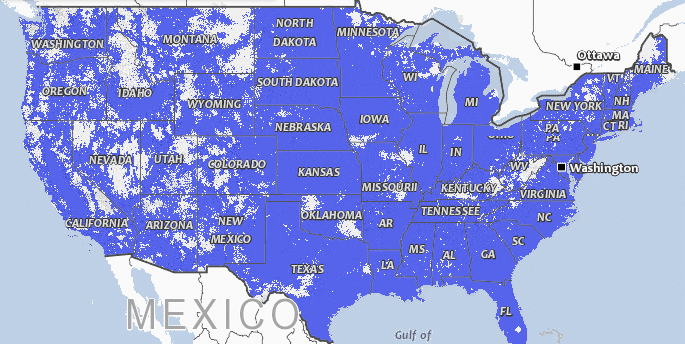 5G coverage
Visible offers 5G coverage at no extra charge for subscribers with supported devices. At the moment, Visible's 5G service is only available on devices in the iPhone 12 line. I expect Visible will extend 5G access to some 5G-capable Android phones in the near future.
While Visible includes 5G access with no extra charge, the carrier has suggested it will cap 5G speeds at a maximum of 200Mbps:3
We believe that people deserve an incredible experience, which is why we're including 5G, with speeds up to 200 Mbps, to our core plan without adding a single cent to your monthly cost.
Speed
In most situations, Visible subscribers should experience data speeds that are similar to those received by Verizon's direct subscribers.
Speeds are largely determined by (a) the strength of Verizon's LTE signal in your area and (b) the level of congestion on Verizon's network in your area.
Prioritization
Prioritization policies govern how wireless networks handle traffic when they're congested. I believe Visible subscribers receive the same level of priority as Verizon's prepaid subscribers and most subscribers using MVNOs that operate over Verizon's network.4 When Verizon's network is congested, Visible subscribers may experience reduced, sometimes drastically reduced, speeds.
How much prioritization will affect a subscriber's experience depends heavily on their location. In most areas, congestion is uncommon.
Here's how Visible explains its prioritization policy:5
We may prioritize your data behind other traffic if the cell site you are connected to begins experiencing high demand during the duration of your session. Once the demand on the site lessens, or if you connect to a different site not experiencing high demand, your speed will return to normal.
Throttling
When Visible first launched, regular data speeds were throttled to a maximum of 5Mbps. However, Visible removed the cap for new and existing customers in June of 2019. The cap may not be gone forever. In an announcement, Visible suggested that throttling may eventually come back for new customers:
Starting today, and for a limited time, we're removing the 5 Mbps data speed cap for our current and new members at no added cost…The "limited time" window to receive this offering will be determined as we learn more about member needs. We'll also be rolling these insights into a bigger program to come later this year. However, everyone who gets to experience uncapped speeds will get to keep them — again, at no additional cost — as long as they are a member.
While Visible no longer throttles regular data, some types of traffic are still throttled. Mobile hotspot use is supposedly throttled to a maximum of 5Mbps, and most video traffic will be throttled to 480p (often called "DVD quality").6
Mobile hotspot
Visible allows unlimited mobile hotspot and tethering. However, unlike some other carriers, Visible only permits one device at a time to be connected via mobile hotspot. Visible suggests that mobile hotspot use is throttled to a maximum speed of 5Mbps:
During early access our members will get mobile hotspot with unlimited data at a speed that's perfect for streaming, up to 5 Mbps. You'll be able to connect one phone at a time.
A similar statement appeared in Visible's June 2019 announcement:
Unlimited hotspot with speeds up to 5 Mbps is also included.
Interestingly, I didn't experience throttling on mobile hotspot use during my testing. Here is the result of a speed test I ran with a weak LTE connection and mobile hotspot turned off:
---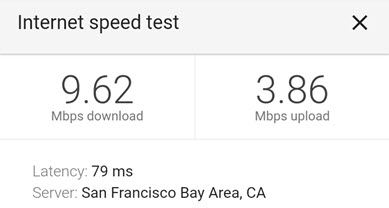 ---
After I ran the test above, I turned on my mobile hotspot. I then ran a second speed test from a computer connected to my mobile hotspot:
---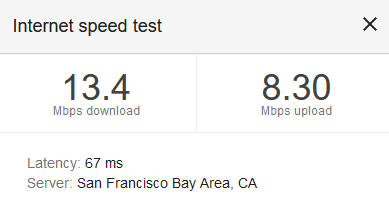 ---
I wasn't using a VPN during these tests or otherwise trying to get around the throttle. Some Reddit users have suggested they're also unaffected by throttling while using a Visible mobile hotspot.
Compatible devices
Over the last year, Visible has become compatible with a wider range of devices. That said, there are still only a limited number of phones that work with Visible. The table below lists compatible phones as of 10/1/2019. Even if your device is listed in the table, I strongly recommend double-checking your device's IMEI number with Visible's compatibility tool. Some phones come in multiple variants, and not all variants will be compatible with Visible. Using the compatibility tool is especially important if you have an iPhone SE or iPhone 7; some common models of these devices will not be compatible with Visible.7
| Brand | Model |
| --- | --- |
| Apple | iPhone 6 |
| Apple | iPhone 6s |
| Apple | iPhone SE* |
| Apple | iPhone 7* |
| Apple | iPhone 8 |
| Apple | iPhone X |
| Apple | iPhone XS |
| Apple | iPhone XS Max |
| Apple | iPhone XR |
| Apple | iPhone 11 |
| Apple | iPhone 11 Pro |
| Apple | iPhone 11 Pro Max |
| Google | Pixel |
| Google | Pixel XL |
| Google | Pixel 2 |
| Google | Pixel 2XL |
| Google | Pixel 3 |
| Google | Pixel 3 XL |
| Google | Pixel 3a |
| Google | Pixel 3aXL |
| Motorola | G7 Power |
| Motorola | Z4 |
| Motorola | E6 |
| Samsung | Galaxy A50 |
| Samsung | Galaxy S8 |
| Samsung | Galaxy S8+ |
| Samsung | Galaxy S9 |
| Samsung | Galaxy S9+ SE |
| ZTE | Visible R2 |
| ZTE | Blade A7 |
| ZTE | Blade V10 |
Swap program
For those without a compatible device, Visible offers a swap program from Android devices. You can get a free Visible R2 if you send Visible an Android device in return. The only real requirement is that the device you swap is capable of turning on. I tried out the swap program myself and was thrilled with it. I traded in an old Android phone that had almost no value and got a new and much nicer phone in return. While the R2 isn't fancy, it's a good budget phone. It worked well for everything I did with it, and it didn't lack any crucial features. Unlike most budget phones, the R2 has sleek aesthetics: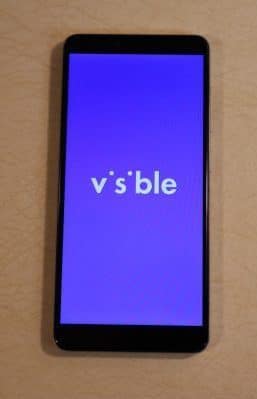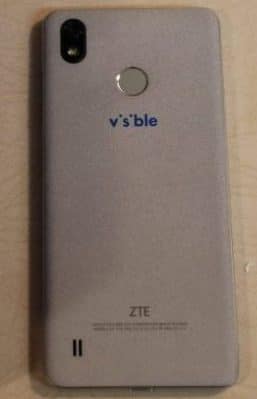 If you don't have an old Android phone, Visible offers the R2 without a swap for a discounted price of only $19. You're required to purchase the phone along with service, but there's no commitment required beyond the first month of service.
Support
Visible takes an unusual approach to support. Support agents are chat-based, and you can contact them through the Visible app or various social media platforms.

Chat in to our Care team, text us at #99370, send us a Facebook PM (We're Visible Mobile) or send us a tweet @Visible Care.
Visible does not have a number subscribers can call for phone support, but the company suggests that you can request a phone call from a support agent if you start via live chat:

Reach out to the Care team via Chat and ask to speak to someone over the phone.
Visible's support agents are available 24 hours a day on weekdays and from 9am to 11pm EST on weekdays.8
My experience
I started a trial of Visible's service in September of 2019. Overall, I'd describe my experience as positive, but there were some bumps along the way.
Ordering & activating
I signed up for Visible's only plan and took advantage of the device swapping program to get a free Visible R2. The ordering process was simple, and I didn't have to pay any unexpected additional charges.
---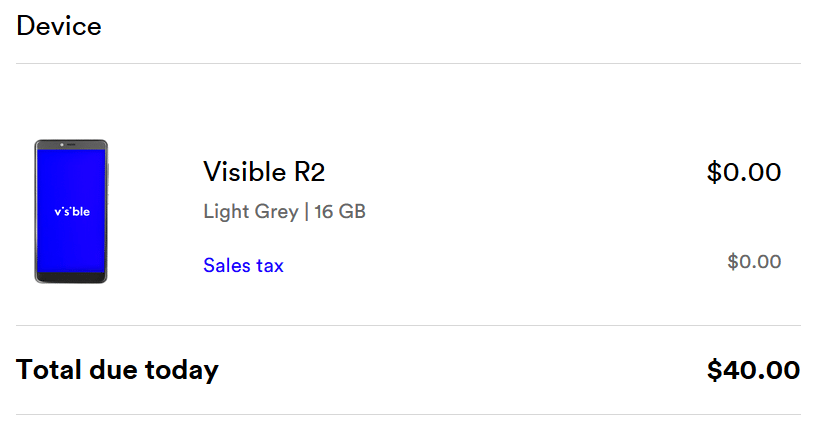 ---
After placing my order, I received my R2, a SIM card, and some activation instructions in the mail.
Here are those instructions a little closer up: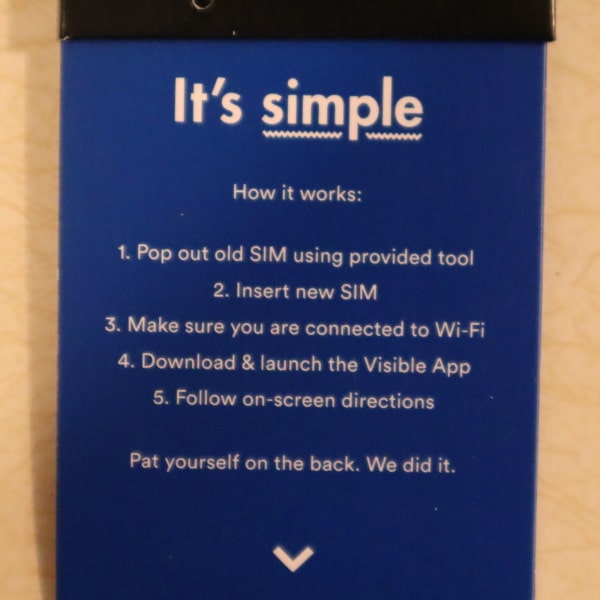 Since I was using a new phone, the usual instructions weren't quite right, but the process was still easy. I put the Visible SIM card in the R2, I connected to my home's Wi-Fi, updated the Visible app that came pre-installed, then logged into my Visible account via the app. Once I'd done all that, service was up and running.
Unexpected throttling & support experiences
When I first started my Visible service, my download speeds seemed to be unexpectedly throttled to about 5Mbps (I discussed this issue in more detail in a separate blog post). I think this throttling was an unintended error on Visible's end, and the issue was resolved with the help of a support agent I chatted with through the Visible app.
In the process of solving the throttling problem, I found the Visible app to be a mess. It wasn't initially clear to me how I could begin chat sessions with support agents via the app. After finishing my first chat session, I tried to use one of the app's features to send a transcript of the chat to my email. Although the app indicated that an email sent, I never received a transcript in my inbox. I also experienced a brief disconnection from the live chat session I was in despite appearing to have a functional internet connection.
While I didn't like Visible's app, I found Visible's support agents helpful. In both instances where I reached out to support, I was connected more-or-less immediately with an agent.
Other subscribers' experiences
It's my impression that a lot of people have had problems with their Visible service. The Reddit community r/Visible is full of complaints. While I'm not sure how representative participants in that community are of Visible's subscriber base, there are enough people discussing issues to leave me concerned.
Visible's plan may be a good deal for those who are willing to be guinea pigs and experiment with a relatively new service. I expect it will be another year or two before Visible is in a stable enough state for me to recommend the carrier more strongly.
Footnotes