For a while now, Verizon and AT&T have used the phrase "Premium Data" to refer to allotments of especially high-priority data. Subscribers with Premium Data may experience better speeds than other network users during periods of congestion.
In the last month, T-Mobile has started using the phrase "Premium Data" as well. If you go to T-Mobile's primary page listing the carrier's plans, you'll find a table that lists the allotments of premium data on different plans:
Common sense might lead you to think "Premium Data" means the same thing regardless of what plan the Premium Data is attached to. That's not the case.
Before T-Mobile started using the phrase Premium Data, the company made it clear that the Essentials plan had lower priority data than Magenta plans. The image below comes from T-Mobile's old plans page: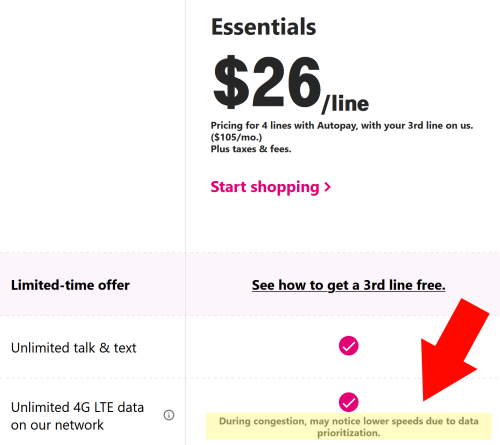 While T-Mobile updated how plans appear on its website, it doesn't look like the underlying characteristics of the Essentials plan changed. The plans page still has a disclosure explaining that Essentials customers have lower priority than Magenta customers:

Essentials customers may notice speeds lower than other customers and further reduction if using >50GB/mo., due to data prioritization.
QCI values indicate how traffic is prioritized on LTE networks. In 2020, I found the Essentials plan had a QCI of 7 while the Magenta plan had a QCI of 6 (indicating that the Magenta subscribers have higher-priority data than Essentials subscribers). Once T-Mobile started saying Essentials customers have Premium Data, I ran another QCI test on the plan. I still found a QCI of 7.

Until recently, T-Mobile did a better job disclosing prioritization policies than the other major networks.1 T-Mobile is taking a step back by suggesting the Essentials plan has Premium Data.
As far as I know, Verizon and AT&T only use the phrase "Premium Data" to mean something like: "data prioritized ahead of the data used by a substantial portion of our other customers." If my understanding of data prioritization on T-Mobile's network is accurate, Essentials customers receive priority on-par with or worse than most T-Mobile Prepaid, Metro, and Mint Mobile subscribers.
While Essentials subscribers aren't truly last in line, only a tiny fraction of T-Mobile subscribers have lower priority (e.g., some ultra-heavy data users and people on hotspot connections). It's silly to call data "premium" when indicating something like: "data that's not absolutely the lowest priority in the queue."
As I've argued before, consumers ought to have access to better information about prioritization and congestion. The way T-Mobile is using the phrase "Premium Data" is going leave consumers confused. For what it's worth, I don't mean to suggest T-Mobile is intentionally hoping to mislead consumers about data priority on the Essentials plan. T-Mobile may have made an honest mistake when coming up with the latest iteration of its plans page.
---
Hat tip to Stetson Doggett for drawing my attention to this topic.
Footnotes
T-Mobile's Open Internet page is detailed. You don't have to be a lawyer to make sense of it.