I joined Starlink's beta and recently got the service up and running. While I'll write a detailed review eventually, I thought I'd share my first impressions now.
Like others in the beta, I paid about $500 for my satellite dish (Dishy as Starlink calls it) and router. Taxes and shipping added about $100 more.
The Dishy, a basic mount, a router, and cords all showed up in one giant box: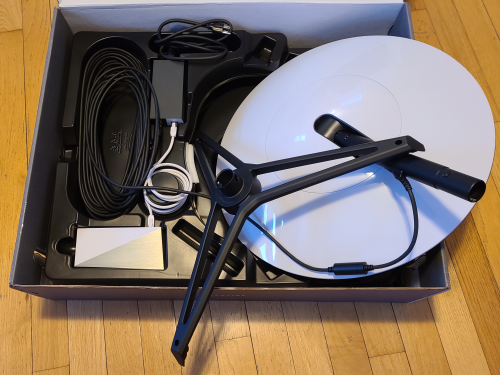 Setup was incredibly easy. Here's how simple Starlink's instructions were:
Most of the cords were already plugged-in where they belonged. Within about 15 minutes of opening the box, I connected a computer over Wi-Fi and ran a test finding a download speed of about 35Mbps. I ran about a dozen tests in total, and I think that first test found the lowest speed of them all. Here are the results from the first test I ran over a wired connection:

Starlink suggested I should expect download speeds between 50Mbps and 150Mbps during the beta. Nearly all of my tests showed speeds in that range, but typically in the lower end of the range (50-100Mbps).
While people often focus on speeds, I think speed is an overrated performance metric. Once a connection exceeds something like 20Mbps, further speed increases have vastly diminishing returns.1
Latency is where Starlink shines. My tests consistently showed latency below 50ms. That's roughly on-par with the typical latency for cable or DSL connections. It's also about an order of magnitude lower than the usual latency for satellite internet.
I continue to be excited to see where things go with Starlink. I'll share more as I continue to trial the service.
Miscellaneous notes
After setting up my service, I decided to grab the Starlink app in case I missed anything important. The app worked fine, but I didn't learn anything new from it.
Starlink's communication style is refreshingly informal. It's the opposite of the corporate-bullshit speak that's typical from ISPs. E.g., the Starlink beta was named "The Better Than Nothing Beta." I'd love to see Starlink keep up the current vibe as the service matures.
The router has one available Ethernet port (separate from the port used to connect to Dishy).
The router's design is unique (Cybertruck-esque).
Footnotes