Ting's subscribers and some of the company's other assets were acquired by DISH earlier this year. At the time of the acquisition, Elliot Noss, the CEO of Ting's parent company, wrote:
Soon, DISH will be offering much improved pricing.
Today, Ting is delivering on that promise. The carrier just launched four new plans. While almost all Ting subscribers will get better prices through the new plans, an email I received stated, "Existing customers are also welcome to keep their current Ting Mobile rates should they wish to."
Ting's new Flex option is similar to Ting's old pay-for-what-you-use model. A base price of $10 per month provides service with unlimited minutes and texts. Subscribers on the Flex plan then pay $5 per gigabyte of data used (half of Ting's old $10 per gigabyte rate).
Ting's new plans include three other options that may make sense for heavier data users. Each option includes unlimited minutes and texts:
Set 5 GB
$25 per month
5GB of full-speed data each month
No restrictions on mobile hotspot data
Unlimited
$45 per month
22GB of full-speed data each month
Up to 12GB of data per month can be used for mobile hotspots
Unlimited Pro
$60 per month
35GB of full-speed data each month
Up to 30GB of data per month can be used for mobile hotspots
Subscribers on these plans that run out of full-speed data can use additional data at sluggish, 2G speeds at no extra charge.
"Unlimited" done right
I'm normally critical of carriers offering "unlimited" plans that cap full-speed data. While the word "unlimited" in the names of some of Ting's plans could be misleading, Ting is transparent about data caps. The screenshot below comes from Ting's Plans page: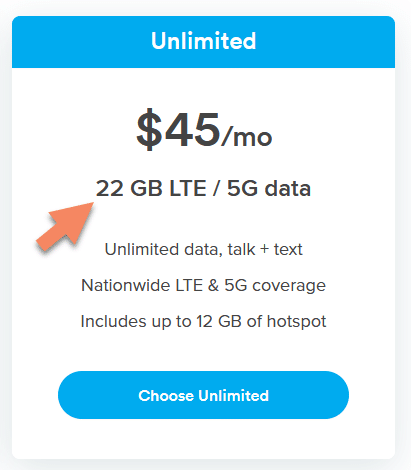 Ting's transparency stands in contrast to the usual strategy of burring limitations in fine print.
Ting post-acquisition
I'm not sure how much confidence I have in Ting following the acquisition by DISH. While Ting currently offers a great customer experience and some of the best support agents in the industry, I'm less optimistic about the long term.
I'm guessing Ting's subscriber base will eventually be folded into DISH or another carrier owned by DISH. In all likelihood, the transition will lead to deterioration in the quality of subscribers' experiences.1
Footnotes