Last week, T-Mobile announced new mobile hotspot plans and the release of the Inseego 5G MiFi M2000.
Inseego 5G MiFi M2000
The Inseego 5G MiFi M2000 is T-mobile's fanciest hotspot, and I believe the company's first 5G-capable hotspot. The device supports both 4G service and sub-6 5G service. It does not support millimeter wave 5G, but that may be unimportant for now since T-Mobile's millimeter wave coverage is extremely limited.
The hotspot has a base price of $336 (or 24 monthly installments of $14). With a promotion T-Mobile is running, customers that add a new line and purchase the device on a 24-month installment plan can get the M2000 for 50% off ($168 paid in $7 per month installments).
While I haven't got my hands on the M2000 yet, I have been testing a very similar model offered by Verizon, the M2100, and I'm impressed.
New mobile hotspot plans
With the release of the M2000, T-Mobile also launched a handful of new plans for mobile hotspot devices. Most notably, a plan with a 100GB monthly allotment costs only $50 per month. Well-priced plans with 10GB and 30GB monthly data allotments are also available. T-Mobile shared this graphic in its press release: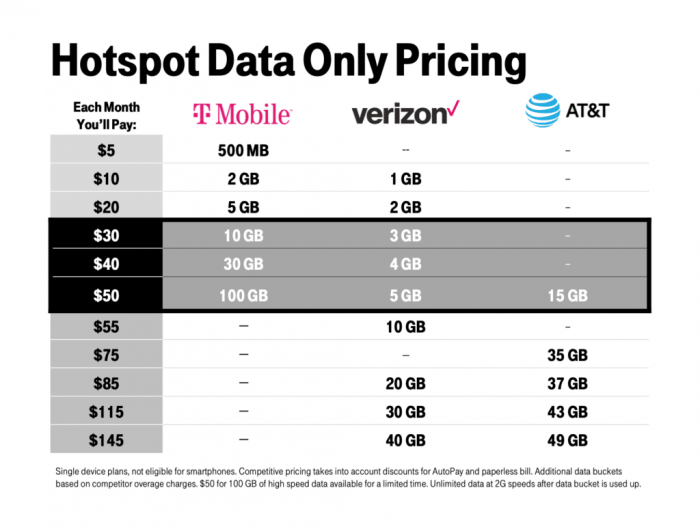 While T-Mobile's new offerings are excellent, the graphic represents T-Mobile's competition unfairly. AT&T and Verizon don't always offer plans with the data allotments shown in the graphic. To show prices competitors charge in these cases, T-Mobile slyly includes competitor's overage charges. Additionally, T-Mobile doesn't mention Verizon's add-on hotspot plans. Verizon's add-on plans are available to a substantial portion of the carrier's subscribers, and the plans offer good value: 15GB for $20 per month or 30GB for $30 per month.1
Footnotes