Last updated: June 2020
5G service can be split into three categories:
Low-band 5G: Awesome for coverage but only decent for speed
Mid-band 5G: Good for coverage and reasonably fast
Millimeter wave (mmWave) 5G: Monstrously fast but terrible for coverage
While T-Mobile plans to roll out all three kinds of 5G, the vast majority of T-Mobile's current 5G service makes use of low-band 5G. T-Mobile has started mmWave rollouts in pockets of a handful of cities.
T-Mobile's 5G strategy so far has been close to the opposite of Verizon's strategy. To date, Verizon has focused almost entirely on mmWave 5G. While T-Mobile's 5G isn't blazing fast, it is available in way more places than Verizon's 5G.
Coverage map
T-Mobile claims, more-or-less accurately, that it's the only network offering nationwide 5G. T-Mobile's interactive 5G coverage map can be found on the company's website.1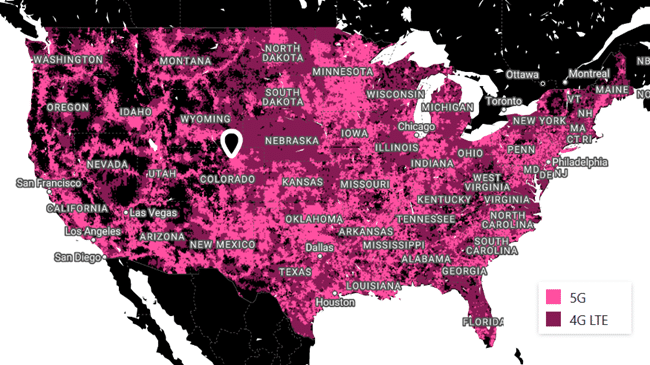 I don't know of any up-to-date maps where T-Mobile distinguishes between low-band, mid-band, and millimeter wave coverage areas.
T-Mobile's 5G-enabled phones
T-Mobile offers at least five 5G-compatible phones. Note that some of these phones have support for T-Mobile's low-frequency 5G but lack support for mmWave 5G.
Phones with mmWave support:
Phones lacking mmWave support:
T-Mobile's 5G bands
T-Mobile is currently using at least three different bands for its 5G service.
n71 (600MHz) – Nationwide, low-band 5G
n260 (39 GHz) – Limited, mmWave 5G
n261 (28GHz) – Limited, mmWave 5G
Footnotes