5G service can be split into three categories:
Low-band 5G: Awesome for coverage but only decent for speed
Mid-band 5G: Good for coverage and pretty fast
Millimeter wave (mmWave) 5G: Monstrously fast but terrible for coverage
T-Mobile's low-band service covers most Americans. The network's mid-band coverage is expanding quickly and likely covers well over 100 million people.
T-Mobile's mmWave rollouts are still in the early stages. According the most recent information I've seen, T-Mobile has only deployed mmWave 5G in select parts of seven cities.
Coverage map
T-Mobile's interactive 5G coverage map can be found on the company's website.1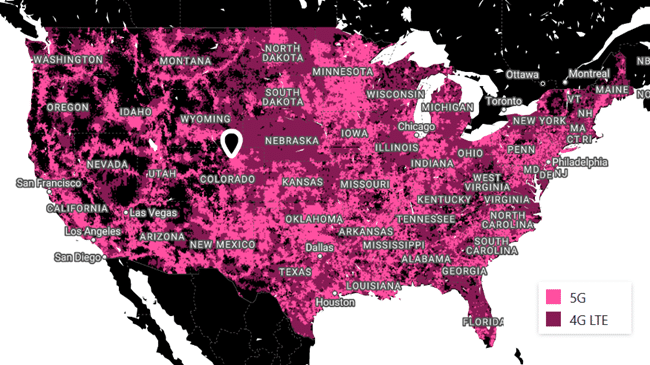 I don't know of any up-to-date maps where T-Mobile distinguishes between low-band, mid-band, and millimeter wave coverage areas. I expect maps with more granular details about 5G coverage will be released when T-Mobile's 5G deployments are more mature.
Millimeter wave 5G coverage
T-Mobile offers millimeter wave 5G in select parts of seven cities.
Within these cities, mmWave coverage is extremely sparse. It's probably not a coincidence that T-Mobile hasn't bothered to publish mmWave coverage maps. In the cities where mmWave is offered, T-Mobile subscribers may only find the service in a handful of outdoor areas.
T-Mobile's 5G bands
T-Mobile is currently using four different bands for its 5G service.
n71 (600 MHz) – Nationwide coverage, low-band 5G
n41 (2.5 GHZ) – Moderate coverage, mid-band 5G
n261 (28 GHz) – Limited coverage, mmWave 5G
n260 (39 GHz) – Limited coverage, mmWave 5G
5G coverage on MVNOs using T-Mobile's network
T-Mobile has extended 5G access with no extra charge to its flanker brand, Metro. It looks like MVNOs running over T-Mobile's network are also starting to roll out 5G services, typically without extra charges. I have dedicated pages about 5G coverage for some of the MVNOs running over T-Mobile's network:
---
Last updated: 3/22/2021
Footnotes