Today, Verizon announced changes to its connected device plans. Verizon is now offering two add-on plans for mobile hotspots and tablets. Most subscribers on Verizon's unlimited plans are eligible for the add-ons.
Unlimited – $20 per month
Unlimited Plus – $30 per month
Subscribers on the Do More Unlimited and Get More Unlimited plan can get a 50% discount on either plan.
Here's a graphic from Verizon's website: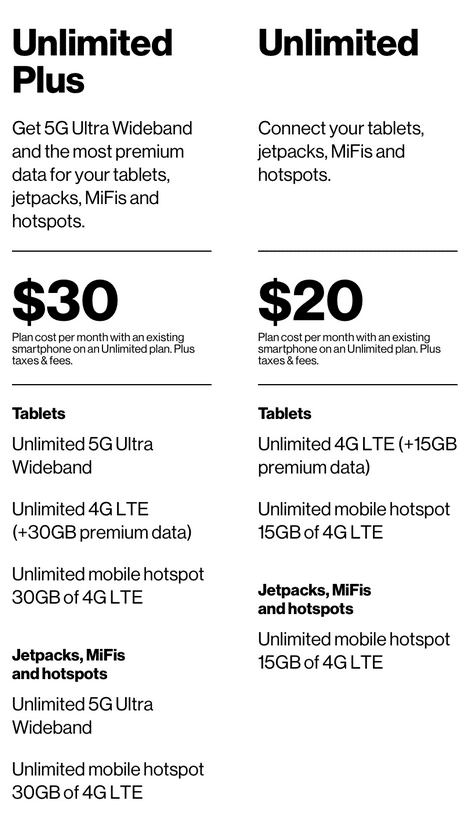 While the graphic suggests there are two plans, I think its easier to make sense of the new offerings as four different plans:
A $20 hotspot plan
A $20 tablet plan
A $30 hotspot plan
A $30 tablet plan
Hotspot plans
The hotspot plans really shouldn't be called "unlimited." On the $20 plan, subscribers only have 15GB of regular-speed data. On the $30 plan, subscribers have 30GB of regular-speed data.
Verizon throttles customers that use all of their regular-speed data. I expect Verizon is sticking with its old policy of throttling to 600Kbps. At that speed, mobile hotspots lose most of their usefulness. I would find working on a laptop with a 600Kbps connection extremely frustrating.
Tablet plans
The tablet plans have limited allotments of "premium data" (15GB on the $20 plan and 30GB on the $30 plan). While subscribers have premium data available, they'll have high-priority connections during periods of network congestion. After premium data allotments run out, subscribers may experience especially slow speeds if Verizon's network becomes congested. Fortunately, congestion is rare in most areas.
5G
The Unlimited Plus plan includes unlimited 5G Ultra Wideband data on both tablets and hotspots.1 While that sounds great, it's rarely meaningful in practice since Verizon's 5G coverage is extremely limited. I'm guessing the unlimited 5G data will be dropped from the plan when Verizon's 5G coverage expands and the 5G network becomes more congested.
Footnotes