Verizon's Approach To 5G
5G service can be neatly split between two buckets:
Sub-6 5G: This 5G service uses the same frequencies used for 4G. Sub-6 5G is great for covering large areas and provides decent speeds. Verizon often refers to its sub-6 5G service as "5G Nationwide."
Millimeter wave 5G: This service uses extremely high-frequency waves. Millimeter wave 5G provides blazing-fast speeds, but it's terrible for covering large areas. Verizon typically calls its millimeter wave 5G service as "5G Ultra Wideband" or "5G UW."
Verizon began its 5G rollouts with a focus on millimeter wave (mmWave) technology. At this time, Verizon has millimeter wave 5G coverage in parts of at least 55 cities, 43 stadiums, and 6 airports.
On October 13, 2020, Verizon launched sub-6 5G on a massive scale. Almost instantaneously, Verizon went from offering no sub-6 5G coverage to covering over 200 million Americans with sub-6 service.
The coverage map below comes from Verizon. You can view a better, interactive version of the map on Verizon's website.

Millimeter wave coverage maps by city
Verizon has begun deploying millimeter wave 5G in at least 55 cities. Links below lead to cities' coverage maps. As of October 16, maps don't appear to be available for Verizon's recently-added cities.
(Added October 22: When Verizon launched it's low-band 5G earlier this month, city-specific maps briefly stopped being available. The maps returned to Verizon's website for a few days before becoming available again. As of today, the links to city-specific maps do not seem to be working)
Anaheim
Ann Arbor
Arlington (TX)
Baltimore
Fort Wayne
Hartford
Jersey City
Las Vegas
Louisville
Milwaukee
Oklahoma City
Philadelphia
Raleigh
Richmond
San Francisco
Sarasota
St. Louis
Syracuse
Tucson
Verizon expects at least 6 more cities will receive millimeter wave coverage by the end of 2020.1
Understanding the maps
Millimeter wave 5G is not good for covering large areas. The signals don't travel far and struggle to penetrate buildings' walls. As a result, Verizon's 5G service is only available in small portions of the cities where it's offered. For the most part, Verizon has focused on providing outdoor coverage in densely populated areas.
Verizon's maps initially display a zoomed-out view of a city's neighborhoods. Here's Denver:2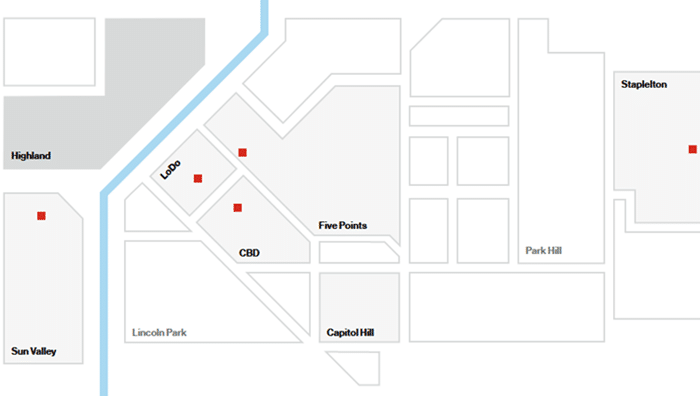 Selecting a specific neighborhood will lead to a more detailed map. Here's downtown Denver:3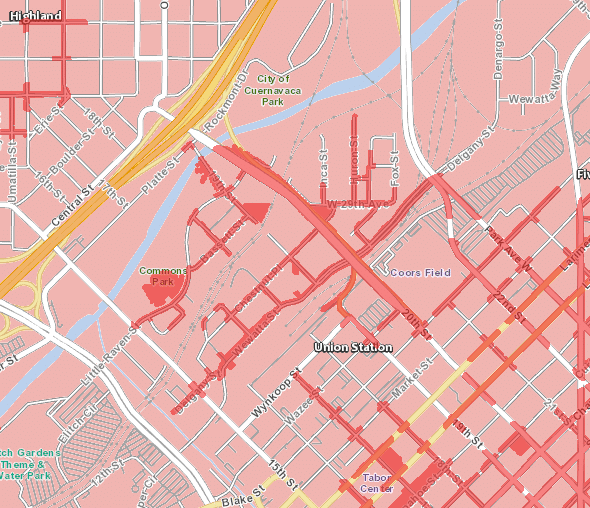 The light red indicates areas with 4G coverage. Only areas with dark red coloring are expected to have 5G coverage. As you can see, the map is dominated by light red. 5G mmWave works alright for covering streets and small outdoor areas, but the signals don't penetrate buildings well.
Millimeter wave coverage at stadium & airports
According to Verizon, 5G is available in parts of the following stadiums.
Arrowhead Stadium
CenturyLink Field
Chase Center
Citi Field
Empower Field at Mile High
FedExForum
Ford Field
Gillette Stadium
Golden 1 Center
Hard Rock Stadium
Lambeau Field
Lucas Oil Stadium
Mercedes-Benz Superdome
MetLife Stadium
Moda Center
M&T Bank Stadium
NRG Stadium
Progressive Field
Red Bull Arena
SoFi Stadium
Soldier Field
State Farm Stadium
Talking Stick Resort Arena
U.S Bank Stadium
Millimeter wave coverage is also available in parts of these airports:
Chicago O'Hare
Des Moines
John Glenn Columbus
Milwaukee Mitchell
Minneapolis-St Paul
Salt Lake City
San Antonio
Verizon's 5G-compatible phones
Verizon offers almost a dozen phones compatible with the network's 5G service.
Devices available for pre-ordering
Future plans
I expect Verizon will substantially expand its 5G coverage over the next few years. While millimeter wave 5G will never be used to cover the majority of the U.S., I anticipate seeing the service in a lot more cities.
Verizon's other 5G services are also going to cover large areas. While Verizon's sub-6 5G already covers 200 million Americans, it still only covers a small portion of the U.S. by land area. Overtime, Verizon will increasingly transition to offering 5G in areas where it only offers 4G at the moment.
Speeds on Verizon's sub-6 5G should improve substantially. Currently, the service relies on low-frequency spectrum that's great for coverage but limited in its speed potential. Soon, Verizon will start using more spectrum, including medium-frequency spectrum that's better-suited for delivering fast speeds.
5G bands and frequencies
Verizon's 5G relies on a handful of spectrum bands that only a handful of recent phones are compatible with:
Millimeter wave 5G:
Sub-6 5G:
Verizon will eventually launch sub-6 5G service using other bands.
5G hotspots
Verizon offers two 5G-compatible mobile hotspots: the MiFi M2100 5G UW and the MiFi M1000. The M1000 is still available from Verizon, but it's expensive and essentially out-of-date. The MiFi M2100 is the better choice in pretty much all situations. I'm currently reviewing the device.
5G Home
Verizon's 5G Home Internet provides households internet access using Verizon's millimeter wave 5G. The service looks promising, but it's only available in very limited parts of six cities.
---
Last updated: October 2020
Footnotes