2023 Update: This page is no longer being kept up to date. See Verizon Coverage Maps for more recent information.
---
Verizon's Approach To 5G
Verizon splits its 5G service into two categories: 5G Nationwide and 5G Ultra Wideband
5G Nationwide: This type of 5G uses low-frequency signals. While the speeds from 5G Nationwide aren't wildly fast, the service has lots of coverage. In 2021, Verizon claimed its 5G Nationwide service covered over 230 million Americans in over 2,700 cities. Coverage is probably even better now.
5G Ultra Wideband: This 5G service uses high frequency signals and offers better speeds than 5G Nationwide. However, 5G Ultra Wideband isn't available in nearly as many places as 5G Nationwide. Verizon's 5G Ultra Wideband can be further subdivided into C-Band 5G and millimeter wave 5G. Millimeter wave 5G provides blazing-fast speeds, but it's terrible for covering large areas. The service is offered in parts of at least 84 cities, 11 airports, and 62 stadiums. Verizon's C-Band 5G is much more widely available. In early 2022, Verizon claimed to cover over 100 million Americans with C-Band 5G.
Verizon's 5G Coverage
The coverage map below comes from Verizon. You can view a better, interactive version of the map on Verizon's website.

Dots on the map mark cities with partial 5G Ultra Wideband coverage. Dark red shading indicates areas with 5G Nationwide coverage.
To date, Verizon has focused on rolling out 5G Nationwide in relatively populated areas. While 5G Nationwide covers most Americans (about 230 million by Verizon's estimate), the service covers far less than 50% of the United States by land area.
Millimeter wave 5G coverage maps
Millimeter wave 5G is not good for covering large areas. The signals don't travel far and struggle to penetrate buildings' walls. As a result, Verizon's 5G service is only available in small portions of the cities where it's offered. For the most part, Verizon has tried to cover busy, outdoor areas.
To view Verizon's millimeter wave coverage, you have to open Verizon's coverage map and zoom in on one of the cities marked with a dark red dot. Once you've zoomed in sufficiently, you'll see dark red shading that indicates where millimeter wave 5G coverage is available. Here's what the map looks like when zoomed in on Chicago:1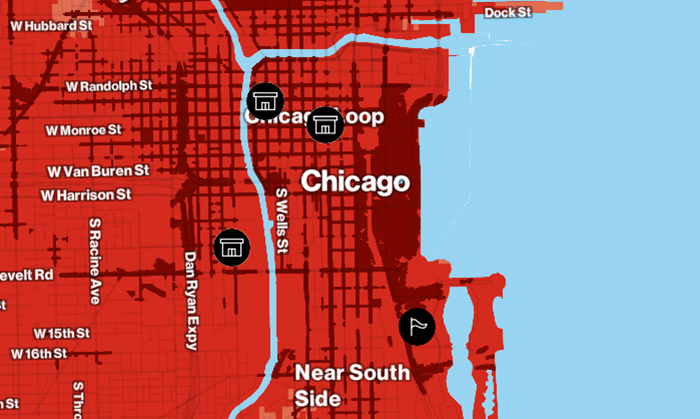 In many cities, lighter shades (indicating technologies other than 5G mmWave) will dominate the map.2
Cities with millimeter wave 5G coverage
Verizon offers millimeter wave 5G in parts of at least 84 cities.3
Millimeter wave coverage in stadiums & airports
According to Verizon, millimeter wave 5G is available in parts of over 60 stadiums. Verizon has suggested the coverage tends to be concentrated in the lower seating areas at these venues.5
Millimeter wave coverage is also available in parts of these airports:6
Chicago O'Hare
Des Moines
John Glenn Columbus
Milwaukee Mitchell
Minneapolis-St Paul
Salt Lake City
San Antonio
Future plans
Verizon will substantially expand its 5G coverage over the next few years. While millimeter wave 5G will never be used to cover the majority of the U.S., I anticipate seeing the service in more cities.
While Verizon's sub-6 5G already covers 200 million Americans, it still only covers a small portion of the U.S. by land area. Over time, Verizon will increasingly transition to offering 5G in areas where it only offers 4G at the moment.
Speeds on Verizon's sub-6 5G should improve substantially. Currently, the service relies on low-frequency spectrum that's great for coverage but limited in its speed potential. Soon, Verizon will start using more spectrum, including medium-frequency spectrum that's better-suited for delivering fast speeds.
5G bands and frequencies
Verizon's 5G relies on a handful of spectrum bands that only a handful of recent phones are compatible with:
Millimeter wave 5G:
Sub-6 5G:
n5 (850 MHz)
n77 (3700MHz)7
Verizon's 5G vs. the competition
Verizon leads the nation in millimeter wave 5G coverage. Based on the most recent information I've seen, Verizon has millimeter wave 5G in parts of 84 cities, while AT&T has coverage in 36 cities, and T-Mobile has coverage in only 6 cities.8 Still, even Verizon's millimeter wave doesn't cover that many people. While I haven't seen official numbers, third-parties have estimated that Verizon's millimeter wave covers about 0.5% of the U.S. population.
Verizon, AT&T, and T-Mobile all cover over 200 million people with low-band 5G. It's difficult to make firm statements since the 5G landscape is changing quickly, but I believe T-Mobile leads on low-band coverage, while AT&T and Verizon beat T-Mobile on low-band speeds. On mid-band coverage, T-Mobile is dominating.
5G hotspots
Verizon sells one 5G-compatible mobile hotspot: the MiFi M2100 5G UW. I own the device, and I'm a fan. Verizon's 4G hotspots may be a more cost-effective option for people that don't feel the need for the latest tech or best-possible speeds.
5G Home
Verizon's 5G Home Internet provides households internet access using Verizon's millimeter wave 5G. The service looks promising, but it's only available in a limited number of cities (57 cities as of September 9, 2021).
Verizon's 5G pricing
Verizon's 5G Nationwide service is available at no extra charge for all subscribers with compatible devices on both postpaid and prepaid plans:9
As of 10/13/20, all Verizon monthly mobile plans and prepaid plans include access to our 5G Nationwide network.
5G Ultra Wideband service is included for free on a few of Verizon's premium plans:10
Play More Unlimited
Do More Unlimited
Get More Unlimited
Subscribers on Verizon's Start Unlimited plan can add-on 5G Ultra Wideband service for $10 per month.11
Verizon's 5G speeds
Speeds with Verizon's 5G services will vary widely. Factors like the kind of device being used, the strength of the 5G signal, and the frequency of the 5G signal will all come into play.
In most cases, Verizon's 5G Nationwide service won't deliver speeds that are a whole lot faster than subscribers are used to with 4G connections. With a strong signal from Verizon's Nationwide 5G subscribers are likely to see speeds in the 50Mbps to 200Mbps range. Here's a couple results from speed tests I ran: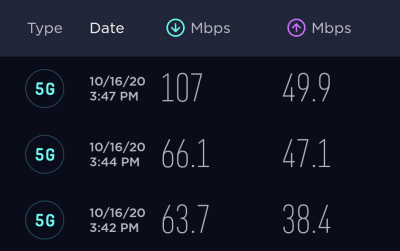 With Verizon's Ultra Wideband, speeds are much more impressive. Here's one of my most impressive millimeter wave speed test results: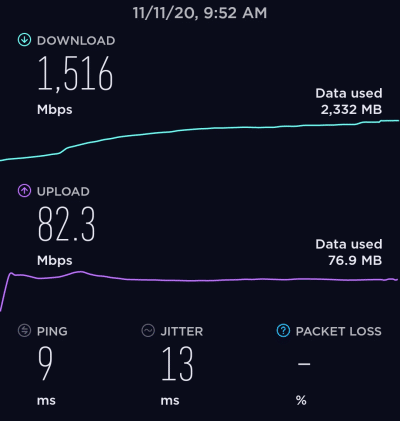 Carrier aggregation
Verizon has claimed it's millimeter wave service is capable of impressive, 8x carrier aggregation. The excerpt below comes from a press release Verizon shared on December 17, 2020:

Using advanced technology called Carrier Aggregation, Verizon's 5G Ultra Wideband network is reaching 4 Gbps peak speeds in some locations…Verizon combined eight separate channels of mmWave spectrum to achieve multi-gigabit speeds in parts of some cities. Using this technology, customers can see double the download speeds they have historically experienced on 5G Ultra Wideband, with peak speeds up to 4 Gbps possible in some locations. Customers will also see a boost in speeds with two carrier aggregation now available for uploads.
---
Last updated: February 2, 2022
Footnotes