Today, Xfinity Mobile released a handful of changes.
5G Support
Xfinity Mobile now officially offers 5G powered by Verizon's network. The carrier's updated network webpage has a lot of content devoted to the wonders of 5G.
Pricing
The 1GB by-the-gig plan has increased from $12 per month to $15 per month. Data add-ons for by-the-gig customers have also increased in cost from $12 per GB to $15 per GB.
The 3GB by-the-gig plan for $30, the 10GB by-the-gig plan for $60, and the $45 per line unlimited plan are still available with unchanged prices.
Prioritization and video throttling
With the last generation of Xfinity Mobile plans, subscribers were typically subject to deprioritization during congestion. It looks like subscribers on the new by-the-gig plans will not be subject to deprioritization. Here's a screenshot from my within my Xfinity online account:1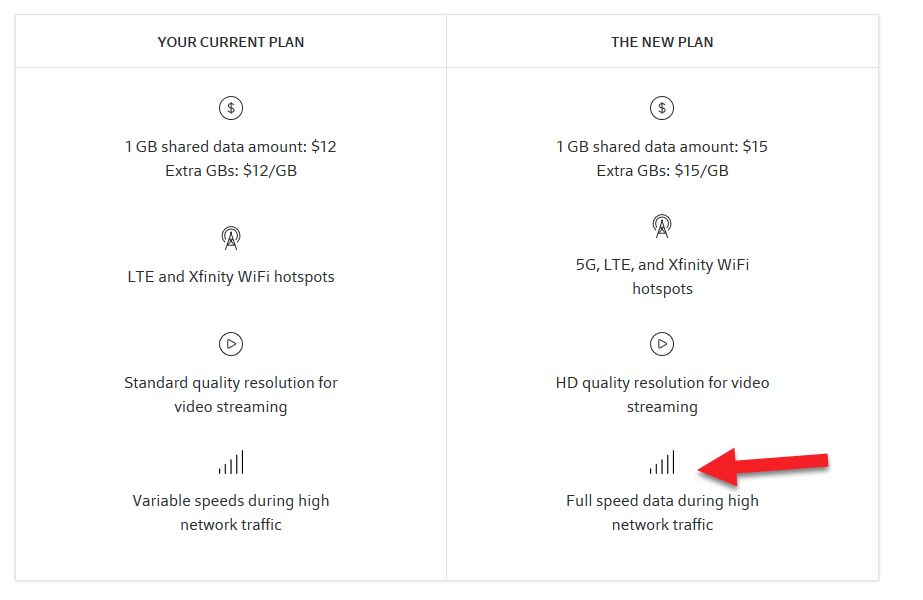 As far as I can tell, subscribers on Xfinity Mobile's Unlimited plan will continue to be deprioritized during periods of congestion.
Optional opt-in
Existing subscribers are not being forced to switch over to Xfinity's new plans. At the moment, it looks like subscribers who don't switch over will continue to experience the old price structure while missing out on new perks like 5G access.
I'm unsure whether Xfinity Mobile will let subscribers stay grandfathered on the old plans indefinitely. It's possible subscribers will eventually be forced to switch to new plans.
My take
As an Xfinity Mobile affiliate, I got a heads up that changes were coming. It sounded like there would be a price increase on the 1GB plan, and I figured I wouldn't be able to recommend Xfinity Mobile as strongly after the changes. I'm happy to say my expectation was wrong. The $3 increase in the 1GB plan isn't too substantial, and the improved prioritization for by-the-gig customers is great.
I'm frustrated by how actively Xfinity Mobile is marketing the new 5G service without making it clear that (a) Verizon's 5G coverage is extremely limited and (b) few consumers have devices compatible with Verizon's 5G. That said, Xfinity Mobile's marketing is less misleading than what we're typically seeing from carriers offering 5G. While the new 5G access won't have a meaningful effect on most subscribers today, it will become more important as Verizon expands its 5G coverage.
---
Considering Xfinity Mobile? Check coverage at your location with the carrier's coverage tool.
Footnotes
The screenshot also seems to suggest video throttling is being loosened on by-the-gig plans. I think the screenshot is a bit misleading though. Here's an excerpt I pulled from Xfinity Mobile's Broadband Disclosures page on 10/16/2019:

"For customer accounts established on or after August 1, 2019, lines utilizing the 'By-the-Gig' data option will have 720p established as the default resolution for streaming video on smartphones (1080p on tablets), while lines utilizing the 'Unlimited' data option will have the default resolution for streaming video set at 480p.

The same page now says the following (text pulled on 5/17/2020):

"For lines utilizing the 'By-the-Gig' data option, Comcast has established 720p as the default resolution for streaming video on all devices operating on a 3G Ev-DO or a 4G LTE network; 1080p for tablets; and 4K for 5G devices operating on a 5G network. By-the-Gig customers using non-5G devices can elect to reduce the streaming video resolution for any line to 480p to save on data usage…Lines utilizing the 'Unlimited' data option will have the default resolution for streaming video set at 480p for non-5G devices, at 720p for 5G devices operating on a 4G LTE network, and at 4K for 5G devices operating on a 5G network. Customers on this option who are not using 5G-enabled devices can purchase high resolution streaming (720p for smartphones; 1080p for tablets) for any line."