T-Mobile offers two, budget-friendly Connect plans. Both plans offer unlimited minutes and texts. Pricing is determined by the monthly data allotment:
$15 per month – 2GB allotment
$25 per month – 5GB allotment
I had a great experience during my trial of a T-Mobile Connect plan. While T-Mobile doesn't have the most extensive network, subscribers can still expect good coverage in most modestly populated areas.
Key features
Excellent prices with no long-term commitment
Relatively high priority during periods of network congestion
Wi-Fi calling enabled
Tethering & mobile hotspot permitted
Some access to T-Mobile's domestic roaming partners
No international calling or roaming features
Plan background
In 2019, T-Mobile committed to offering a new, budget plan if a merger between T-Mobile and Sprint was approved:1
[The New T-Mobile will offer a] competitive $15 per month prepaid option– half the price of the lowest T-Mobile plan today – to EVERYONE, especially lower-income consumers.
In early 2020, T-Mobile launched its Connect plans to meet the commitment.
Plan structure & pricing
The Connect plans offer unlimited minutes and texts along with either 2GB or 5GB of data. The 2GB plan costs $15 per month, and the 5GB plan costs $25 per month. The plans are prepaid with month-to-month payments. Those wanting to subscribe to a Connect plan will need to make a one-time purchase of a T-Mobile SIM card for $10.
Unlike some of T-Mobile's other plans, the Connect plans do not include taxes and fees in their list prices. Data on the Connect plans is hard-capped, meaning that subscribers who run out of data will have internet access shut off rather than reduced to sluggish speeds. Connect plan subscribers that run out of data can pay $10 to add 7 days or 1GB (whichever comes first) of full-speed data.
Annual data upgrades
T-Mobile has committed to keeping these plans the same price while annually adding 500MB of data to the plans for each of the next five years. The data increases are not rewards for long-term customers. Both existing subscribers and new subscribers will be able to benefit from the annual data increases.
Coverage
T-Mobile Connect subscribers have access to T-Mobile's native network and get coverage from T-Mobile's domestic roaming partners. Data access while roaming is limited to 100MB per month on T-Mobile Connect plans.2 T-Mobile's interactive coverage map can be viewed on the company's website.
Speed
Speeds on T-Mobile's connect plans will be heavily dependent on factors like location, signal strength, and the type of device a subscriber is using. In most situations where subscribers have strong signals, speeds will be solid. T-Mobile doesn't throttle speeds on the Connect plans.
The speed test results shared below come from tests I ran in and around Boulder, Colorado: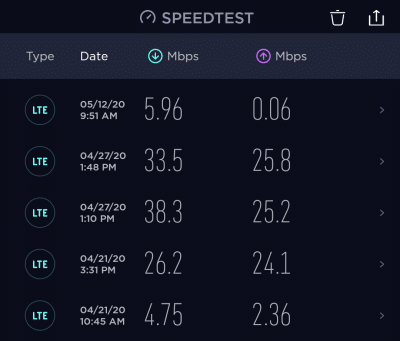 Prioritization
As far as I can tell, T-Mobile Connect subscribers receive a level of priority on-par with most other T-Mobile subscribers. Many other low-cost services that run over T-Mobile's network (e.g., plans from Mint Mobile) appear to be prioritized behind most direct T-Mobile subscribers.
My understanding of the prioritization policies on T-Mobile's Connect plans is based on my reading of some of T-Mobile's disclosures, and a test I ran finding a QCI of 6 on a Connect plan. More details about prioritization on T-Mobile's network can be found on another page.

Video throttling
By default, T-Mobile's Data Maximizer is turned on, and video typically streams at a maximum of 480p (sometimes called DVD quality).3 Subscribers that want to stream video in higher definition can supposedly turn off Data Maximizer. When I tried to do this myself, I wasn't actually able to.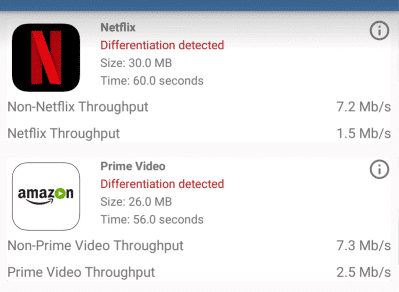 Support
T-Mobile offers phone support at 1-800-T-MOBILE that I believe is available 24/7. As far as I can tell, T-Mobile's prepaid customers are directed to a different set of support agents than postpaid customers. I would guess that prepaid subscribers tend to get lower quality support, but I had a decent experience during the one support call I made.
T-Mobile also offers a community support forum where subscribers can ask questions.
Features
Wi-Fi calling
T-Mobile Connect subscribers can use Wi-Fi calling on compatible devices.
Tethering & mobile hotspot
T-Mobile Connect subscribers can take advantage of mobile hotspot and tethering features. Data used while tethering will drain from subscribers' regular data allotment.
International roaming
International roaming is not offered with T-Mobile's Connect plans. Connect subscribers traveling to Canada or Mexico may want to temporarily upgrade to the T-Mobile Simply Prepaid plan with the international roaming add-on. This upgrade can be made easily from T-Mobile's web interface: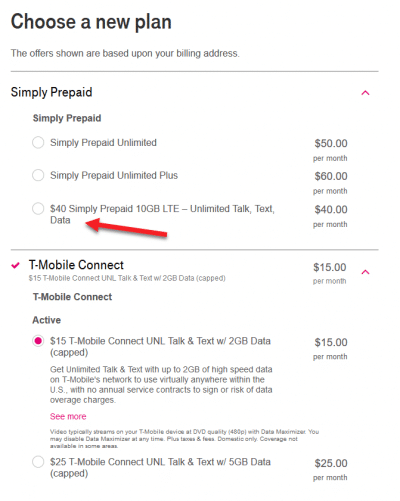 Connect subscribers visiting countries other than Canada and Mexico can probably get the best deals by buying local, temporary SIM cards in the countries they visit.
International calling
According to T-Mobile, no international calling features are available on Connect plans.4 Connect subscribers wanting to have conversations with people in other countries may want to consider using VoIP apps.
Device compatibility
T-Mobile's network is compatible with a wide range of phones. You can check the compatibility of a specific device on T-Mobile's website.
Signup and Activation
I found the signup and activation process straightforward. T-Mobile did an unusually good job disclosing the Connect plan's terms and policies during checkout. Along with the cost of the first month of service, I also paid $10 for a SIM card kit (shipping was included at no extra cost).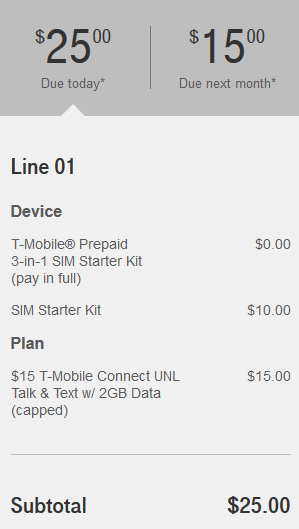 On top of the $25 base price, I paid $1.69 in taxes. Soon after placing my order, my SIM kit came in the mail.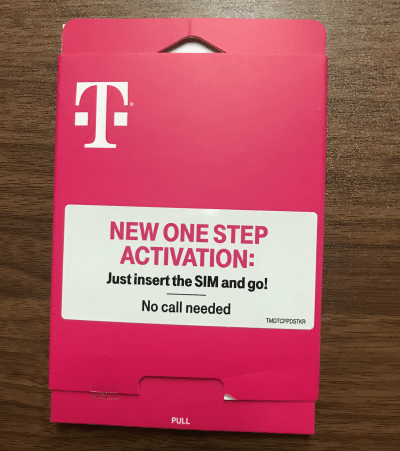 I tested the service with a Google Pixel phone. Activation was super easy. I popped the SIM card into the phone, restarted my device, and my service was good-to-go.
Bottom line
T-Mobile's Connect plans are an excellent deal for light users that don't need extensive coverage or international access.
---
View Connect Plans on T-Mobile's Website
---
Footnotes