Actor Ryan Reynolds recently announced that he has acquired an ownership stake in Mint Mobile. I expect that Reynolds only owns a part of Mint Mobile rather than the entire company, but I'm not entirely sure. In many places, Reynolds is described as the owner of Mint Mobile in a way that doesn't seem incompatible with him having complete or near-complete ownership of the company.
From Reynolds' Twitter bio:
---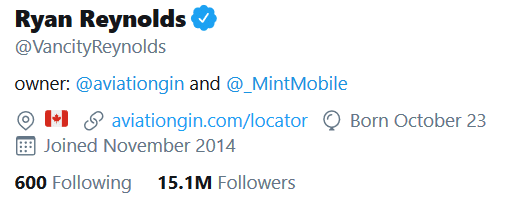 ---
From Reynolds' tweet announcing involvement with Mint:
---

---
From a banner on Mint's website:
---

---
However, Mint Mobile's press release makes it sound like Reynolds only acquired partial ownership:

Mint Mobile, the wireless company offering carrier-grade service for a fraction of the cost, today announced actor, writer, producer and mobile phone enthusiast Ryan Reynolds has purchased an ownership stake in the company.
The press release suggests that Reynolds will become involved with Mint's marketing and communications efforts. I'd love to see Mint come up with ads similar to this one that Reynolds used to promote his gin brand: