Last updated: June 2020
Summary
As far as I can tell, Verizon's prepaid subscribers are covered in all or nearly all the places that Verizon's postpaid subscribers receive coverage. It looks like Verizon's prepaid subscribers generally have access to the same extended network roaming partners that Verizon's postpaid subscribers have access to.
---
View Verizon's Coverage Map
---
Background
In 2019, I couldn't find anywhere where Verizon clearly explained the difference between its prepaid coverage and postpaid coverage. Since I couldn't find clear answers, I did a bit of digging around Verizon's coverage maps. I share what I learned on this page. I'm not entirely confident about my assessment, and network coverage changes all the time. If you have any doubts, you may want to reach out to Verizon directly.
Coverage maps
As of April 2019, the interactive coverage map on Verizon's website allows users to select one of four options for viewing coverage information:
4G LTE Coverage
4G LTE without 3G CDMA
3G/1X Coverage
Prepay Voice & Data
Here's what that map looks like with the default "4G LTE Coverage" option selected: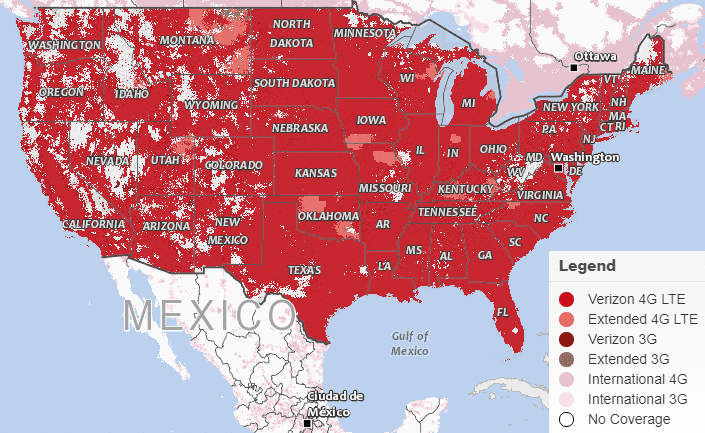 With the "Prepay Voice & Data" option selected, the map looks quite similar: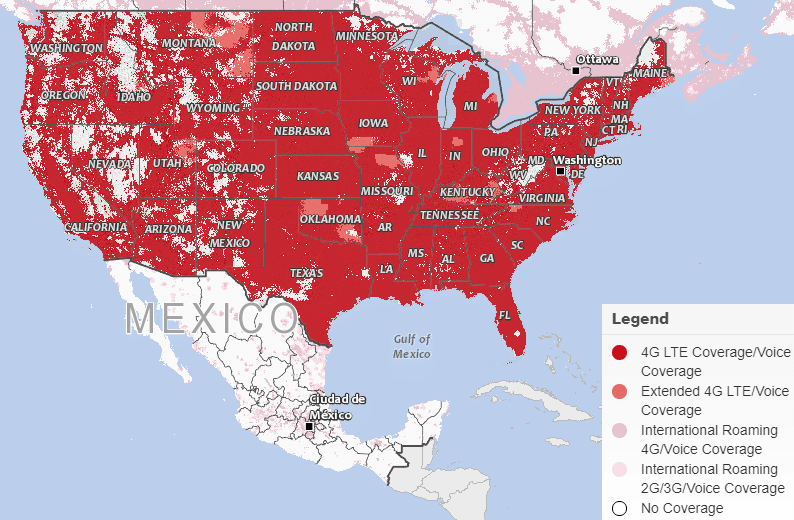 It looks like both maps show extended (roaming) 4G LTE coverage in the same (or nearly the same) places. My impression is that subscribers to both Verizon's prepaid and postpaid service can roam in the extend 4G areas at no extra charge.1 The only obvious differences in the national maps are areas with 3G coverage. Even those differences are hard to see since the regions are so small. I've added arrows to the first map to indicate a few of the places where postpaid subscribers have network access that prepaid subscribers may not. Green arrows indicate areas covered by extended 3G networks and yellow arrows indicate areas covered by Verizon's 3G networks.2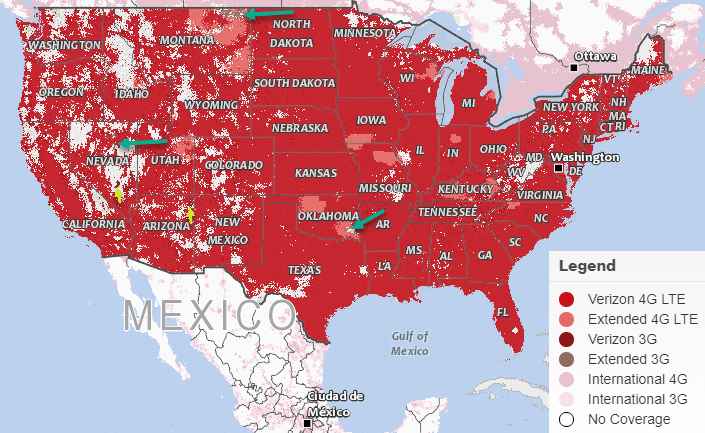 The differences in coverage are probably unimportant for most consumers given (a) how small the regions are and (b) Verizon's plan to largely retire its 3G network by the end of 2020. In fact, I'm not confident that prepaid subscribers are totally unable to access Verizon's network in areas I marked with arrows (if network access in those areas is important to you, see the following footnote).3
Coverage with Verizon-based MVNOs
I've found it difficult to figure out how the coverage offered by mobile virtual network operators (MVNOs) that run over Verizon's network compares to the coverage that that Verizon's own prepaid and postpaid subscribers receive. I'm suspicious that MVNOs running over Verizon typically have a smaller coverage profile than Verizon itself.
Through its LTE in Rural America (LTEiRA) program, Verizon partners with 20 or so regional network operators.4 Verizon's direct customers can access these regional operators' networks. It's unclear whether subscribers on Verizon-based MVNOs can access these networks. The best discussion I've seen on this topic comes from a post on HowardForums started in August 2019. I'm not certain, but the post leads to to believe most people using Verizon-based MVNOs cannot access most LTEiRA networks at this time.
Quick links
Footnotes