The snapshot below came from T-Mobile's coverage map:1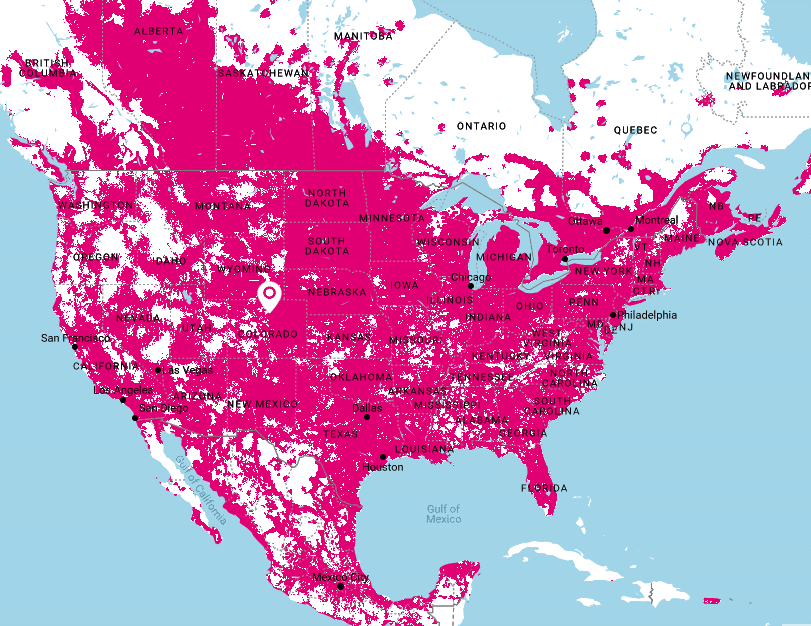 On the same coverage web page, T-Mobile also offers a map that distinguishes between regular coverage areas and partner (or roaming) coverage areas: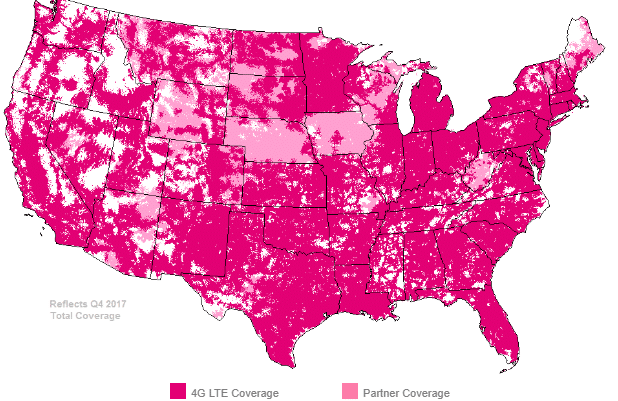 Certain services may not work in areas with partner coverage.
Data coverage not available in partner areas for prepaid Mobile Broadband plans, Pay As You Go, prepaid $30/mo or $35/mo plans, or prepaid data passes. Your roaming and on-network data allotments may differ; see rate plan for details. We are not responsible for the performance of our service partner's networks. International roaming may incur additional charges and refers to usage outside of the US. Some areas of roaming coverage areas require a multi-band device.
2
I think the $30/mo and $35/mo plans referenced in the excerpt are special, low-price plans that T-Mobile doesn't offer directly from its website or stores. I expect that the prepaid plans not mentioned in the excerpt have nearly the same coverage and roaming capabilities as service on T-Mobile's postpaid plans. T-Mobile's prepaid coverage map looks nearly identical to the regular coverage map.3
With most plans, T-Mobile limits data use in domestic roaming areas to 200MB/line/month (more details from T-Mobile).
Coverage on MVNOs
Coverage for subscribers to MVNOs that use T-Mobile's network may be different than coverage for direct subscribers to T-Mobile. For example, here's Mint Mobile's coverage map (Mint runs service over T-Mobile's network):4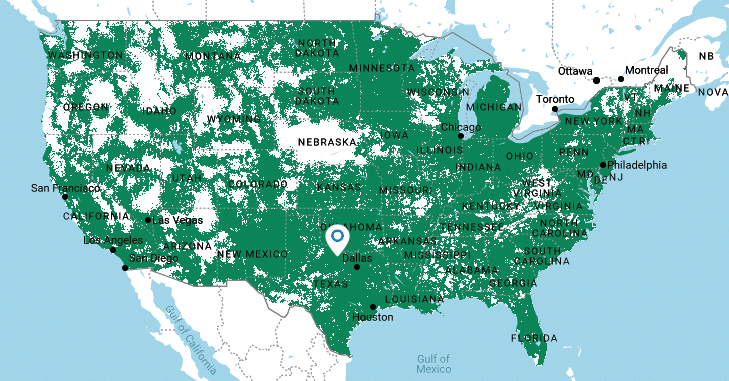 Coverage with some T-Mobile MVNOs might be different from the coverage that Mint offers. That said, there are interesting things about Mint's coverage profile—it seems like Mint lacks coverage in some, but not all, of the areas that T-Mobile lists as having partner coverage. For example, most of Iowa appears is shaded as partner coverage but is included in Mint's map. However, much of Nebraska is also listed as having partner coverage on T-Mobile's map. This area is listed as having no coverage on Mint's map. I expect this means Mint subscribers have access to some but not all of T-Mobile's roaming partners. However, I suppose it's also possible that T-Mobile's map of partner coverage is just out-of-date and some of the areas that used to be covered by roaming partners now have native coverage.
Footnotes