Mint runs over T-Mobile's network, so Mint and T-Mobile subscribers generally use the same frequency bands.
4G LTE Bands
Mint Mobile primarily uses LTE bands 2, 4, 12, and 71. While bands 2 and 4 are essential, bands 12 and 71 are beneficial but not required. Support for LTE band 66 can allow for higher speeds, but it's only useful in a limited number of areas.
5G bands
For subscribers with 5G-capable phones, Mint offers 5G service at no extra charge. Mint's 5G service uses the following bands:
Bands n41 and n71 are by far the important 5G bands for Mint subscribers. While n71 is a low-frequency band that doesn't deliver exceptionally fast 5G, service using band n71 is widely available. T-Mobile estimates it covers over 300 million people (90% of the US population) with n71 5G. T-Mobile's service using band n41 covers over 200 million people, and the speeds with n41 5G are excellent.
While T-Mobile technically offers millimeter wave 5G using bands n258, n260, and n261, millimeter wave 5G service from T-Mobile has an extremely limited coverage profile.
Location-specific band information
If you select a specific spot on the coverage map on Mint's website you can see granular information about the services expected to be available in that location.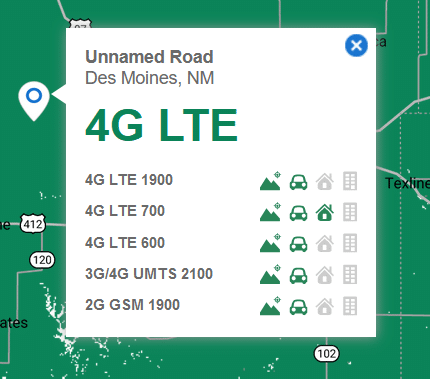 In the example above, the coverage map suggests service three LTE bands are in use at the selected location.
600Mhz – LTE Band 71
700Mhz – LTE Band 12
2100Mhz – LTE Band 2