Xfinity Mobile includes 5G access in its plans with no extra charge. Subscribers that want to take advantage of Xfinity Mobile's 5G coverage will need a compatible device.
5G coverage maps
While Xfinity Mobile doesn't publish its own 5G coverage map, you can check whether 5G service is expected to be available within your zip code with Xfinity's coverage tool. After entering a zip code in the tool, you'll see which wireless technologies are available: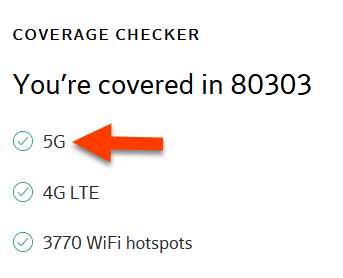 In lieu of maps published by Xfinity Mobile, you can use Verizon's coverage maps to assess Xfinity Mobile's 5G coverage. It's my impression that Xfinity Mobile subscribers have access to roughly the same 5G coverage as Verizon's subscribers.
Here's what Verizon's coverage map looks like at the national level: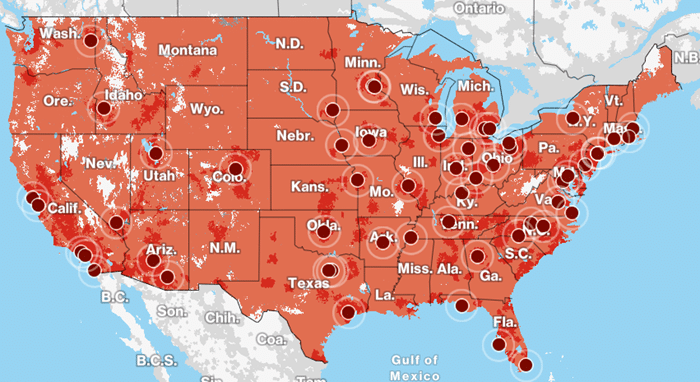 The lightest shading indicates areas where only 4G LTE coverage is available. The darker red shading indicates areas where Verizon offers its 5G Nationwide service. While the map mostly shows 4G LTE coverage, the 5G Nationwide service tends to be clustered in densely populated areas. Consequently, Verizon covers most Americans with 5G even though the network does not cover the majority of the U.S. by land area.
Dark red dots indicate cities where Verizon offers some millimeter wave 5G coverage. This type of 5G technology is extremely fast, but very limited in its potential to cover large areas. As a result, Verizon's 5G millimeter wave service is mostly limited to busy, outdoor areas in large cities.
If you happen to live in a city where Verizon offers millimeter wave 5G, you can see detailed coverage information by zooming in on your location with Verizon's interactive coverage map. Here's what Chicago's 5G coverage looks like after zooming in: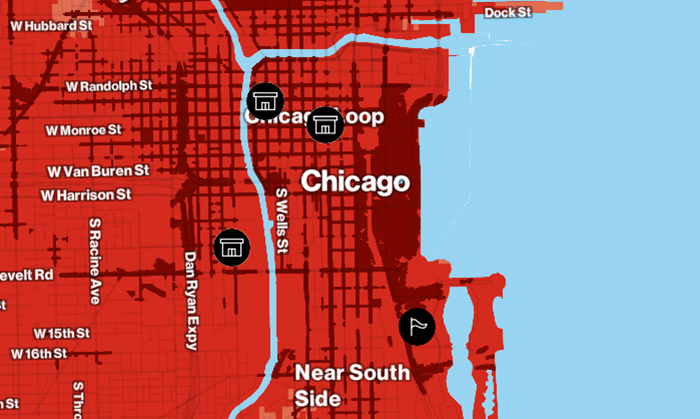 In another article, I go into far more depth on Verizon's 5G coverage.
5G-compatible phones
Xfinity Mobile offers several 5G phones in its store. If you already own a 5G-capable device, you can check whether it's compatible with Xfinity Mobile using the carrier's compatability tool.