The carrier US Mobile offers coverage over Verizon's network and T-Mobile's network. When subscribers sign up for US Mobile, they must opt to put devices on one network or the other (i.e., US Mobile doesn't offer service that uses both networks simultaneously). US Mobile calls its Verizon-based service "Super LTE" and its T-Mobile-based service "GSM LTE."1
Super LTE Network Coverage
Super LTE is US Mobile's superior service from a coverage standpoint. With Super LTE, US Mobile subscribers get coverage from Verizon's industry-leading network. While I haven't seen a Super LTE coverage map shared by US Mobile, I expect the carrier's coverage profile is extremely similar to Verizon's coverage profile. Here's a recent coverage map from Verizon: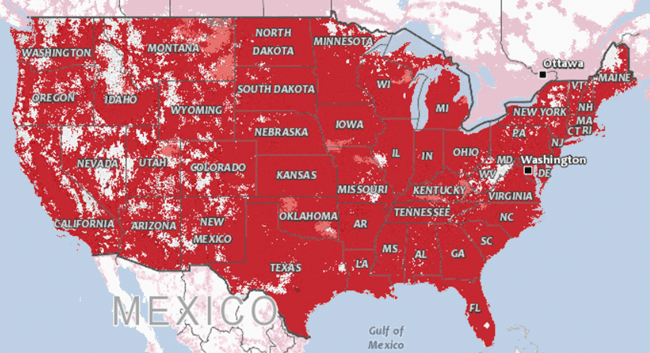 You can verify coverage at a specific zip code with the coverage tool on US Mobile's website.
GSM LTE Network Coverage
While US Mobile's GSM LTE service doesn't have as extensive coverage as the Super LTE service, most people will still find the service to offer adequate coverage. While I haven't seen a coverage map published by US Mobile, GSM LTE subscribers should get access to essentially all of T-Mobile's native network. Beyond T-Mobile's native network, T-Mobile also has roaming partners in areas where native coverage is unavailable. The somewhat-dated map below illustrates where T-Mobile offers native coverage and where T-Mobile relies on coverage from roaming partners: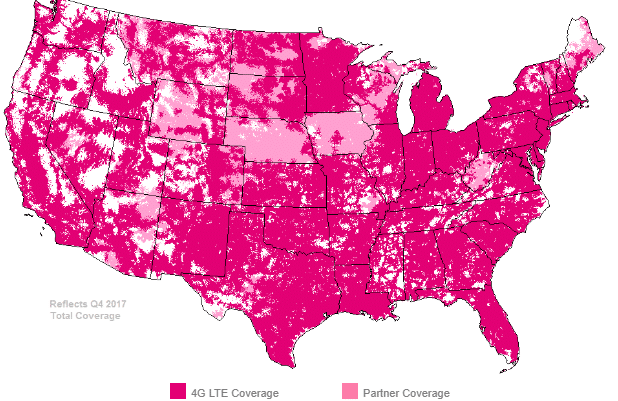 In many cases, carriers like US Mobile can't explicitly state whether they can access coverage from their host networks' roaming partners. Trying to figure things out personally, I entered several zip codes into US Mobile's coverage tool that I believed were from areas where T-Mobile only offers coverage through its partners. Based on the information I got back from the tool, I'm pretty confident US Mobile doesn't have full access to all of T-Mobile's roaming partners. However, US Mobile subscribers may get coverage from some subset of T-Mobile's roaming partners.
If you have any reservations about availability in your area, run your zip code through US Mobile's coverage tool.
Footnotes
US Mobile likely chose this naming structure because the networks partnering with US Mobile don't allow their networks to be named explicitly. In a blog post I share more details about how and why carriers often conceal the names of their host networks.