Tello is in the process of transitioning from running over Sprint's network to running over T-Mobile's network. New subscribers will receive coverage from T-Mobile's network by default. Long-standing subscribers' service may run over Sprint's legacy network, but these subscribers can opt to switch to T-Mobile. Eventually, Tello will migrate all of its subscriber base to T-Mobile's network.
Tello's T-Mobile-Based Coverage
Tello's GSM service runs over the T-Mobile network. In all likelihood, Tello, like many MVNOs, is contractually prohibited from explicitly advertising that it offers service over T-Mobile's network.
Here's what the coverage map looks like for Tello's GSM service: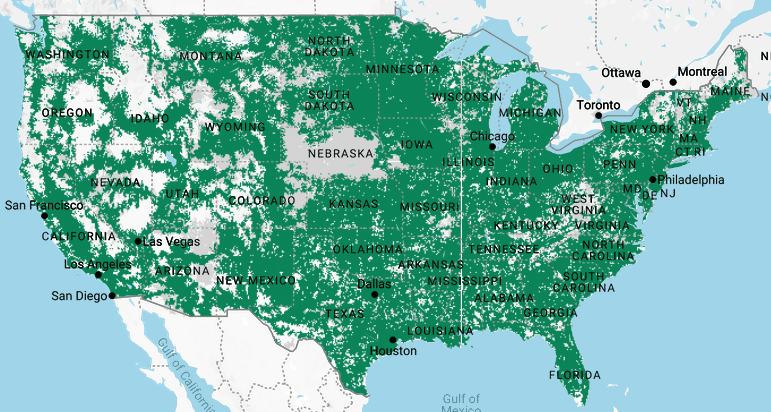 For better information about coverage at your location, I suggest exploring Tello's interactive coverage map. On the interactive map, you can zoom in to see more detailed coverage information.
Tello's coverage vs. T-Mobile's coverage
Tello's GSM coverage map looks quite similar to T-Mobile's own coverage map: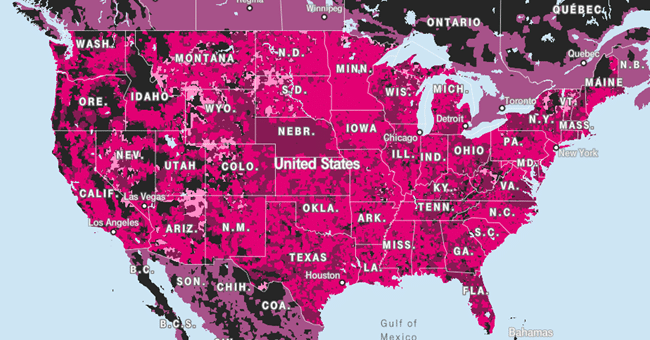 I expect small coverage differences exist because Tello does not have access to all of T-Mobile's roaming partners.
Tello Coverage For Legacy Subscribers
Tello subscribers that signed up prior to mid-January of 2021 may still receive service via Sprint's network. Tello plans to offer Sprint-based service until at least mid-2021. While subscribers on Sprint's network will eventually be required to migrate to T-Mobile, those who want to switch networks sooner can opt to do so.
I took snapshots of coverage maps for Tello's Sprint-based service in late 2020. Here's the map for voice service coverage: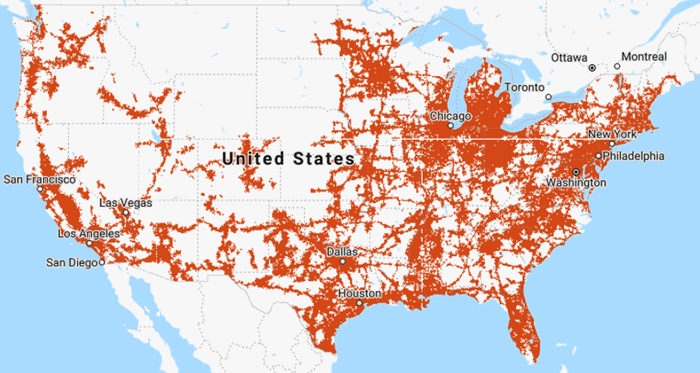 Tello's map for data coverage looked a bit different: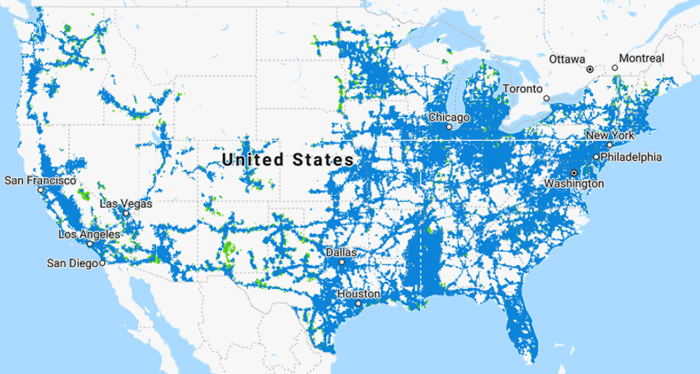 The maps may no longer be accurate. Sprint and T-Mobile merged in 2020. While Sprint's network still exists, it's gradually being decommissioned. Service quality on Sprint's network may degrade as Sprint's assets are repurposed to improve T-Mobile's network.
You can view interactive versions of the coverage maps for Tello's Sprint-based service by going to Tello's coverage page then clicking "View cdma" on the lower right of the web page.
GSM/CDMA misnomer
While Tello is distinguishing between the networks it runs over by calling one network "CDMA" and the other "GSM", the distinction is a bit misleading. As a detail in a blog post, today's networks are primarily LTE networks. LTE is not GSM or CDMA.
---
Last updated: June 2021