I no longer keep this article up-to-date. My page about AT&T's coverage maps is updated regularly and goes into detail about AT&T's 5G coverage.
---
AT&T's 5G can be split into three buckets:
Low-band 5G: Great for covering large areas, but limited in speed. AT&T's low-band 5G covers way more of the country than AT&T's other 5G services.
Mid-band 5G: Service using mid-band spectrum is fast and capable of covering decent-sized areas.
Millimeter wave 5G: Extremely fast, but very bad for covering large areas. Millimeter wave 5G is almost exclusively used in dense, urban areas and does not penetrate buildings well.
AT&T collectively refers to both its mid-band 5G and millimeter wave 5G service as 5G+.
By my counting, AT&T has started offering millimeter wave 5G in parts of at least 37 cities. AT&T's low-band 5G covers over 200 million people.1 I expect AT&T's 5G coverage, particularly AT&T's low-band coverage, will expand substantially over the next year.
Coverage maps
You can check AT&T's 5G coverage on the carrier's interactive coverage map. When you first open AT&T's map, you'll see a zoomed-out view of the United States. The default map only makes a simple distinction between areas with coverage and areas without coverage: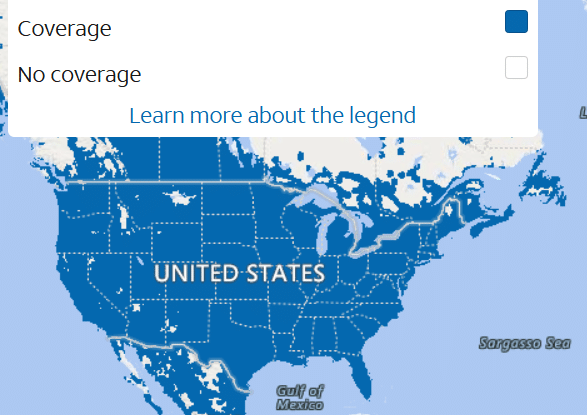 To see information about which areas have 5G coverage, you'll need to enter your location or zoom in on the map. Here's how the map looks when zoomed in on the San Francisco area:2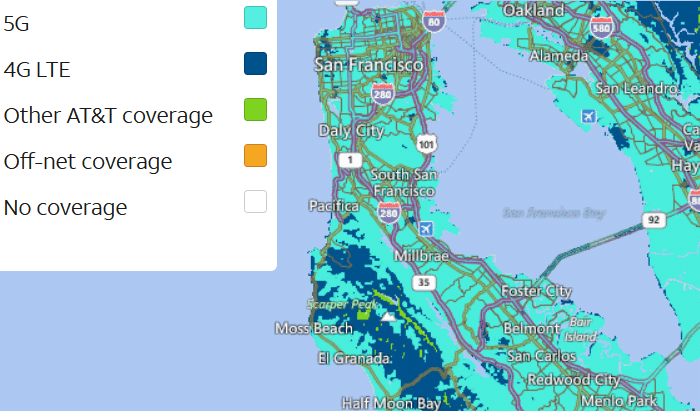 Light blue indicates areas with 5G coverage. My guess is that the coverage map only indicates places with low-band 5G coverage.3 I'm not aware of any maps published by AT&T that show 5G+ coverage.
5G+ locations
As of December 2020, AT&T offers 5G+ service in parts of these cities:
AT&T's 5G bands
AT&T uses at least three different bands for 5G coverage.
n5 (850MHz)
n260 (39GHz)
n261 (28GHz)
As AT&T's 5G service matures, I expect the company will use more frequencies to take advantage of mid-band spectrum.
AT&T's 5G-compatible phones
As of December 2020, AT&T offers over 20 5G-capable phones.
Apple:
Samsung:
Google:
LG:
Motorola
AT&T's 5G vs. the competition
AT&T, T-Mobile, and Verizon are all offering low-band 5G that covers over 200 million people. While coverage numbers are changing quickly, I think T-Mobile covers more people with low-band 5G than any other carrier.
When it comes to millimeter wave 5G, Verizon is the uncontested leader. While Verizon's millimeter wave 5G only covers about 0.5% of the U.S. population, that a much larger slice of the population than AT&T covers with millimeter wave 5G.4 Verizon's millimeter wave is available in about 55 cities compared with AT&T's 36 cities.
5G hotspots
AT&T offers one standalone hotspot device with 5G capabilities, the Nighthawk 5G Mobile Hotspot Pro. It has a retail price of $510, but it's also available for 30 monthly installments of $17.
AT&T's 5G pricing
AT&T offers 5G access at no extra charge on all of its postpaid unlimited plans:
Unlimited Starter
Unlimited Extra
Unlimited Elite
5G access is also included on AT&T's Unlimited Data Plus prepaid plan.
Footnotes