1. Service is Especially Cheap if You Purchase in Bulk.
As a prepaid carrier, Mint Mobile charges customers upfront for service. Subscribers can pay for either 3, 6, or 12 months of service upfront. Mint's monthly rates vary depending on how many months of service a customer purchases at a time. For example, here's the regular pricing for Mint's plan that includes 4GB of data each month:
3 months: $25 per month
6 months: $20 per month
12 months: $15 per month
If you're a new customer, the idea of purchasing 12 months of service upfront without knowing how much you'll like the service may be intimidating. Fortunately, Mint offers a deal for new customers.
For the first billing term, new customers can purchase three months of service at the rate that Mint normally reserves for people who purchase a year of service upfront. For example, a new customer can buy three months of service on the 4GB plan for $45 ($15 per month).
2. All Plans Include Unlimited Minutes and Texts.
All of Mint Mobile's plans include unlimited minutes and texts. Mint's plans only differ in terms of their data allotments. At the moment, Mint offers four plans options:
4GB data with unlimited minutes and texts
10GB data with unlimited minutes and texts
15GB data with unlimited minutes and texts
Unlimited data (really 35GB) with unlimited minutes and texts
Mint allows customers who run out of data to purchase add-on data.
3. Mint Runs Over T-Mobile's Network.
Mint Mobile is a mobile virtual network operator (MVNO). Rather than operating a wireless network, Mint piggybacks on the network run by T-Mobile. The network isn't as extensive as Verizon's network or AT&T's network, but T-Mobile still offers coverage in the vast majority of well-populated places.
<-- Mint's website has a tool for checking coverage by zip code along with a coverage map:1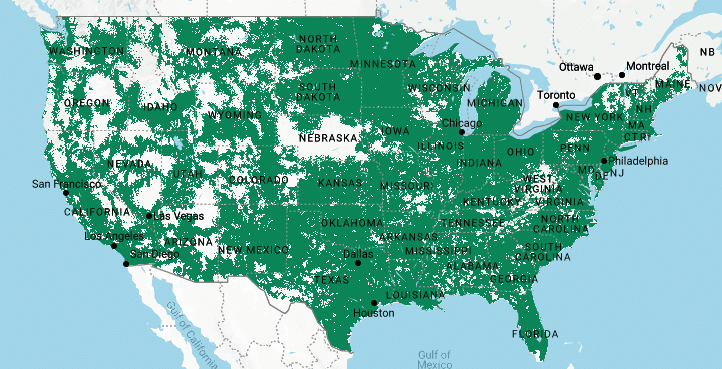 –>
4. Speeds May be Slow During Congestion.
Mint Mobile's subscribers are liable to be deprioritized during periods of network congestion. When networks are near their maximum capacity, Mint Mobile subscribers are likely to experience slower data speeds than other users on the network. If congestion is especially bad, speeds may be sluggish, and the internet may become almost unusable.
For most people, deprioritization isn't going to be a big issue. The frequency of congestion is location-dependent, and serious congestion is fairly rare. That said, congestion can be a regular occurrence in some areas.
5. Transferring to Mint is Easy.
Switching to Mint isn't complicated. If you have a compatible phone, you can keep using it with Mint. You can check compatibility with a tool on Mint's website.
During Mint's ordering process, you'll have the choice of either being assigned a new number or porting your existing number. Mint doesn't charge any fees for activating service or porting numbers.
6. Mint Offers Extra Data for Free at Sluggish Speeds.
If you use all of your allotted data and don't want to pay for more, Mint allows customers to continue using data at vastly reduced speeds (128Kbps). The speeds probably won't be adequate for seamless browsing or streaming, but it's a nice perk that may make it possible to pull up an email or a boarding pass even when you're out of regular data.
7. Wi-Fi Calling is Supported.
Spend a lot of time in basements or buildings with weak cellular signals? Mint Mobile allows Wi-Fi calling and texting on certain devices. You can check whether your device is compatible here.
8. Mobile Hotspot use and Tethering are Enabled.
Mint Mobile allows subscribers to set up mobile hotspots so other devices like laptops can access the internet through Mint's cellular connection. Unlike some other carriers, Mint doesn't limit data speeds via hotspot. Data used via hotspots will come from subscribers' regular data allotments. Mint does not place any other restrictions on the amount of hotspot data subscribers can use each month.
9. Mint Mobile is an Online Company.
Rather than having brick-and-mortar stores, Mint operates over the internet, which helps to keep the company's overhead costs down.
Final Thoughts
For those who can get good coverage from T-Mobile's network, use less than 12GB of data per month, and don't mind possible deprioritization, Mint Mobile may be a fantastic option. For more in-the-weeds details about Mint and my experience with the service, see my complete Mint Mobile review.
Page last updated December 28, 2021
Footnotes