2022 Update: I no longer keep this page up-to-date. See my primary Mint Mobile coverage page for more recent information.
---
Mint Mobile offers 5G service to its subscribers at no extra cost. Mint's 5G service runs over T-Mobile's 5G network, which currently leads the nation in availability. To take advantage of Mint Mobile's 5G coverage, a Mint subscriber must have a 5G-capable phone. More than a dozen 5G phones are available in Mint's online store.
Mint Mobile's 5G coverage
You can check whether Mint Mobile offers 5G service at your location with the help of Mint Mobile's interactive coverage tool. After entering a location, you can see which cellular technologies are available: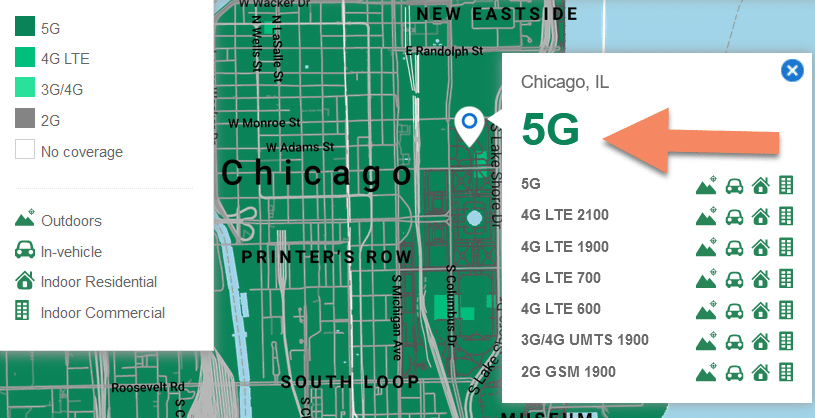 Mint's 5G services can be split into three buckets:
Low-band 5G: Low-band 5G uses low-frequency signals that are great at covering large areas. Low-band 5G is not much faster than traditional 4G service. T-Mobile's
Mid-band 5G: Mid-band 5G uses medium-frequency signals. Mid-band 5G offers a combination of solid speeds and decent coverage potential.
Millimeter wave 5G: Millimeter-wave 5G uses extremely high-frequency signals. Millimeter wave 5G delivers outstanding speeds, but it is horrible from a coverage perspective. Millimeter wave signals don't travel far and struggle to penetrate objects like trees and walls.
While Mint Mobile's host network, T-Mobile, is deploying all three types of 5G, T-Mobile has relied primarily on low-band 5G so far. While low-band 5G doesn't deliver exceptional speeds, Mint's low-band 5G coverage is available to well over 200 million Americans.
T-Mobile is quickly scaling up mid-band 5G. As a result, I expect mid-band 5G coverage from Mint will be available to at least 100 million Americans by the end of 2020.
T-Mobile only offers millimeter wave 5G in seven cities. In the cities where millimeter wave 5G is offered, only tiny portions of the cities have coverage. For the time being, the vast majority of Mint Mobile subscribers shouldn't expect millimeter wave coverage regularly.
Currently, Mint does not distinguish between different 5G technologies on its coverage map. I expect Mint will update its map to offer more details about 5G coverage once T-Mobile is further along in its 5G deployments.
Phones compatible with Mint's 5G
A handful of phones are compatible with Mint Mobile's 5G service. As of December 1, 2020, Mint offers 16 devices in its online store:
Apple
Samsung
Motorola
OnePlus
People that already own unlocked, 5G-capable phones may be able to bring their phones to Mint. Specific devices' compatibility can be verified with Mint's online tool.
Mint Mobile's 5G bands
I expect Mint Mobile is currently using four different bands for its 5G service. More 5G bands may be used in the future.
Low-band 5G (covering most Americans)
Mid-band 5G (covering about 100 million people)
Millimeter wave 5G (lackluster coverage)
n261 (28 GHz)
n260 (39 GHz)