Xfinity Mobile is a mobile virtual network operator (MVNO) run by Comcast. As an MVNO, Xfinity Mobile does not operate its own wireless network. Instead, Xfinity Mobile piggybacks on Verizon's network. Since Verizon has the most reliable network in the nation, Xfinity Mobile generally provides its subscribers with excellent coverage. You can check coverage at your location using a coverage tool on Xfinity Mobile's website.
Xfinity Mobile's service is only available to Xfinity Internet customers, and the service is well-priced. All plans come with unlimited minutes and texts at no charge. Subscribers choose either an unlimited data option for $45 per month or a pay-by-the-gig option. Pay-by-the-gig users who don't need much data can get service for a shockingly low price.
While Xfinity Mobile's prices are great, customers should be wary about indirect costs that may come from becoming locked into Xfinity-branded products. Xfinity Mobile subscribers that don't continue paying for at least one other Xfinity service will be charged an extra $20 per line each month.
---
Visit Xfinity Mobile's Website
---
Key details
Service over Verizon's extensive network
Unlimited talking and texting included
Available for current Xfinity customers
No activation fees
No long-term contracts
Flexible plan options
Compatible with Wi-Fi calling
---
This review is a long read and gets in the weeds. For a shorter article, see 8 Things You Should Know Before Signing Up For Xfinity Mobile.

Plans & pricing
Unlimited minutes and texts are included with all of Xfinity Mobile's plans. Customers can then choose either Xfinity's "By-the-Gig" plan or Xfinity's unlimited data plan. The unlimited plan has a base price of $45 per line each month. The By-the-Gig plan has multiple price tiers with different data allotments.
1GB of data per month – $15
3GB of data per month – $30
10GB of data per month – $60
Xfinity Mobile charges reasonable taxes and fees beyond its base prices, but Xfinity Mobile does not charge any activation fees.
Mix, match, share, and switch
Xfinity Mobile offers subscribers a lot of flexibility in their plans. It's possible to switch between tiers on the By-the-Gig plan or switch between By-the-Gig and Unlimited plans in the middle of a billing cycle. Subscribers can even mix-and-match price structures on family plans. One person on a family plan can have unlimited data while two other people on the same plan share By-the-Gig data.
Indirect costs
Only Xfinity Home Internet customers are eligible to sign up for Xfinity Mobile. If an Xfinity Mobile subscriber cancels other Xfinity services, the subscriber will be charged additional monthly fees:1
$20 per line monthly charge applies if at least one of the following post-pay subscriptions are not maintained on the account: Xfinity TV, Internet or Voice service.
Xfinity Mobile comes with an indirect cost: reduced flexibility when choosing an internet service provider. Potential subscribers should take this indirect cost seriously (I previously discussed Xfinity Mobile's pricing structure in more detail).
Coverage
Xfinity Mobile offers excellent coverage in most of the U.S. via Verizon's extensive network. In another article, I dive into coverage maps published by Verizon and Xfinity Mobile to tease out differences in the coverage offered by each carrier. As far as I can tell, Xfinity Mobile's coverage is nearly identical to Verizon's:
Both companies appear to offer coverage over all of Verizon's own, native network.
Most of Verizon's roaming partners do not cover Xfinity Mobile subscribers.
Some very small regions where Verizon only offers 3G service appear unavailable to Xfinity Mobile subscribers.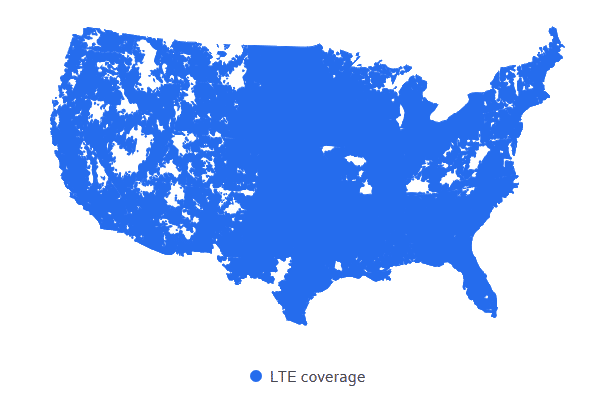 While Xfinity Mobile does not have an interactive coverage map, it does offer a tool for checking coverage by zip code.
Hotspot coverage
In addition to Verizon's cellular network, Xfinity Mobile's subscribers can connect automatically to Xfinity hotspots. While connected to a hotspot, subscribers can use the internet without pulling from their monthly data allotments.
There are about 20 million Xfinity hotspots scattered throughout the United States. Often, these hotspots can deliver strong connections in areas where cellular signals tend to be weak (e.g., in basements). Xfinity shares a map of hotspot locations on its website.
Speed
When Verizon's network is not congested, Xfinity Mobile subscribers will experience speeds comparable to those experienced by Verizon's direct subscribers. In general, Verizon delivers solid speeds, but what any individual subscriber experiences will be location-dependent. In my own experience with Xfinity Mobile, speeds were excellent. That said, I wouldn't take my own experience too seriously unless you also live in Boulder, Colorado: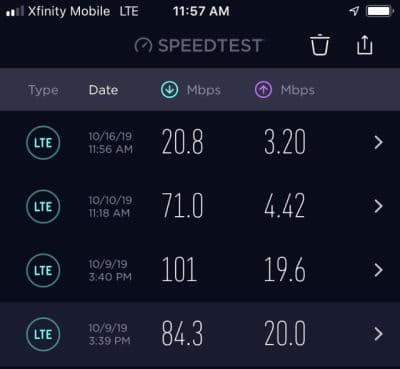 By default, Xfinity Mobile subscribers are not subject to any max speeds or throttling on most data use. However, heavy users will be throttled to a maximum download speed of 1.5Mbps if they exceed 20GB of data use in a month. At 1.5Mbps, the internet will still be usable, but performance may be sluggish for demanding activities.

After 20 GB of monthly data use, speeds are reduced to a maximum of 1.5 Mbps download/750 kbps upload, determined and applied on a per line basis.
2
Video throttling
While Xfinity Mobile usually does not throttle most data use, the carrier does throttle traffic for streaming video. Here's an excerpt from Xfinity Mobile's Broadband Disclosures page:3
For customer accounts established on or after August 1, 2019, lines utilizing the "By-the-Gig" data option will have 720p established as the default resolution for streaming video on smartphones (1080p on tablets), while lines utilizing the 'Unlimited' data option will have the default resolution for streaming video set at 480p.
Customers on the Unlimited plan that want higher quality video streaming can pay $20 per month for Xfinity Mobile's HD Pass, which allows streaming in 720p quality.
Priority
By-the-Gig plans
Xfinity mobile subscribers on By-the-Gig plans receive high priority during periods when Verizon's network is congested.4 The priority level is on par with what is offered on most of Verizon's postpaid plans. High priority is arguably one of the best aspects of Xfinity Mobile's service. The vast majority of other carriers reselling access to Verizon's network only offer low-priority service.5
Unlimited plans
By default, Xfinity Mobile subscribers on unlimited plans are subject to deprioritization during when Verizon's network is congested. As a result, Xfinity Mobile's unlimited plan subscribers may experience slower speeds than Verizon's direct subscribers when the network is under a heavy load. In most areas, congestion is relatively rare, but your mileage may vary. Unlimited plan subscribers may purchase the HD Pass add-on for $20 per month which includes a higher level of priority during congestion.6
Features
Mobile hotspot & tethering
Xfinity Mobile supports personal hotspots and tethering. For subscribers on By-the-Gig plans, hotspots will deliver full-speed connections. When testing mobile hotspot on a By-the-Gig plan, I received excellent speeds from a connected device:
---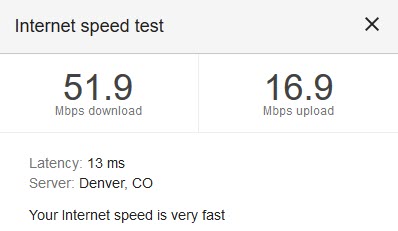 ---
On the Unlimited plan, mobile hotspot speeds are throttled to a maximum of 600Kbps.7 At that speed, hotspot may be usable, but performance will be sluggish for many activities.
Wi-Fi calling
Xfinity Mobile supports Wi-Fi calling on compatible devices. More details about Xfinity Mobile's Wi-Fi calling policies can be found on the carrier's website.
International roaming
Xfinity Mobile support international roaming in over 200 countries. Subscribers roaming internationally need to have completed one billing cycle with Xfinity Mobile before roaming internationally.8 Rates for text messages and calls are alright, but data tends to be expensive (see rates). Travelers spending a long time in another country will probably get the best deal by purchasing a SIM card from a local carrier.
International calling
Xfinity Mobile subscribers can call and text with people around the globe. International calling rates vary by country and can be found on Xfinity's website. International texting is free to most countries.
Compatible devices
At the time of writing, Xfinity Mobile sells about thirty devices through its website. Several devices are part of a promo where new customers who purchase an eligible device, port in an existing phone number, and maintain service for 90 days will receive a $250 prepaid card.
Bring your own device
Xfinity Mobile has a bring your own device program, but only a limited set of devices are supported at this time.
Apple
Most Verizon-compatible, unlocked iPhone 6's and newer iPhones can be used with Xfinity Mobile.
Android
Bring your own device options for Android are limited. At the moment, only a handful of Google Pixel and Samsung Galaxy devices are supported. I discuss Xfinity Mobile's bring your own device program in more detail elsewhere. You can check whether a specific device is compatible with Xfinity Mobile using a tool on the carrier's website.
Signup and activation
I had a great experience getting started with Xfinity Mobile. I purchased service and an iPhone 7 from Xfinity in October of 2019. Ordering online was simple. I received my phone, a SIM card, and activation instructions in the mail a bit later.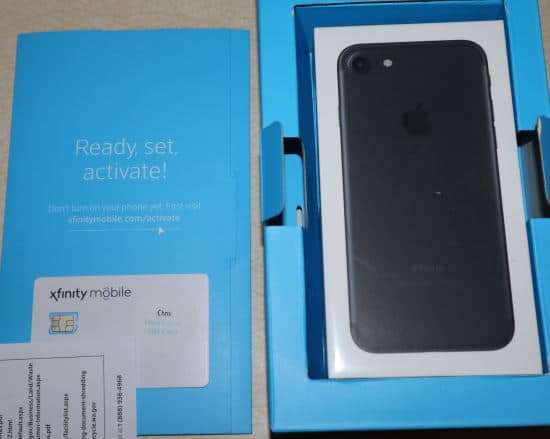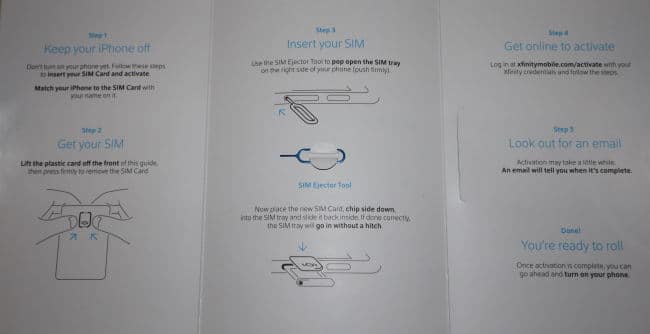 Activating service was quick and easy.
Bottom line
Xfinity Mobile offers excellent service over Verizon's network at great rates. Potential customers should be aware of possible deprioritization during periods of congestion, limited bring-your-own-device options, and indirect costs from reduced flexibility when choosing an internet provider.
---
Visit Xfinity Mobile's Website
---
Footnotes