Verizon calls its stand-alone mobile hotspot devices "Jetpacks." Jetpacks create Wi-Fi hotspots backed by Verizon's network. Computers, phones, and other devices with Wi-Fi capabilities can connect to Jetpacks like they connect to conventional Wi-Fi hotspots.
Plans
Verizon has a lot of options for Jetpack plans. Some of the best deals are only available for people who are already using one of Verizon's postpaid plans for phone service.
Jetpack plans for unlimited plan subscribers
Subscribers on Verizon's postpaid unlimited plans are eligible for two add-on plans:
Unlimited – $20 per month
Unlimited Plus – $30 per month
Subscribers with at least one line on Verizon's Do More Unlimited plan or Get More Unlimited plan get a 50% discount on Jetpack add-ons (i.e., the Unlimited plan drops to $10 per month).
The word "unlimited" in the names of the plans is misleading. The Unlimited plan allows 15GB of regular-speed Jetpack data each month. The Unlimited Plus plan comes with 30GB of regular-speed data. On both plans, subscribers that run out of regular-speed data can continue to use the internet at sluggish speeds (about 600Kbps). If you use a Jetpack to connect a laptop to the internet, you'll probably find 600Kbps excruciatingly slow.
Jetpack plans for shared-data plan subscribers
Subscribers on Verizon's shared-data plans can add a Jetpack to their accounts for $10 per month. Jetpacks on these plans will drain from subscribers' regular allotments of shared data.
Stand-alone Jetpack plans
Verizon offers four postpaid Jetpack plans that don't require subscribers to also have phones on Verizon's network.
Essential – 15GB: $20 per month
Plus – 50GB: $40 per month
Pro – 100GB: $60 per month
Premium – 150GB: $80 per month
Subscribers that use all of their allotted data can use additional data at no charge, but they'll typically be throttled to sluggish 600Kbps speeds. A 3Mbps throttle is used for customers that both have a 5G device and happen to be in range of Verizon's 5G Ultra Wideband service. Additional full-speed data can also be purchased for $35 per 5GB increment.
Prepaid Jetpack plans
Verizon offers three prepaid plans for Jetpacks:
6GB – $35 per month
16GB – $45 per month
30GB – $65 per month
The prices in the list above include a $5 per month discount for enrolling in automatic payments. The discount is not available for the first month of service.
On the prepaid Jetpack plans, video traffic may be throttled to 720p (sometimes called HD quality). Subscribers on these plans that run out of regular data may continue to use additional hotspot data at a severely throttled 600Kbps speed.
Data use on prepaid Jetpack plans is subject to deprioritization. As a result, subscribers on these plans may experience slower speeds than other users on Verizon's network during periods of network congestion.
Performance
Jetpacks have essentially the same coverage and speeds as phones on Verizon's network. As is the case with phones, newer Jetpack models will tend to be capable of faster speeds than older Jetpack models. Thanks to Verizon's industry-leading coverage, Jetpack's should offer service in more of the U.S. than hotspot devices running over any other network. An interactive coverage map is offered on Verizon's website.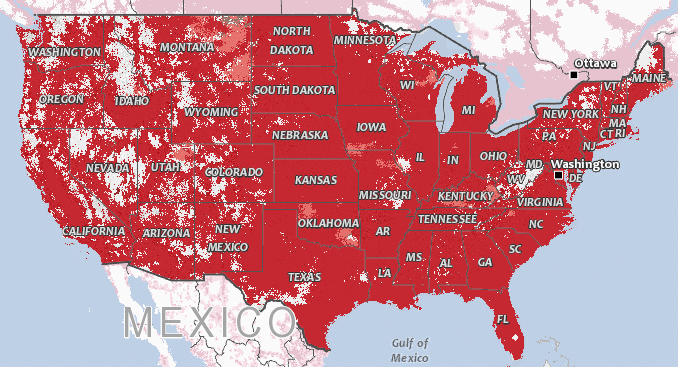 Jetpack devices & brief reviews
Verizon offers a few Jetpack devices. Customers can purchase Jetpacks either outright or with payments spread over 24 months.
The Verizon Orbic Speed is Verizon's cheapest hotspot with a full price of $80. I haven't tried it myself, but I expect it's the best option for customers who don't want shell out a lot of cash. The hotspot doesn't have 5G capabilities, but Verizon's 4G LTE network still offers solid connectivity.
The Inseego Jetpack MiFi 8800L costs about $200. I own one, and I'm quite happy with its performance. Like the Orbic Speed, the 8800L isn't 5G-capable.
If you want 5G access, I'm a fan of Verizon's MiFi M2100 5G UW. It's the hotspot I use most often. The biggest downside to the M2100 is its steep price of about $400.
People who want a deal and don't mind slightly slower speeds may want to turn to eBay to find older Jetpacks that Verizon no longer stocks.
---
Last updated: August 2021