In September 2020, AT&T launched the Nighthawk 5G Mobile Hotspot Pro. It's the best device among AT&T's current hotspot offerings, and it's the only hotspot AT&T offers with 5G capabilities.1 Unsurprisingly, the device comes at a steep price. The Nighthawk 5G Pro costs $510 from AT&T. Customers that don't want to buy the device outright can buy it from AT&T for $17 per month on a 30-month installment plan.
I haven't got my hands on the Nighthawk 5G yet, but I hope to soon. Once I've had some time to test the device, I'll update this page with a full review.
Connectivity
The Nighthawk 5G Mobile Hotspot Pro supports 3G, 4G, and 5G connections.
3G (UMTS):
850 Mhz
900 Mhz
1800 Mhz
2100 Mhz
4G:
B1
B2
B3
B4
B5
B7
B12
B14
B17
B29
B30
B46
B66
5G:
700 Mhz
900 Mhz
1800 Mhz
2100 Mhz
2600 Mhz
I've seen a lot of reporting suggest the Nighthawk 5G Mobile Hotspot Pro supports millimeter wave (mmWave) 5G. I'm not sure this is accurate. I haven't seen anything on AT&T's website that supports that claim. The bands used for mmWave 5G in the U.S., N260 and N261, do not appear in the specifications shared in the device manual on AT&T's website:

AT&T's model of the Nighthawk 5G Pro is the MR5100. Netgear offers a similar, international model of the device, the MR5200, on its website. Millimeter wave capabilities are not listed for that device either.2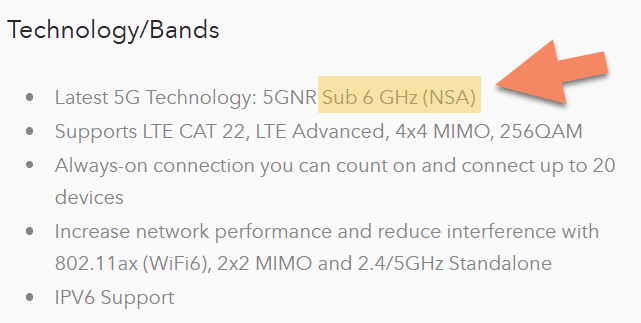 I suppose it will be easy to get to the bottom of this once I have a Nighthawk 5G Pro to test.
Other specs
5,040 mAh battery
Snapdragon X55 processor
Capable of connecting 32 devices to Wi-Fi simultaneously
Footnotes
The earlier Nighthawk 5G MR5000 hotspot also worked with AT&T. As of 9/23/2020, the MR5000 is not available in AT&T's online store.