Added 7/3/2020: A lot has changed at Wing since I first wrote this review. I don't feel as positively about the carrier as I used to. You may want to consider my recommended carriers as alternatives to Wing.
---
Wing (or Wing Alpha) is a relatively new mobile virtual network operator (MVNO). As an MVNO, Wing does not operate its own network infrastructure. Instead, Wing resells access to AT&T's network. I had a generally positive experience with Wing during my trial of the service.
Key details
Operates over AT&T's network
Unlimited minutes and texts on all phone plans
Mobile hotspot and tethering included
---
Visit Wing's website
---
Performance
Since Wing uses AT&T's network, service from Wing will usually perform quite similarly to service offered directly by AT&T.
Coverage
AT&T's network has solid coverage at the national level. While Verizon has the most extensive coverage of any U.S. network, AT&T offers coverage in more parts of the U.S. than either T-Mobile or Sprint.1 Wing does not publish a coverage map, but Wing does offer a tool for looking up coverage quality at specific zip codes.
I expect that Wing subscribers have access to all or nearly all of AT&T's own, native coverage. However, some of AT&T's direct subscribers can access other networks via roaming agreements that AT&T has in place. I expect Wing subscribers cannot roam onto most of these networks.
Speed
Wing does not throttle its service to specific, maximum speeds. At most times, Wing will provide speeds that are comparable to those experienced by AT&T's own subscribers. What that means in practice will depend on where a subscriber is located. In most areas where AT&T delivers a strong signal, speeds will be solid.2 Here are a few results from speed tests I ran in Boulder, CO: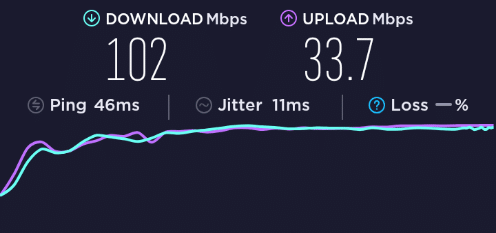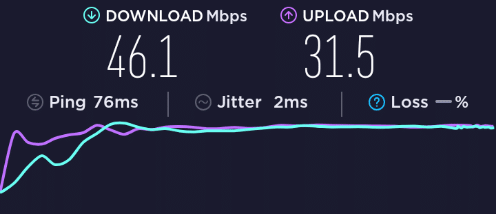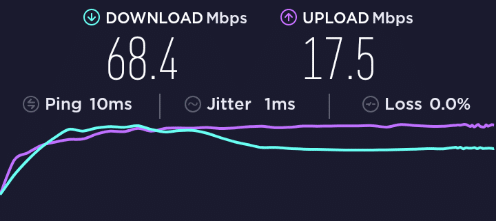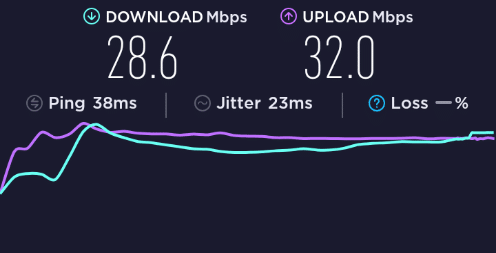 The speeds I experienced were solid, but I wouldn't take the results too seriously unless you also happen to live in Boulder. For more information on how you can assess the quality of AT&T's network where you live, see How to Evaluate Wireless Service Quality.
Plans and pricing
All of Wing's plans are sold with a prepaid, month-to-month pricing structure.
Regular plans
At the time of writing, Wing offers four regular plans. All of these plans come with unlimited minutes and text, but each plan has a different monthly data allotment:
1GB data – $20 per month
2GB data – $27 per month
3GB data – $34 per month
Unlimited data – $50 per month (promotional price)
The prices listed above do not include taxes and fees. When I purchased the 2GB plan with a $27 base price, I paid an additional $3.27 in taxes and fees.
Niche plans
Wing offers two plans that will be compatible with only a small portion of consumers devices.
A flip phone plan with 128MB of 3G data. This plan is only available for 3G CDMA phones and costs $12 per month.3
A plan with 500MB of data that's only available for basic GSM phones and costs $15 per month.
Family plans
Wing offers family plans, but at the time of writing, purchasing multiple lines won't lead to any savings. It looks like at one time Wing was offering a slight discount for those who purchased more than two lines of service with the unlimited plan. Given the current promotional price on unlimited plans, the discount no longer comes into play.4
Customer support
Wing tries to position itself as a customer-focused company, and its does not outsource support agents.5 Wing offers phone support at 888-800-9921 and chat-based support via its website. Wing lists its hours as 9 am to 11 pm EST on weekdays and 9 am to 6 pm EST on weekends. However, Wing also has an after-hours, emergency line at 310-482-8964.6
Switching to Wing
When signing up for Wing, users can choose to receive a new phone number or port in an existing number. Wing claims to be able to port numbers without any hassle:7
You won't ever have to call your ex-carrier or waste time in a store. You will experience no downtime whatsoever and there are no activation fees.
Phone compatibility
Wing's service will work with unlocked, GSM-compatible phones. You can check whether a phone is compatible by entering its IMEI number into Wing's tool.
Wing also offers a device swapping program for potential customers that don't have compatible devices:
If, for some reason, your phone isn't compatible with Wing, we'll exchange the device you currently own (providing it's also in good condition) for the same model, or a model of your choice, that will be compatible on our network.
For example, if you have an iPhone 7 with a model number that isn't compatible with Wing, we'll send you a compatible iPhone 7 guaranteed to be in the same or better condition than your current phone.
The phone we send you will be a Grade A refurbished device that's compatible with our LTE network. We only work with certified vendors and guarantee the phone will function and look like new. In the event there's an issue with the device, we will get it replaced right away.
I haven't tried the swapping program myself. If you give it a try, please leave a comment about your experience!
Phones offered by Wing
Wing sells a handful of phones. When I took a quick look at their offerings, none of the deals stood out as unusually good.
My signup experience
Wing's signup process is unusual. I began by filling out an atypical web form. After completing the form, a Wing agent followed up with me later in the day by text message. I think Wing intends the process to have a hands-on, customer-centric feel. I found it annoying and unnecessarily time-consuming.
The process did have one redeeming quality. Rather than requesting my phone's IMEI number to verify compatibility, the agent just asked where I got my phone:
---
---
A few days after my conversation with the Wing agent, I received my Wing activation kit in the mail: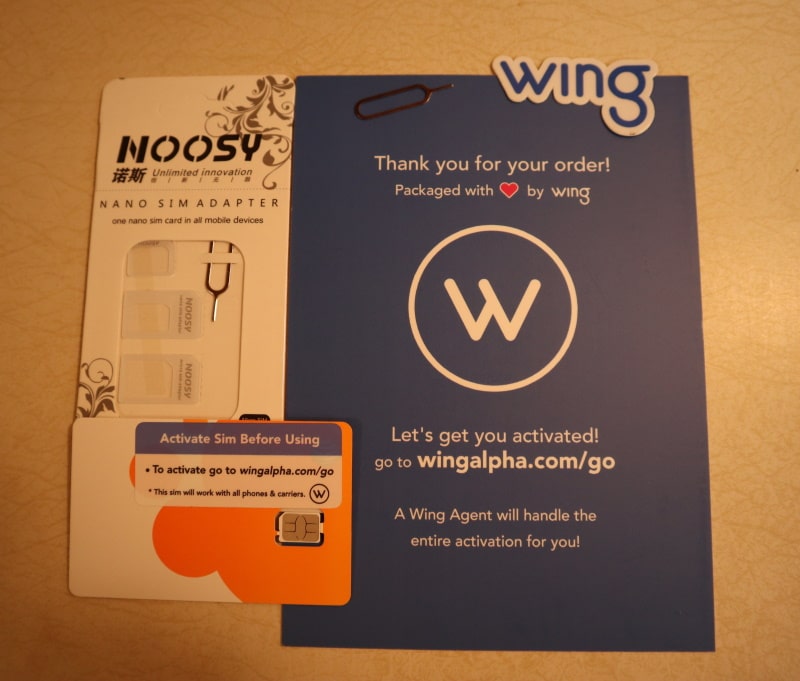 Following the instructions on the activation kit, I started a conversation with a Wing agent via a chat feature on Wing's website. It was during this conversation that I allowed Wing to process an initial payment using credit card information I provided earlier in the signup process. It was a bit weird how this worked. Rather than being quoted a base price, a certain amount of taxes and fees, and a final price, I received this message:

It will be $27 today plus tax on the card you added. Sound good?
Although the signup process was weird, nothing about it was difficult. After placing the SIM card in my Moto G7 Play and restarting the phone, service was up-and-running.
International options
For those on Wing's AT&T-based plans who are traveling internationally, Wing offers international roaming in over countries 100 countries (listed here). International roaming access requires an additional charge of $10 per day. It's not a great deal, but it may be a convenient option for short trips.
For those who make frequent international calls, Wing offers two international calling add-ons. If subscribers pay a flat fee each month, they can make international calls to some countries at no extra charge and to other countries at discounted rates (details).
Company background
Wing is a fairly new company; it was started in late 2017 by two of the founders of Elite Daily, David Arabov and Jonathon Francis. Elite Daily has been the subject of some criticism. Notably, some of the website's content creators, including at least one of the founders, published articles using fake names, photos of other people, and/or made-up bylines.
Network shift
Wing began by offering service over Sprint's network. The company later transitioned to offer service primarily over AT&T's network.
Nitpicking
Wing's website is impressively thorough and informative, especially for a carrier of its size. However, I did run into a handful of statements that I thought were wrong or misleading.
---
This allows us to provide the best quality wireless coverage using the same exact towers as the big providers.
This can be interpreted as Wing saying subscribers to its AT&T-based service can access all of the same towers that AT&T's direct subscribers can access. That interpretation is probably not accurate. I expect some of AT&T's own subscribers can roam onto towers that Wing's subscribers cannot access.
---
Our supplier agreements stipulate that our usage will always use the best and highest quality service available.
Wing may be indicating that its subscribers have better network access during congestion than subscribers with many other MVNOs. I believe that's correct, but the statement itself is inaccurate. For example, Wing subscribers are at some times going to be prioritized below some subscribers connected to AT&T's
FirstNet
program.
---
The difference in actual performance between the big four providers is less than 1% for most users on any given day.
It's not clear what this statement even means. Average speeds will differ between far more than 1% on any given day. You could argue that the percentage of time people have coverage typically differs by less than 1 percentage point between carriers. For example, if Sprint is able to offer an individual service 99% of the time and that same individual could have service 99.9% of the time with Verizon, you could say the networks' coverage differs by about 1 percentage point. In the same scenario, you could also say Sprint fails to provide coverage
900% more often
than Verizon fails to provide coverage.
---
We wouldn't let you join Wing if we weren't 100% sure we could provide the best quality service available in your area.
This isn't true. The coverage checker tool probably checks that Wing's AT&T-based coverage looks
adequate
in an area. It does not check that Wing's AT&T-based coverage will be
better
than service from any other carrier.
---
From Wing's FAQ entry titled What type of service can I expect?:9
---
With LTE, LTE Plus, and 5GE, we provide the most reliable and high-speed service available today. We currently procure our network from AT&T and our service footprint covers 99% of the US. LTE is available nationwide while LTE Plus and 5GE is currently available in 190 cities and growing.
AT&T
misleadingly
labels some of it's 4G technology as "5GE." Wing seems to be complicit in misleading consumers. Additionally, the excerpt suggests that AT&T covers 99% of the land area in the U.S. It does not. AT&T may cover 99% of people (or homes).
---
From Wing's FAQ entry titled Does my phone have to be unlocked for me to switch to Wing?:10
---
Your phone has to be unlocked for you to switch over to Wing. Here's the good news: Your ex-carrier is legally obligated to unlock your phone at your request and our White Glove service will handle the entire process for you.
There are plenty of
scenarios
where carriers can legally keep a phone locked.
---
From my conversation with a Wing agent while activating my service:
---

---
A couple of weeks after my conversation with the support agent, the 2GB plan was still only $27.

Footnotes