Total Wireless is a well-priced mobile virtual network operator (MVNO) that runs over Verizon's network. Total Wireless is one of the best options on the market for families that want budget-friendly service with a large data allotment on Verizon's network.
Key details
Great prices on most plans
Runs over Verizon's extensive network
Huge data allotments on family plans
Extra data use permitted at sluggish speeds
No international roaming options
Lackluster customer experience in some respects
---
Visit Total Wireless's Website
---
---
Coverage
Total Wireless has excellent coverage thanks to Verizon's massive network. My impression is that subscribers to Verizon-based MVNOs get access to Verizon's own network as well as a substantial portion of Verizon's extended network.
Total Wireless shares the following coverage map on its website:1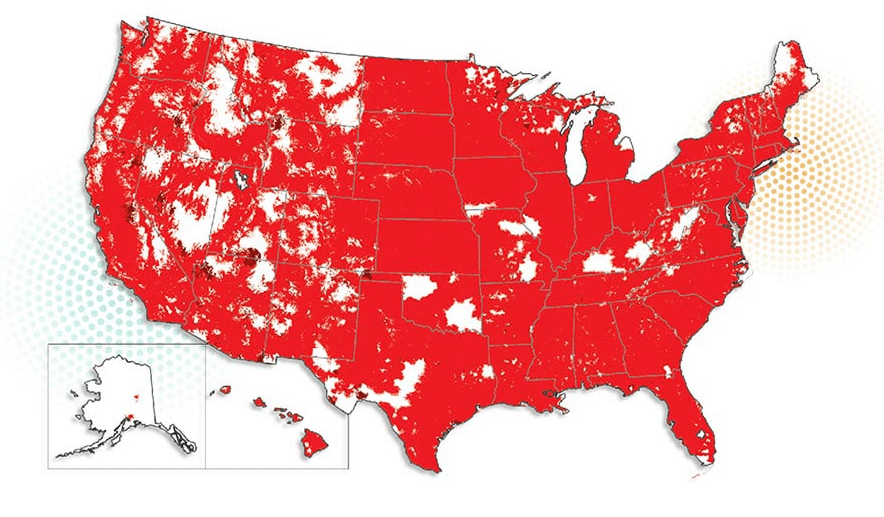 Speed
Speeds for normal data use are not throttled for Total Wireless's subscribers. When Verizon's network is not congested, I expect Total Wireless subscribers will receive the same speeds that Verizon's direct subscribers experience.
Total Wireless performed well in speed tests I ran: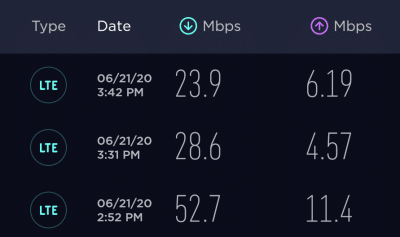 Speeds will vary significantly between locations. I'd take my results with a grain of salt unless you also happen to live in Boulder, Colorado.
Prioritization
When Verizon's network is congested, Total Wireless subscribers may experience slower speeds than some other users on the network. Your mileage may vary, but serious congestion is rare in most areas.
It's my impression that Total Wireless subscribers are prioritized at the same level as Verizon's prepaid subscribers. My impression is based on a test (shared below) I ran finding a QCI of 9 with Total Wireless as well as my general impressions about prioritization policies on Verizon's network.

Video throttling
While Total Wireless does not throttle most regular traffic, the carrier does throttle most video traffic to a maximum of standard-definition quality. I confirmed Total Wireless' video throttling with a test from the app Wehe: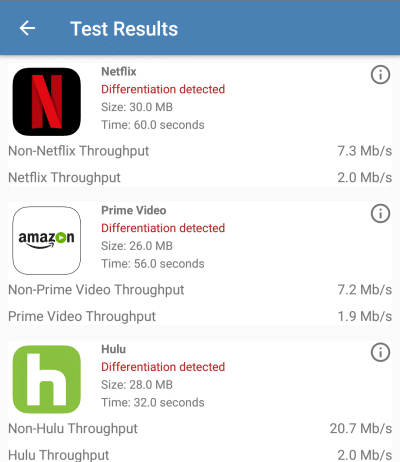 Plans and pricing
Total Wireless offers several plans, and they're unusually well-priced for service operating over Verizon's network.
The prices and plan options I share below do not include taxes and fees. A ~5% discount that's available on most plans when they're automatically refilled each month is not accounted for either.2
Single-line plans
Total Wireless offers three single-line, monthly plans:
$25 per month: Unlimited talk and text (no data)
$35 per month: Unlimited talk and text with 5GB of regular data
$50 per month: Unlimited talk and text with 25GB of regular data followed by unlimited data at significantly reduced speeds3
An extended plan is also available that offers unlimited talk and text with 5GB of regular data each month. This plan costs $90 and lasts for three months.4
Family plans
$60 per month: 2 lines with unlimited talk/text and 30GB shared data
$85 per month: 3 lines with unlimited talk/text and 60GB shared data
$100 per month: 4 lines with unlimited talk/text and 100GB shared data
When all of the allotted shared data is used, additional data is included at significantly reduced speeds. Alternately, subscribers can pay $10 for an additional 5GB of regular-speed, shared data.
Features
Mobile hotspot & tethering
Mobile hotspot and tethering are permitted on most Total Wireless plans.5 Data use while tethering will draw down on plans' data allotments. Tethering is typically only allowed for up to 10GB of use per line each month.
Wi-Fi calling
Total Wireles' Wi-Fi calling support is mediocre at best. While trialing the service, I did not manage to get Wi-Fi calling running on my Google Pixel.
The information about Wi-Fi calling on Total Wireless' website is frustratingly low-quality. From what I've read on other websites, it sounds like it might be possible to get Wi-Fi calling working with Total Wireless if you have the right kind of phone and request a special SIM from Total Wireless.
Total Wireless subscribers can begin the process for checking whether a phone is Wi-Fi compatible by texting WFC to 611611.
International calling
Total Wireless allows international calls between the U.S. to other countries. Calling rates vary by country and can be found on Total Wireless' website. Subscribers can add funds for international calls in $10 increments.
No international roaming
Total Wireless does not allow international roaming. Total Wireless subscribers that travel to other countries may be able to get the best deal by purchasing local, temporary SIM cards from local carriers in the countries they visit.
User Experience
Customer support
Total Wireless offers chat-based online support and phone-based support. Agents are available seven days a week from 8am to 11:45pm EST. Total Wireless phone support number is 1-866-663-3633.
In my limited experience with Total Wireless' phone support, I wasn't super impressed. Total Wireless seems to aggressively push the automated phone support system instead of quickly connecting callers with live support agents. On the plus side, I never had to wait long to be connected with an agent once I made it through the automated phone system.
My experience was a bit better with Total Wireless' chat support. I'd recommend that most subscribers needing support start there.
Web & app interfaces
Total Wireless customers can make payments and adjust their service from Total Wireless' website or phone app. I found the website interface to work alright and be fairly straightforward.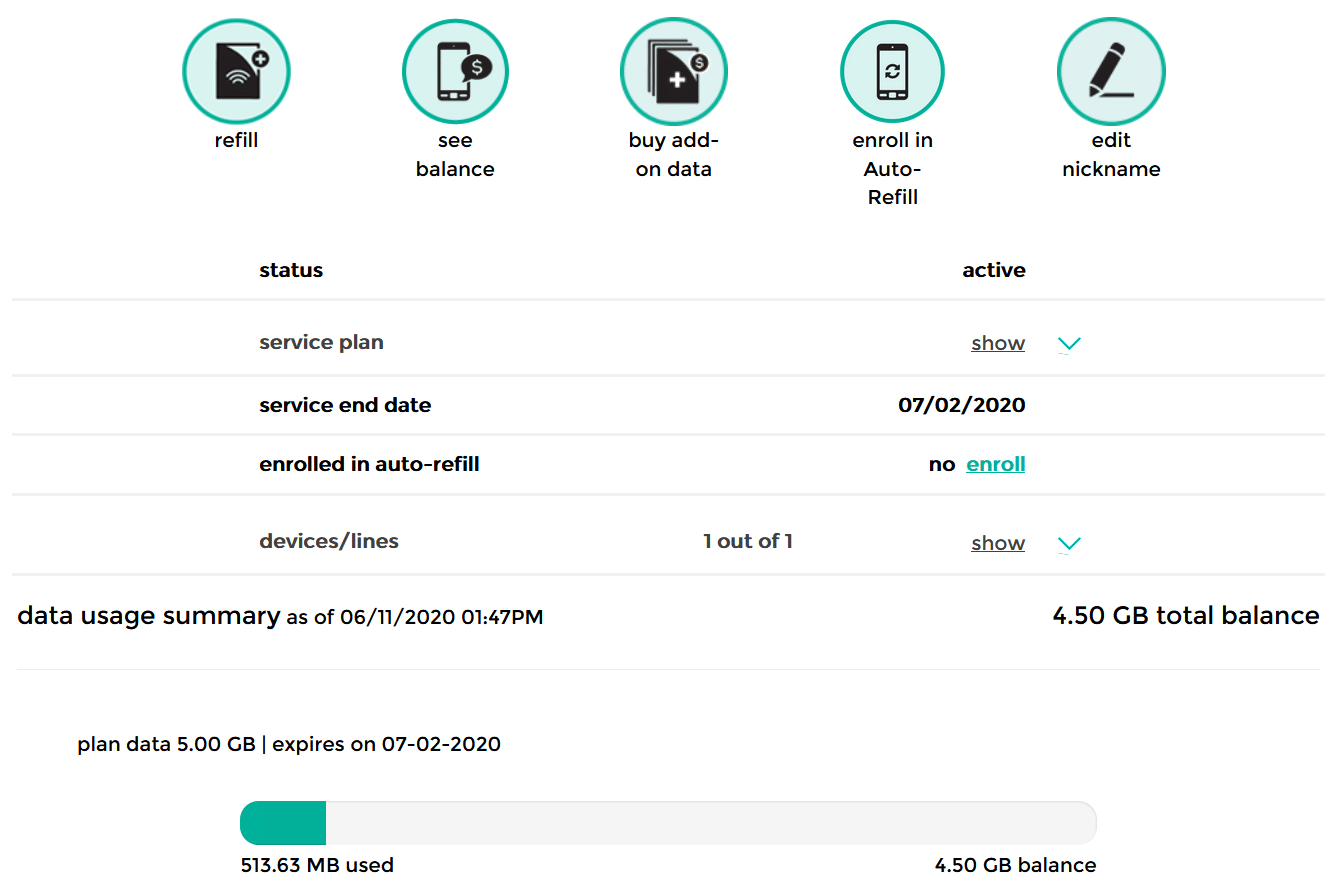 I found the mobile app to be clunky, cluttered, and a bit buggy.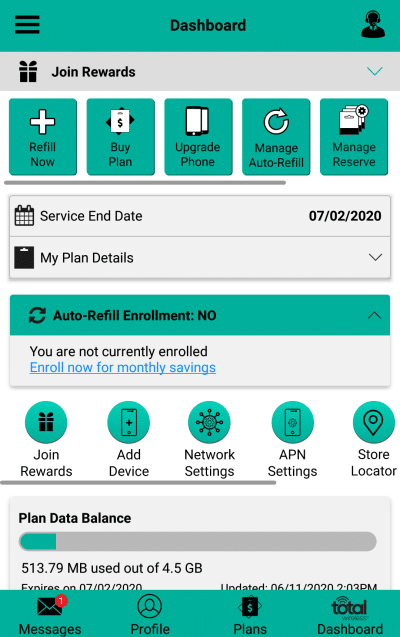 My experience
Purchasing a plan
In June of 2019, I went to Total Wireless's website to purchase a service plan. Something about the website felt old-school or out-of-style, but the website was still easy to use. I purchased a plan with 5GB of data and unlimited talk/text for $35 per month. I paid another $0.99 for a SIM card which came with free two-day shipping.
I paid $4.25 in taxes and fees on my order:
Tax – $3.19
Prepaid Wireless E911 and TRS Charge – $0.53
Federal Universal Service – $0.46
Regulatory Cost Recovery – $0.07
I was a frustrated that Total Wireless included some of its own carrier-imposed fees under a heading labeled "tax."
Activating service
After a few days, I received my SIM card, some introductory information, and a code for my $35 service in the mail.
I inserted the SIM card into my Motorola G7 Play. The device started unexpectedly, automatically calling *22899, but that didn't cause any trouble. I followed the instructions I received and went to TWBOYP.com to activate service. Once on the website, I entered (a) the IMEI number for my G7 Play and (b) the SIM card's number. I selected that I wanted a new phone number from Total Wireless, and I entered my zip code to receive a number with my local area code. After that, I created a Total Wireless account and restarted my G7 Play.
Company background
Total Wireless is a brand owned by TracFone, which is itself a subsidiary of América Móvil (a large, Mexican telecom company). TracFone has partnerships with all of the major U.S. networks and roughly 20 million customers in the U.S. across its subsidiary brands.
Device compatibility
Nearly all phones that work on Verizon's network should work with Total Wireless. If you already have a device that you want to use with Total Wireless, you can verify compatibility on Total Wireless's website.
If you're considering purchasing a new phone, I strongly recommend going with a model on my list of nearly universal unlocked phones. These phones should be compatible with Total Wireless and almost all other U.S. carriers if you eventually transfer away from Total Wireless.
Device offerings
Total Wireless offers a decent selection of phones on its website. In my quick look around, I got the impression that Total Wireless was offering decent deals on at least a couple of devices. Most devices are sold with a customer's choice of a one-time payment, a 15-month installment plan, or a 24-month installment plan. The total cost for a device purchased via an installment plan appears to be higher than the cost of buying the same device outright.
Rewards points
Total Wireless offers rewards points that accrue with each service payment. I suggest not taking the rewards program too seriously. It looks like customers can earn roughly 1¢ worth of reward points for every $1 they spend on service.
Potential conflict of interest
I have a financial relationship with many wireless companies, including Total Wireless. For more details about my relationship with Total Wireless, see my transparency page.
---
Visit Total Wireless's Website
---
Footnotes