Ting is a user-friendly mobile virtual network operator that offers what I think may be the best customer support in the industry. Ting subscribers have their choice of service over either Sprint or T-Mobile's network. Rather than offering fixed allotments of texts, minutes, and data each month, Ting determines fees based on subscribers actual use each month. Ting may be a cost-effective option for those who want to purchase multiple lines and don't use large quantities of data. For those that use data heavily or only need service for a single device, other carriers will probably be more cost-effective (e.g., Mint Mobile). If you're unsure about the quality of T-Mobile and Sprint's networks where you live, see How to Evaluate Wireless Service Quality.
Ting has announced plans to soon cease offering service over T-Mobile's network and begin offering service over Verizon's network.
Visit Ting's website
---
Ting plans and pricing
Ting uses a pay-for-what-you-use model. As of July 2019, Ting charges a base rate of $6 per line and additional fees based on the total texts, minutes, and data used each month. Ting's rates for minutes and texts are good, but Ting's data charges are expensive. Ting service is probably going to be most cost-effective for customers that don't use a lot of data and want to purchase multiple lines of service. I expect most single-line users and heavy data users can find comparable coverage at a lower price.[1] Full detail about Ting's pricing structure can be found on Ting's rates page or at the end of this review.
Ting's performance
Ting's customers can choose either Ting's GSM service (using T-Mobile's network) or Ting's CDMA service (using Sprint's network). The quality of Ting's service will be heavily dependent on which network you choose to use and how well that network performs where you're located. My general view is that T-Mobile has better nationwide performance than Sprint. At the nationwide level, both T-Mobile and Sprint are inferior to Sprint and Verizon. That said, both networks perform well in many areas, and Sprint will outperform all the other networks in some areas. For information on how you can assess the quality of the major networks where you live, see How to Evaluate Wireless Service Quality.
Note that Ting plans to cease offering service over T-Mobile's network and begin offering service over Verizon's network. If you intend to use Ting over the long term and don't want to be on Sprint's network, you may want to buy a phone that will work well on both Verizon's network and T-Mobile's network.
Ting's coverage
Ting on T-Mobile
Ting subscribers should get service when their in range of T-Mobile's own network. My best guess is that Ting users can access some, but not all, of the non-T-Mobile networks that T-Mobile subscribers can roam onto. Ting shares the following coverage map for its GSM (T-Mobile-based) service:[2]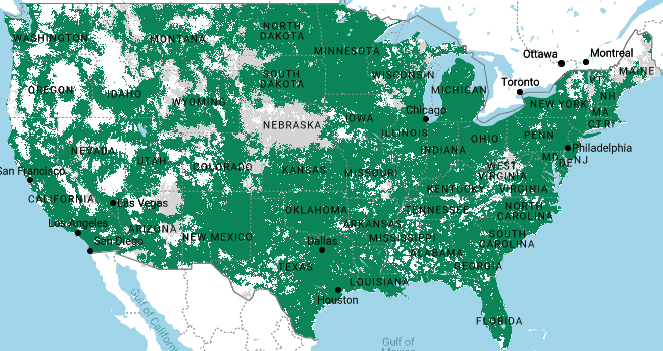 Ting on Sprint
Ting's coverage web page offers several different maps to describe the coverage it offers on it's Sprint-based network.[3]
Voice & text coverage: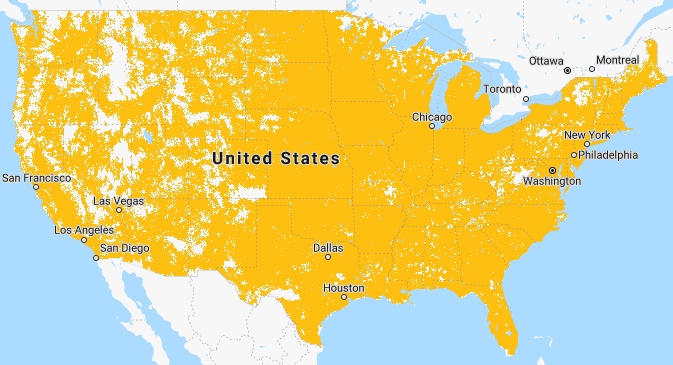 4G coverage: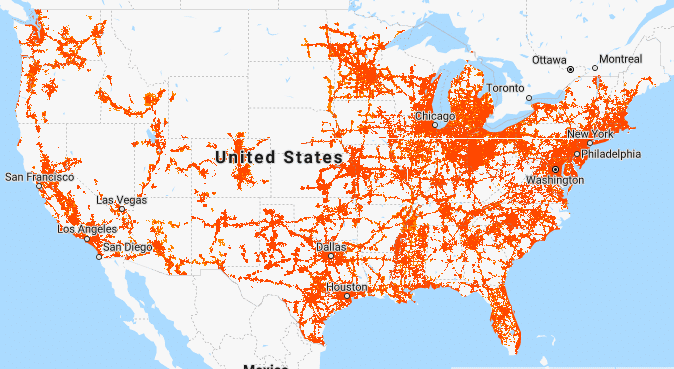 3G: coverage: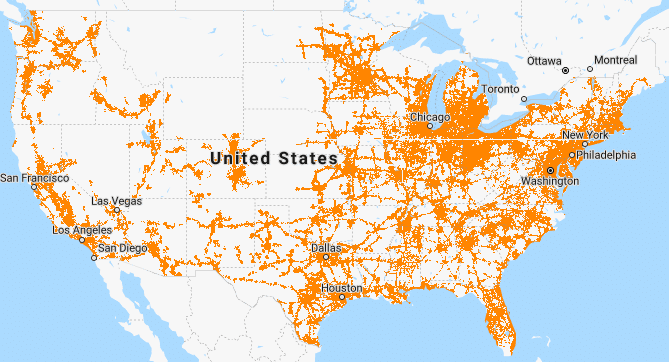 Ting's speeds
When networks are not congested, Ting users should be able to get speeds comparable to those Sprint and T-Mobile's own, direct subscribers receive. Ting subscriber's speeds are usually not deprioritized. Deprioritization can cause Ting users to experience significantly slower speeds than some other users on the network until the congestion ends. In most areas, network congestion is fairly rare.[4]
Ting's web dashboard
Ting has an incredibly user-friendly dashboard. After logging in through Ting's website, you can see information about data, texts, and minutes you've used in the current billing cycle along with the charges you've racked up: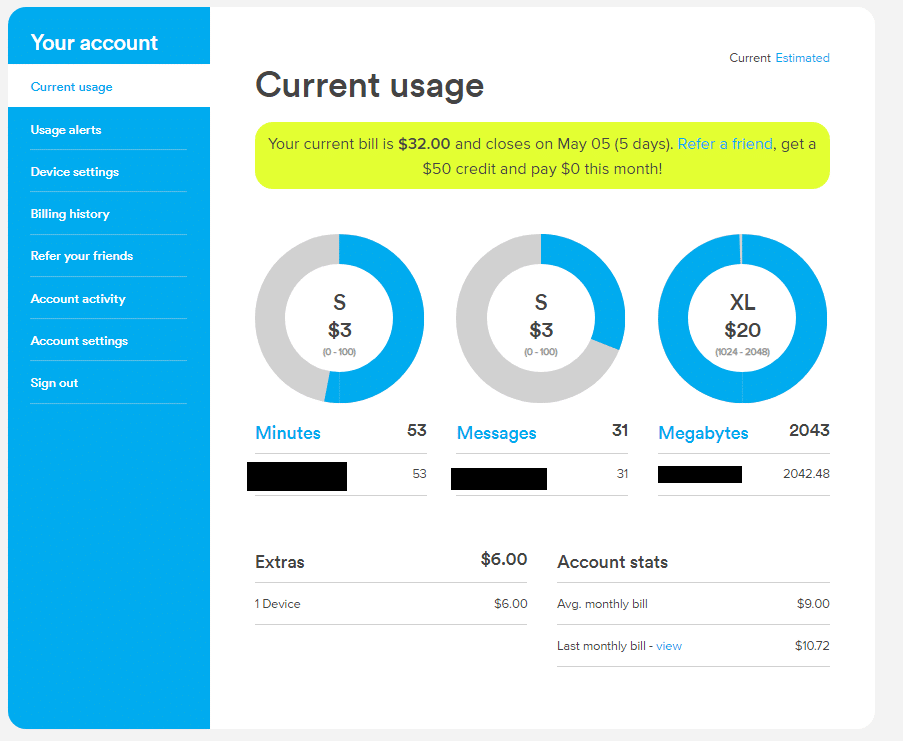 On another part of the dashboard, you can view and adjust usage alerts and caps: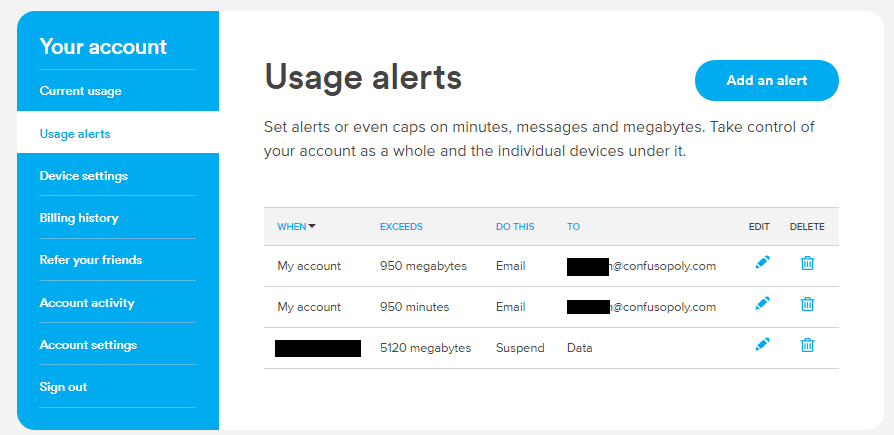 The process for creating new alerts is easy and flexible: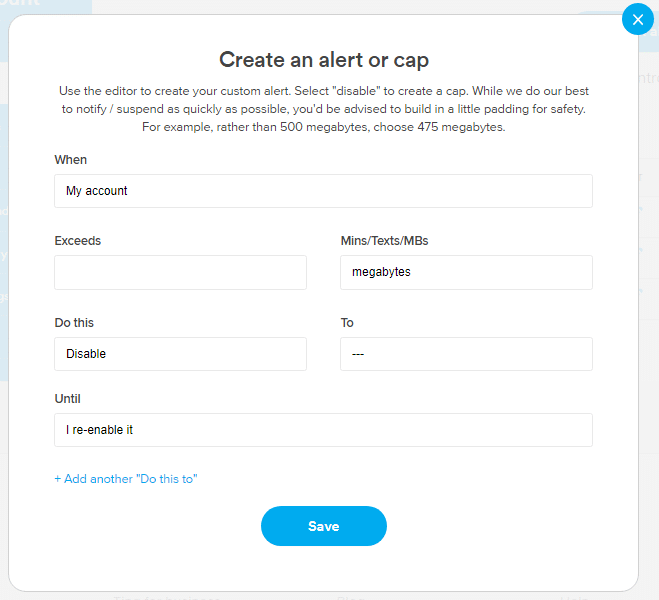 Ting's customer support
Ting's customer support might be the best in the industry. My own experience with Ting's support was positive, and my impression is that other customers tend to have positive impressions of Ting's support team as well.
Phone support
I believe the phone support agents are U.S. based, and they're accessible from 8am to 1am ET Monday through Friday and from 8am to 8pm ET on Saturday and Sunday.[5] With Ting, you wont have to deal with phone trees or robot receptionists:
Other support options
In addition to phone-based support, Ting also has am online knowledgebase, a community forum, a ticket system, and chat-based support.
My experience
Purchasing a plan
I purchased a Ting plan in February 2019. To order a SIM card, I went to Ting's website, entered my device's IMEI number to check compatibility, and selected the GSM (T-Mobile) network. I paid $1 for the SIM card and $4 for shipping. A few days later, the card arrived along with some basic information from Ting. To activate the card, I went to Ting's website where I entered my address and selected a new phone number.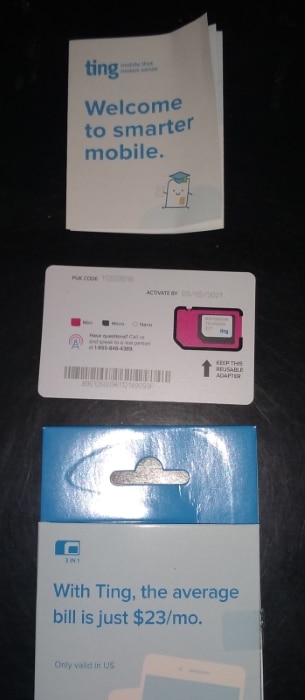 Using the service
Ting's service was good where I live (Boulder, Colorado). I did not notice any obvious throttling or speed caps. Below, I share screenshots from a couple of unsystematic speed tests I ran:
Unless you happen to live where I do, you shouldn't place much weight on my experience. Instead, investigate the quality of the networks Ting uses (Sprint and T-Mobile) in your area (instructions here).
Contacting support
I didn't have any problems with my service, so I didn't contact Ting's support until I decided to cancel the plan. Holy shit. My call went straight to a person. The support agent was incredibly nice in a way that didn't feel disingenuous. The call was quick and efficient. However, after finishing the cancellation, I realized the number I called wasn't the main customer support line.
To get a sense of what Ting's support might be like for a more typical request, I decided to call the main support number from a different line. I didn't get one of those annoying "Press 1 for [A], Press 2 for [B], …, Press 9 for [C] menus designed to prevent me from talking to a real person unless absolutely necessary. Instead, I got a friendly message explaining that there was not a support agent available immediately, but that I could either hold or press "1" to get called back. I went with the latter option and was called a few minutes later. I didn't want to waste the second agent's time with a fake issue, so I didn't get a sense of the quality of support he could offer.
Potential conflicts of interest
I have financial relationships with many wireless providers, including Ting. For more details about the arrangement, see my transparency page.
---
Visit Ting's website
---
Appendix
Pricing tiers
Below I list the monthly prices for different levels of talk, text, and data usage. Minutes accrue on both calls received and calls made. Texts accrue when messages are sent or received.
Minutes:
0 minutes: +$0
1–100: +$3
101–500: +$9
501–1000: +$18
1001–2100: +$35
2100: +1.9¢/min
Texts:
0 texts: +$0
1–100: +$3
101–1000: +$5
1001–2000: +$8
2001–4800: +$11
Over 4800: +0.25¢/text
Data:
0MB: +$0
1-100MB: +$3
101-500MB: +$10
501MB-1GB: +$16
1GB-2GB: +$20
Above 2GB: +$10/GB
On plans with multiple lines, charges are based on the sum total of usage across all devices on a plan. Ting's rates web page has a calculator where visitors can estimate their usage and see the price of a plan with Ting. None of the prices above include taxes or other fees.
Footnotes