Note: After this review was written, Ting's subscriber base was purchased by DISH. It's unclear how things will go as DISH consolidates Ting's subscribers. While I don't explicitly recommend against using Ting, I don't actively recommend the company anymore.
---
Ting is a mobile virtual network operator that offers subscribers service over any one of Verizon, Sprint, or T-Mobile's networks. The service is incredibly user-friendly; Ting offers what may be the best customer support in the entire industry.
Rather than offering fixed allotments of texts, minutes, and data each month, Ting determines fees based on subscribers' actual use each month. Ting tends to be a bad deal for heavy data users, but it can be a super cost-effective option for families that don't use large amounts of data.
---
Visit Ting's website
---
This review is comprehensive. It's intended to be the most in-depth review of Ting anywhere on the internet. For a more accessible overview of Ting, see 4 Things To Know Before You Subscribe to Ting
---
Ting plans and pricing
Ting has a pay-for-what-you-use model. Rather than charging subscribers a fixed amount each month, Ting sets each month's bill according to subscribers' usage levels.
As of April 2020, Ting charges a base rate of $6 per line and additional fees based on the total texts, minutes, and data used each month. Ting's rates for minutes and texts are decent, but data charges are expensive. Ting's pricing model makes the service well-suited for customers that need multiple lines of service and don't use a lot of data. Ting isn't well-priced for single-line users or heavy data users. Full details about Ting's pricing structure can be found on Ting's rates page or at the end of this review.
Example plan
5 lines with 1,000 shared minutes, 2,000 shared texts, and 2GB of shared data for only $17.20 per line each month.

Networks
Ting offers service over any one of three networks: Sprint, T-Mobile, and Verizon. While each phone on Ting can only connect to one network, subscribers with family plans can mix among networks without incurring extra charges. For example, a family with three phones on Ting could have two devices running over Verizon's network and one device running over Sprint's network.
At the moment, Ting automatically matches subscribers with networks during the carriers' checkout process. Ting will determine which network to match a subscriber to based on information like where a subscriber is located and what kind of phone the subscriber is using.
Ting doesn't explicitly indicate which network subscribers have been matched with (Ting, like many MVNOs, is probably prohibited from doing so).
However, you can figure out the network Ting has matched you with based on the type of SIM card that ends up in your cart while signing up:

V1 SIM – Indicates Verizon's network
X1 SIM – Indicates T-Mobile's network
[Other] SIM – Indicates Sprint's network
In most cases, I expect it's best to defer to Ting's automated system. However, if you don't end up with the SIM card for your preferred network, you can reach out to Ting's customer support agents and ask if they're able to override the automated system.
Ting's performance
The quality of Ting's service will be heavily dependent on which network you're place on and how well that network performs where you're located.
Ting's coverage
At the national level, Ting's coverage will be most extensive over Verizon's network. I expect Ting's T-Mobile's to be worse than Ting's Verizon coverage, but better than Ting's Sprint coverage.
Ting on Verizon
I haven't seen a coverage map published by Ting for the carrier's Verizon-based service. That said, I expect the map would look similar (but not identical) to Verizon's own coverage map: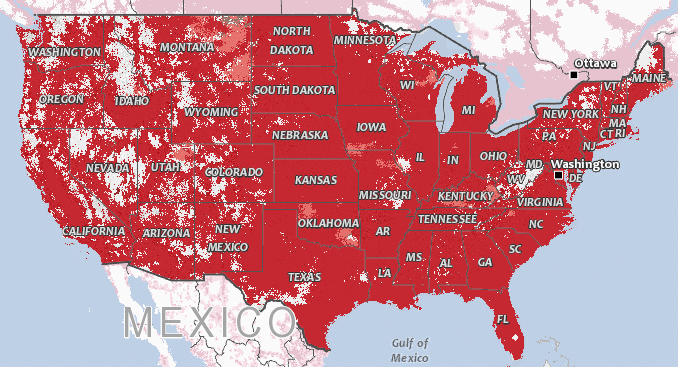 Ting on T-Mobile
Ting used to share the following coverage map for its GSM (T-Mobile-based) service:1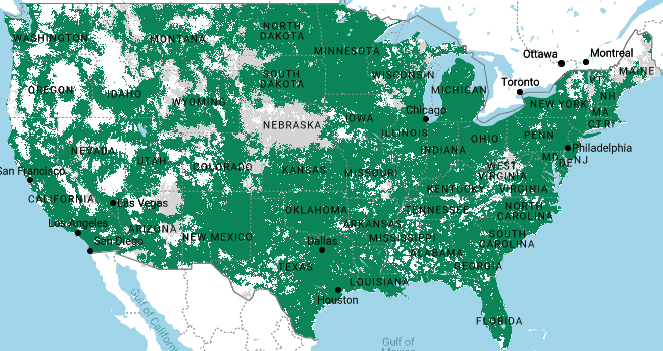 Ting on Sprint
Ting's coverage web page used to have several different maps to describe the coverage offered with the Sprint-based service.2
Voice & text coverage: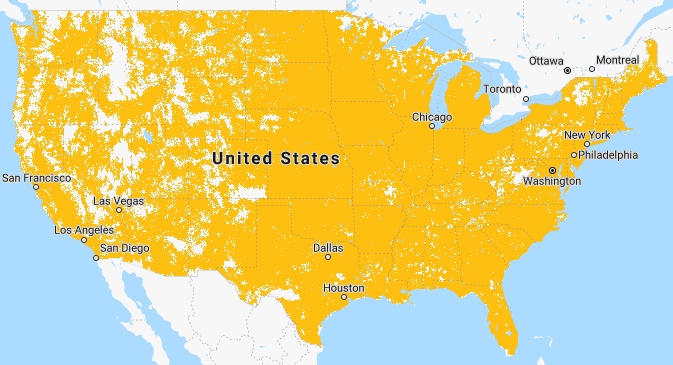 4G coverage: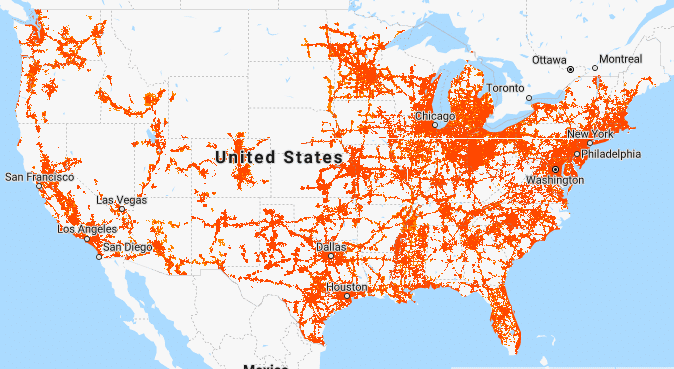 3G coverage: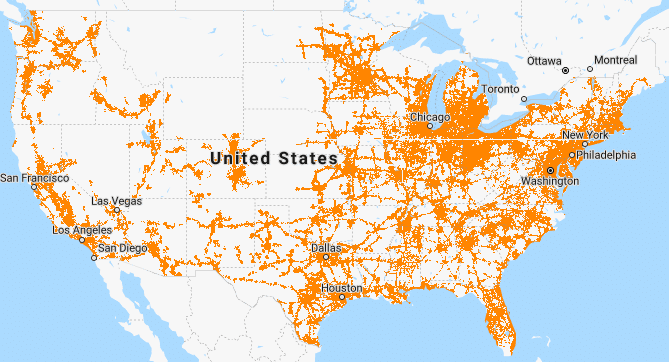 Ting's speeds
When networks are not congested, Ting users should be able to get speeds comparable to those Sprint, T-Mobile, or Verizon's own, direct subscribers receive. Ting subscribers' speeds are usually not throttled or capped.
Video throttling
While most traffic will not be throttled, Ting may throttle video traffic to 480p (sometimes called DVD-quality). The image below shows results from a test I ran on Ting's Verizon-based service.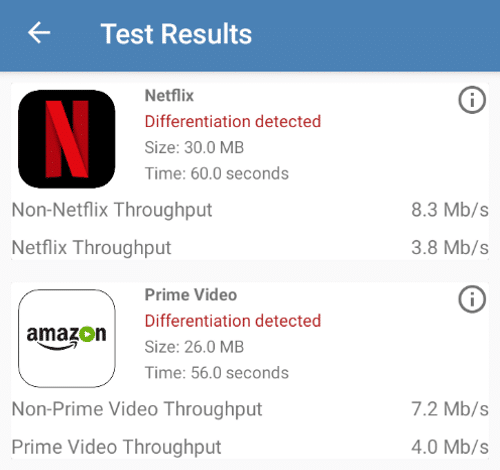 I haven't run comparable tests on Ting's service over Sprint or T-Mobile's networks.
Prioritization
When networks are congested, Ting users may be deprioritized. Deprioritization can cause Ting users to experience significantly slower speeds than other users on the network during periods of congestion. In most areas, network congestion is fairly rare.3
MVNOs like Ting are often prohibited from disclosing certain information about the quality of service they offer during congestion (details). As a result, I can't speak with confidence about how Ting subscribers are prioritized. Here are my best guesses about what happens on each network Ting uses:
Sprint – Regular priority (low-confidence guess)4
T-Mobile – Low priority (moderate-confidence guess)5
Verizon – Low priority (moderate-confidence guess)6
Device compatibility with Ting
Since Ting offers service over three different networks, the carrier is compatible with a broad range of phones. If you're looking to bring a phone you already have to Ting, you can verify compatibility with Ting's online tool.
Devices sold by Ting
In April 2020, Ting was selling about 20 different phone models through its online shop. For the most part, prices on these phones looked pretty standard, but there were a handful of promotional deals. While I usually recommend purchasing phones in full, Ting offers financing through Affirm for those who want to buy phones with monthly installments.
Ting's features
Wi-Fi calling
Wi-Fi calling is supported for compatible devices on Ting's Sprint-based and T-Mobile-based services. Wi-Fi calling is not supported yet on Ting's Verizon-based service.7 Subscribers will be billed normally for minutes and texts sent over Wi-Fi.8 Ting covers its Wi-Fi calling policies in more detail here.
Mobile hotspot & tethering
Tethering and mobile hotspot allow computers or other devices to access the internet by piggybacking on a phone's cellular connection. Ting offers mobile hotspot and tethering to its subscribers with compatible devices. Data speeds over tethered connections are not throttled, and data usage will accrue in the same manner it does for on-device internet access. For more details, see Ting's article on its tethering policies.
International calling
Ting includes free international calling to about 60 countries.9 Calls to other countries can be placed for varying fees per minute.
International roaming
Ting offers international roaming in a large number of countries. The rates for international roaming vary by country, and they're generally quite high. If you plan to use your phone a lot while outside of the U.S., you can probably get a better deal by purchasing a SIM card from a carrier based out of the country you're visiting.
Ting's web dashboard
Ting has an incredibly user-friendly dashboard. After logging in through Ting's website, you can see information about data, texts, and minutes you've used along with information about the charges you've racked up: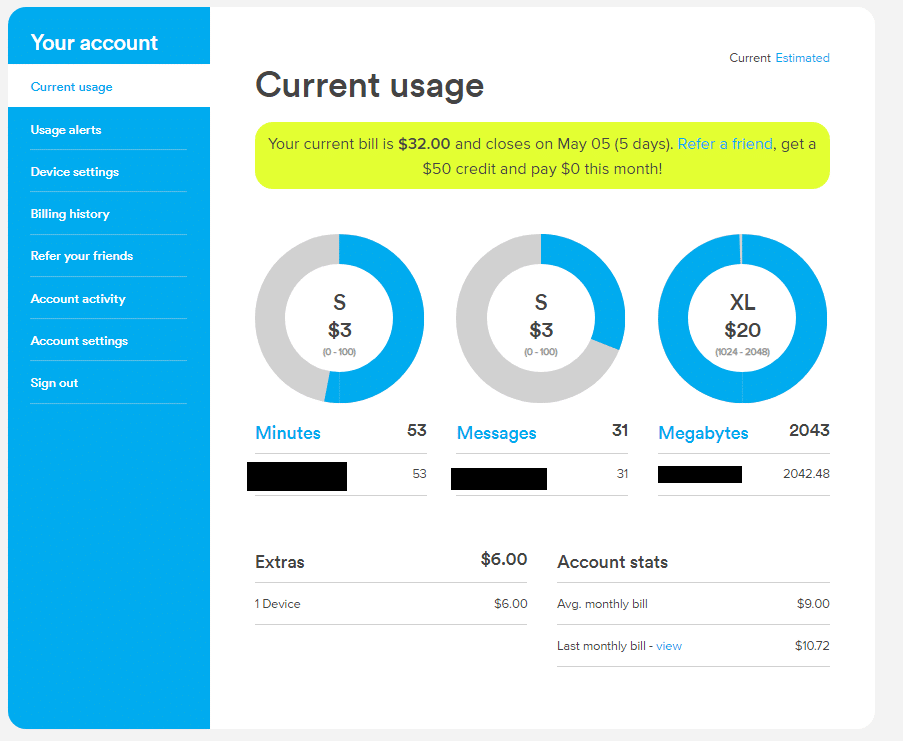 On another part of the dashboard, you can view and adjust usage alerts and caps: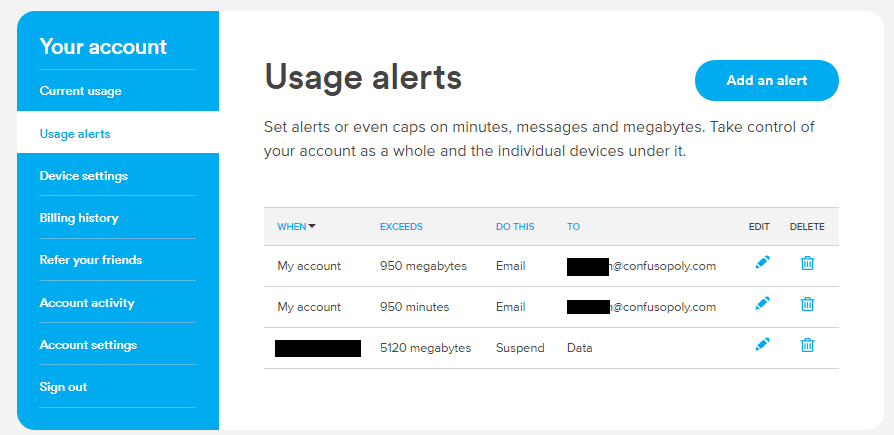 The process for creating new alerts is easy and flexible: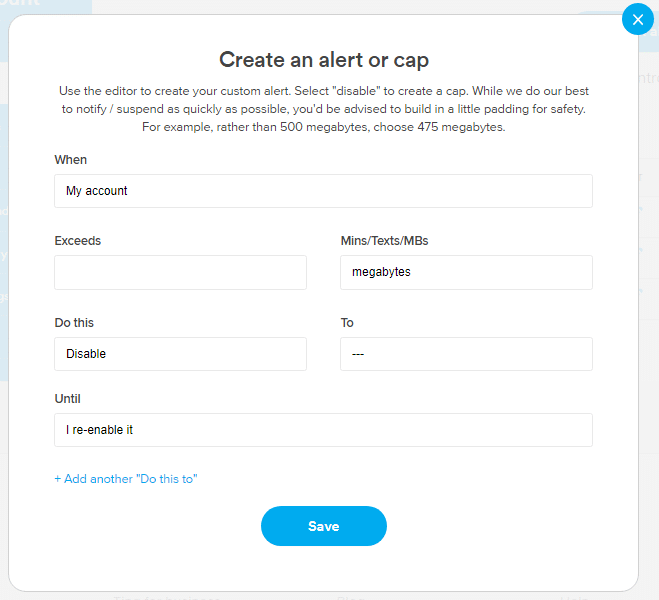 Ting's customer support
Ting's customer support might be the best in the industry. My experience with Ting's support has been positive, and other customers tend to have very positive feelings towards Ting's support team as well.
Phone support
I believe the phone support agents are U.S. based, and they're accessible from 8am to 1am ET Monday through Friday and from 8am to 8pm ET on Saturday and Sunday.10 With Ting, you won't have to deal with phone trees or robot receptionists:
Other support options
In addition to phone-based support, Ting also has an online knowledgebase, a community forum, a ticket system, and chat-based support.
My first experience with Ting
Purchasing a plan
I purchased a Ting plan in February 2019. To order a SIM card, I went to Ting's website, entered my device's IMEI number to check compatibility, and selected the GSM (T-Mobile) network. I paid $1 for the SIM card and $4 for shipping. A few days later, the card arrived along with some basic information from Ting. To activate the card, I went to Ting's website, where I entered my address and selected a new phone number.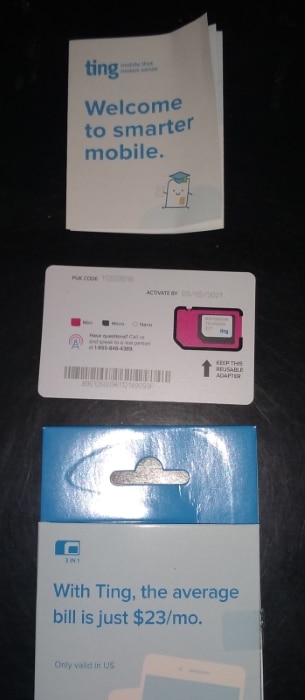 Using the service
Ting's service was good where I live (Boulder, Colorado). I did not notice any throttling or speed caps. Below, I share screenshots from a couple of unsystematic speed tests I ran:
Unless you happen to live where I do, you shouldn't place much weight on my experience. Instead, investigate the quality of the networks Ting uses in your area (instructions here).
Contacting support
I didn't have any problems with my service, so I didn't contact Ting's support until I decided to cancel the plan. Holy shit. My call went straight to a person. The support agent was incredibly nice in a way that didn't feel disingenuous. The call was quick and efficient. However, after finishing the cancellation, I realized the number I called wasn't the main customer support line (there was a special number for cancellations).
To get a sense of what Ting's support might be like for a more typical request, I decided to call the main support number from a different line. I didn't get one of those annoying "Press 1 for [A], Press 2 for [B], …, Press 9 for [C] menus designed to prevent me from talking to a real person unless absolutely necessary. Instead, I got a friendly message explaining that there was not a support agent available immediately, but that I could either hold or press "1" to get called back. I went with the latter option and was called a few minutes later. I didn't want to waste the second agent's time with a fake issue, so I didn't get a sense of the quality of support he could offer.
My second experience with Ting
When Ting launched its service over Verizon's network, I trialed the service a second time. I had a positive experience with Ting over Verizon's network. I discussed that experience in more detail in my post Ting's New Verizon Service: Initial Impressions.
Company background
Ting is owned by the Canadian company Tucows, one of the largest domain registrars. Ting launched in 2012 with service over Sprint's network.11 In 2015, Ting began offering service over T-Mobile's network.12 Ting's service over Verizon's network launched in 2020.13
Potential conflicts of interest
I have financial relationships with many wireless providers, including Ting. For more details about the arrangements, see my transparency page.
---
Visit Ting's website
---
Appendix
Pricing tiers
Below I list the monthly prices for different levels of talk, text, and data usage. Minutes accrue on both calls received and calls made. Texts accrue when messages are sent or received.
Minutes:
0 minutes: +$0
1–100: +$3
101–500: +$9
501–1000: +$18
1001–2100: +$35
2100: +1.9¢/min
Texts:
0 texts: +$0
1–100: +$3
101–1000: +$5
1001–2000: +$8
2001–4800: +$11
Over 4800: +0.25¢/text
Data:
0MB: +$0
1-100MB: +$3
101-500MB: +$10
501MB-1GB: +$16
1GB-2GB: +$20
Above 2GB: +$10/GB
On plans with multiple lines, charges are based on the sum total of usage across all devices on a plan. Ting's rates web page has a calculator where visitors can estimate their usage and see the price of a plan with Ting. None of the prices above include taxes or other fees.
Footnotes