Tello runs over T-Mobile's network and offers some of the best prices in the industry for plans with modest data allotments. For example, Tello offers a no-commitment plan with unlimited talk, unlimited minutes, and 2GB of data for $14 per month. Tello's will provide most subscribers with adequate coverage, but it won't be as extensive as the coverage offered over AT&T or Verizon's networks.
Key Details
Service over T-Mobile's network
Super low prices
Prepaid, no-commitment plans
Flexible plan structures
---
Visit Tello's Website
---
Note:The rest of this review is out-of-date. It was written when Tello ran over Sprint's network.
---
Coverage
Tello offers coverage over Sprint's network. Sprint's network covers a smaller geographic profile than AT&T, T-Mobile, or Verizon's networks. Making matters worse, Tello subscribers won't be able to roam onto all of the non-Sprint networks that many of Sprint's direct subscribers can access. Still, Tello should offer coverage in most well-populated areas. You can check whether coverage is available at specific addresses using the coverage tool on Tello's website.
For more details, visit my dedicated article about Tello's coverage.
Speed
When the network is not congested, Tello should offer speeds comparable to speeds Sprint's direct subscribers receive. Tello subscribers are not throttled at specific, maximum speeds for regular data use.1
As with other carriers, speeds experienced with Tello will vary widely by location. Screenshots from a few unsystematic speed tests I ran in a few parts of Boulder, Colorado can be seen below.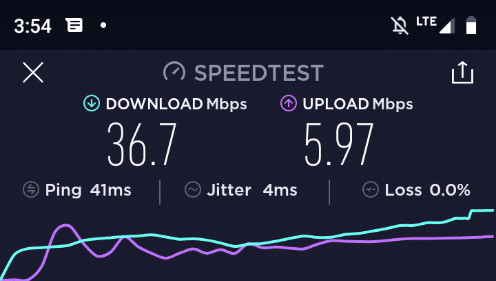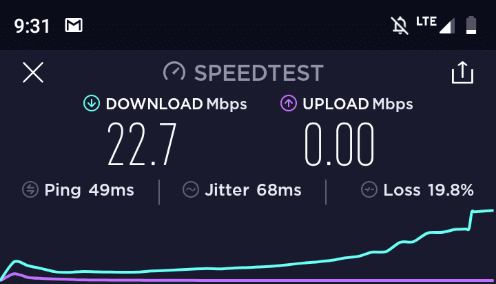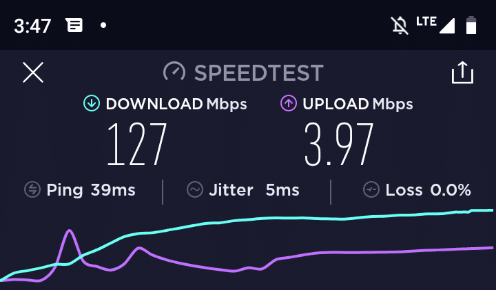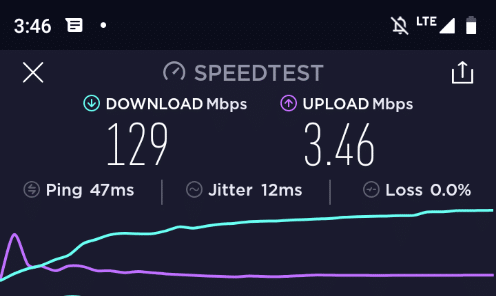 The last screenshot demonstrates a crucial point. Although I maintain that Sprint is the least reliable nationwide network, it still offers excellent service in many areas. The 129Mbps download speed is the fastest I've observed with any carrier in Boulder. My blog post Location. Location. Location. discusses this point in more detail.
Prioritization
Tello subscribers may be deprioritized when the network is congested. While deprioritized, Tello subscribers will experience slower speeds than some of Sprint's direct subscribers. During my trial of Tello's service, I experienced a handful of instances where deprioritization seemed to be causing sluggish speeds even though my phone was receiving a strong signal.
Mobile hotspot
Tello supports mobile hotspot and tethering access. Oddly, Tello's website doesn't say much about their policies around mobile hotspot use. I expect that hotspot use pulls from Tello subscribers' regular data allotments and takes place at typical data speeds, but I haven't confirmed my impression with Tello.
My experience using a mobile hotspot with Tello's service was positive. The screenshot below shows the results of a speed test I ran from my laptop while connected to a mobile hotspot: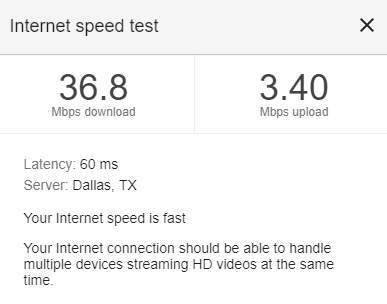 Plans and pricing
Tello offers both custom plans and ready-made plans. The ready-made plans aren't special deals; ready-made plans are priced in the same manner as custom plans.
Ready-made plans
Economy Plan – $10 per month
1GB data
Unlimited minutes
Unlimited texts
Value Plan – $14 per month
2GB data
Unlimited minutes
Unlimited texts
Smart Plan – $19 per month
4GB plan
Unlimited minutes
Unlimited texts
$19 per month
Data plan – $39 per month
12GB data
Unlimited minutes
Unlimited texts
Custom plan pricing structure
Custom plans have a base price of $4. Additional charges are determined based on the allotments of minutes and data customers choose.
Minutes & texts options:
All options other than "no minutes" come with unlimited texts
No minutes: +$0
100 minutes: +$1
300 minutes: +$2
500 minutes: +$3
Unlimited minutes: +$4
Data options:
No data: +$0
500MB: +$1
1GB: +$2
2GB: +$6
4GB: +$11
6GB: +$16
8GB: +$21
12GB: +$31
Reflections on Tello's prices
Tello's prices are amazing. The prices on minutes are hard to beat. Customers that don't need data can get unlimited talking and texting for only $8 per month.
Tello's data prices aren't bad. With limited data use, Tello's plans are super cheap. With moderate data use (e.g., 2GB-6GB per month), Tello's plans are still good deals. Beyond about 6GB of data each month, the prices start to look less appealing.
Features
Wi-Fi calling
Tello offers Wi-Fi calling, but I haven't tested the feature myself. As I understand it, Wi-Fi calling isn't integrated seamlessly. To make calls over Wi-Fi, you'll need to download Tello's app, and use the app to make phone calls. When making calls from the app, your regular phone number will be used. I don't think it's possible to take incoming calls over Wi-Fi.
International use
Tello allows prepaid subscribers to make international calls to Canada, Mexico, and China at no extra charge. Minutes used when calling these countries will be deducted from subscribers' regular allotments of minutes. Subscribers can call and text other countries at rates that are generally reasonable.
Tello does not offer international roaming for those traveling to other countries:2
Unfortunately, we do not offer roaming services or national roaming at this time. However, while you are abroad you can call over WiFi using your account balance with our app, My Tello. The app is available to download and install for free on your Android or iOS device.
Web dashboard
Tello has a web dashboard where subscribers view their activity, see information about their devices, and change aspects of their service. I found the dashboard to be clean and user-friendly.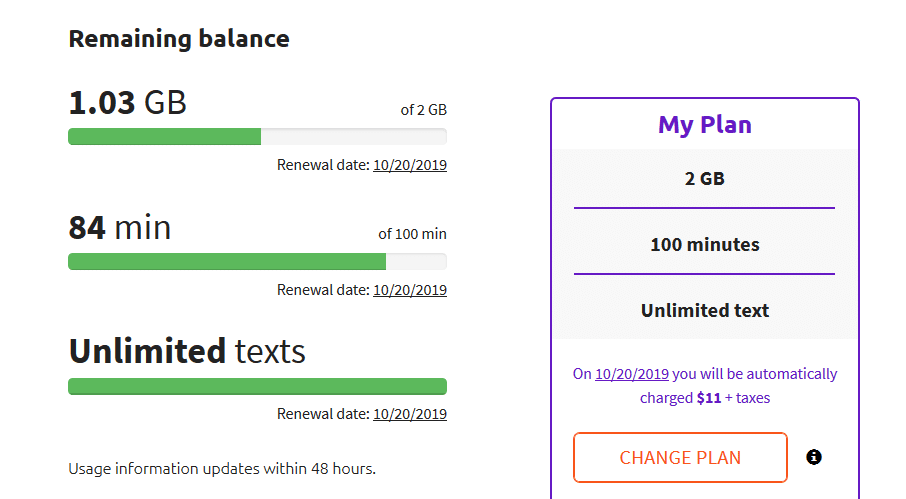 Compatible phones
Tello sells a handful of phones that are compatible with its network. In October 2019, Tello was primarily selling lower-cost devices, including a significant number of refurbished devices. Tello also allows customers to bring their own phones. To bring a phone to Tello, it must be unlocked and compatible with Sprint's network. You can check whether a specific device will work with Tello by entering the device's IMEI number on Tello's website.
Customer support
Tello offers phone-based customer support at 1-866-377-0294. Support messages can also be submitted through an online contact form.
Signing up
I initially purchased Tello service in June of 2019. Selecting a plan and ordering a SIM card was easy. However, Tello canceled my order shortly after I placed it and issued a refund. Around the same time, I had ordered service from another MVNO that uses Sprint's network. With both carriers, I indicated that I intended to use the same phone. The experience was a bit odd, but I don't blame Tello. Normal people are rarely going to try to provision two Sprint SIM cards for the same phone.
In July of 2019, I reordered Tello service. I selected an $11 per month plan that included 2GB of data, 100 minutes of talk, and unlimited texts. I paid an additional $9.99 for a SIM card. Taxes and fees on the order came out to $1.08.
Activating service
Almost all of the MVNOs I've trialed have mailed introductory information or activation instructions along with SIM cards. In Tello's case, I only received a SIM card. I popped the SIM card into my Motorola G7 Play and then followed activation instructions Tello emailed me. I entered some information into Tello's website and clicked a button to activate service. However, my service didn't work immediately. I clicked around Tello's website for a minute and found some instructions I used to get my service working. Overall, the activation process was easy but not seamless.
Company background
Tello first offered service in 2015. Tello's parent company, KeepCalling, has been in the telecommunications space since 2002.
Bottom line
Tello offers exceptionally well-priced service for those that don't use a lot of data. Tello is a great option for budget-sensitive consumers who don't need top-tier coverage or performance.
---
Visit Tello's Website
---
Footnotes
Regular data use is not throttled. Speeds will be throttled when using the low-speed data that is available after all allotted, high-speed data has been used.
The excerpt came from Tello's FAQ page on 10/7/2019.