This review is brief and not up to my usual standards.
Summary
Consumer Cellular is a mobile virtual network operator that offers well-priced plans on AT&T and T-Mobile's networks. The company aims to make its services especially simple and user-friendly to appeal to senior citizens. In my own experience with Consumer Cellular, I ran into a few hiccups, but I think my experience may have been out of the ordinary. If you value simplicity, live in an area where AT&T or T-Mobile offer good coverage, and don't need an unusual amount of data, Consumer Cellular may be worth considering. If you're unsure about the quality of T-Mobile and AT&T's networks where you live, see The Ultimate Guide to U.S. Wireless Service Quality.
My experience
Purchasing a plan
I purchased a Consumer Cellular plan on 2/28/2019. The purchase process was extremely simple. I selected "plans" on Consumer Cellar's website and my options were clearly laid out: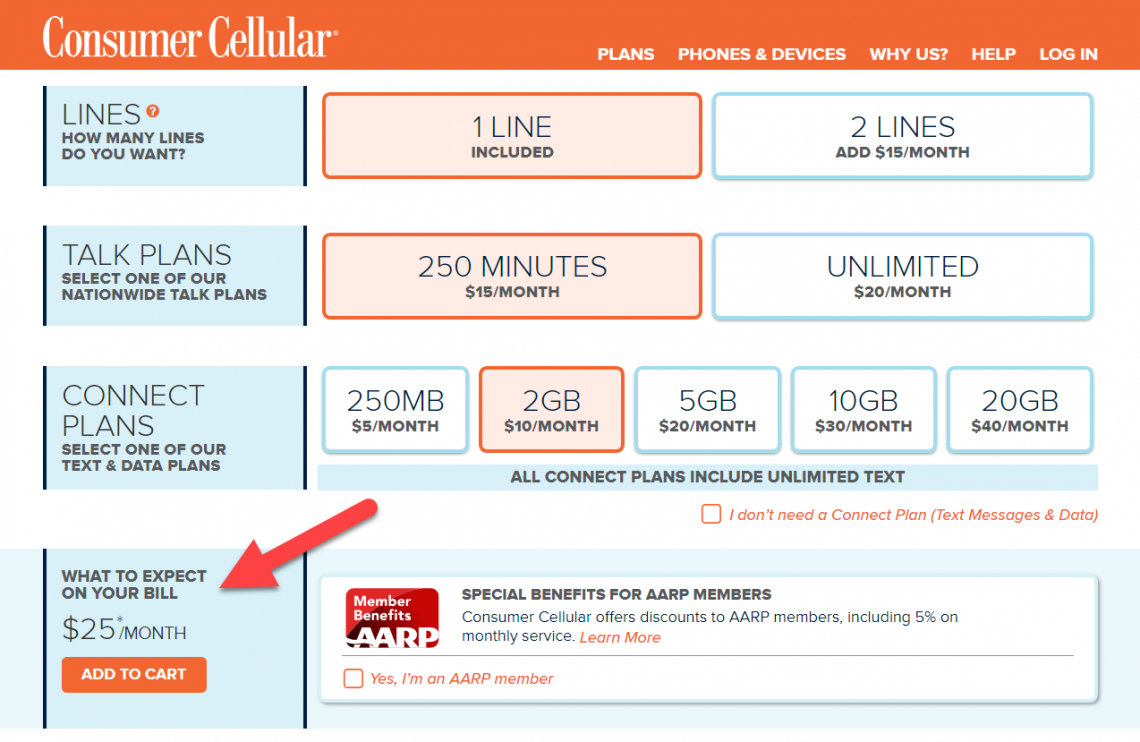 Based on the selections made, Consumer Cellular indicates the expected monthly price (red arrow) and notes that the quoted price doesn't include taxes or fees. After selecting a plan, Consumer Cellular presented me with options for what devices I could purchase, but I went ahead and selected the option to just receive a SIM card.
From there I was presented with this: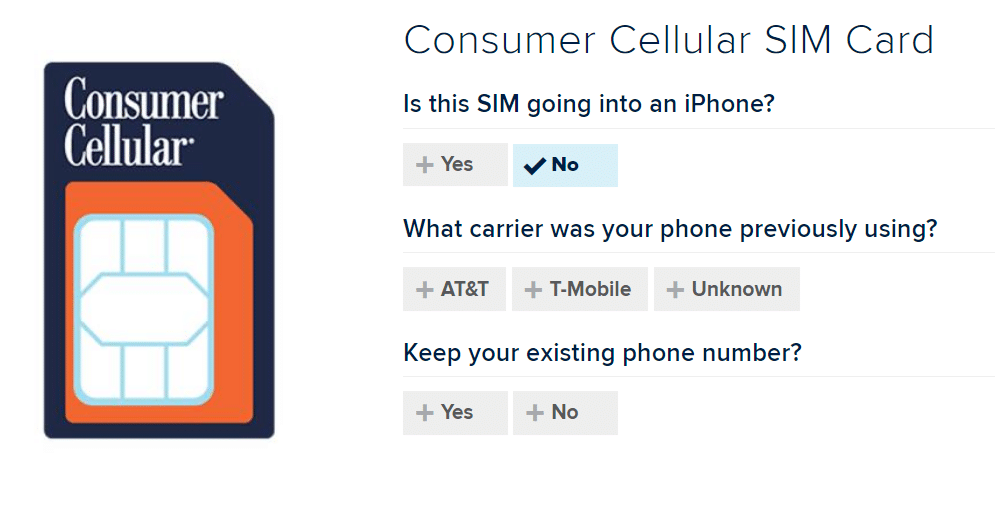 I thought Consumer Cellular could have done a better job here to explain what phones and carriers its service was compatible with. If I was not knowledgeable about wireless service and tried to come to Consumer Cellular from Sprint, Verizon, or any other unmentioned carrier, I probably would have found this step confusing. The SIM was sent to me via free priority mail shipping. I also was able to take advantage of a promotion that made my second month free.1
Starting the service
A few days after ordering, I received some mail from Consumer Cellular.

The materials that came along with the SIM card were clearer and more extensive than what I've received from any other MVNO. I immediately felt like Consumer Cellular was going above and beyond to make its service as user-friendly as possible. But then I ran into surprise complications when I tried to activate the SIM card. The materials said I could activate service online. To do that, I needed to log in with my phone number. I hadn't been issued a phone number yet. The materials didn't make it clear that my situation was a position a consumer could find themselves in. Since I couldn't activate service online, I tried to call to activate my service. I couldn't reach anyone. It turned out support was only available from 4am to 6pm Pacific Time. When I called back during open hours, I was put on hold for 5 or 10 minutes, but a convenient callback option was offered.
Using the service
I found Consumer Cellular's service to be of roughly the same quality that I would expect from direct T-Mobile service. I didn't identify any obvious throttling or speed caps. Below are a couple of images from unsystematic speed tests I ran in Boulder, CO.
Footnotes