This review is not up to my usual standards. I hope to update it soon.
Summary
AT&T's prepaid plans offer access to AT&T's solid network without the high price and commitment of AT&T's postpaid plans. So far, my experience with the service has been positive.
---
View Prepaid Plans on AT&T's Website
---
My experience
In May 2019, I went to AT&T's website to purchase prepaid service. I chose to bring my own device and selected a $35 per month plan ($30/month with automatic payments) that offered unlimited texts, unlimited minutes, and 1GB of data. The ordering process was surprisingly quick and simple. I ordered an AT&T SIM card that was very reasonably prices at $0.99 and the entire order shipped for free. I paid a total of $37.95 which included $1.96 of taxes and/or fees.
A few days later, I received a SIM card, a card with a code for adding money to my prepaid account, and activation instructions: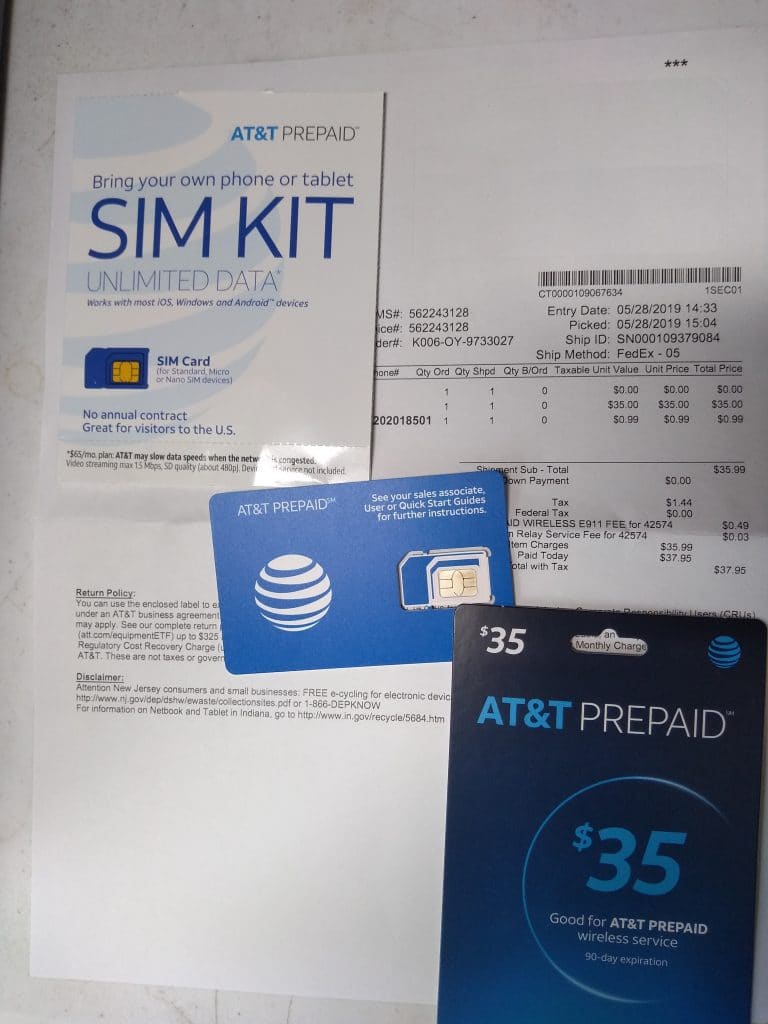 The card had instructions on the back, so I initially followed that set of instructions. Once I realized this set of instructions wouldn't work, I found another set of instructions AT&T sent on a separate piece of paper. I thought the activation process involved more steps than necessary, but it wasn't particularly burdensome. Once the AT&T SIM card was in my phone, I dialed 611 and entered my code to add the $35 credit to my prepaid account. After that, I was told programming was in process and was instructed to turn my phone off for ten minutes. When I turned my phone back on, I still didn't have service. I redialed 611, reentered my code, and successfully added the $35 to my account to activate my plan. It's possible the process involved so many steps because the phone I used was a Kyocera Brigadier which I don't think fully supports AT&T's network. Interestingly, AT&T did not require (or encourage) a pre-purchase IMEI check for compatability as many other carriers do. After activation, I switched the SIM card over to my Motorola G6 Play which I know supports AT&T service.
Using the service
So far, I've been pleased with the service. Speeds are as I would expect from the AT&T network and appear unthrottled. Below are a few screenshots from speedtests I ran in Boulder, Colorado:
As usual, I wouldn't take my personal experience with speeds too seriously since network quality varies by region. If you're curious about AT&T's performance in your area, I recommend reading How to Evaluate Wireless Service.
Based on my assessment, it looks like AT&T's prepaid plans don't have as much roaming access as AT&T's postpaid plans, and I expect prepaid traffic is deprioritized when networks are congested.