Mint Mobile runs over T-Mobile's network. T-Mobile generally offers solid coverage, but its network comes in behind Verizon and AT&T's networks in terms of square miles covered.
Coverage map comparison
The map below is a snapshot Mint Mobile's coverage map as of October 2021. Mint is expected to offer coverage in the green areas. No coverage is available in areas marked in white:
Mint Mobile's map is extremely similar to T-Mobile's map. The snapshot below came from T-Mobile's website. Areas marked in white are not expected to have any coverage.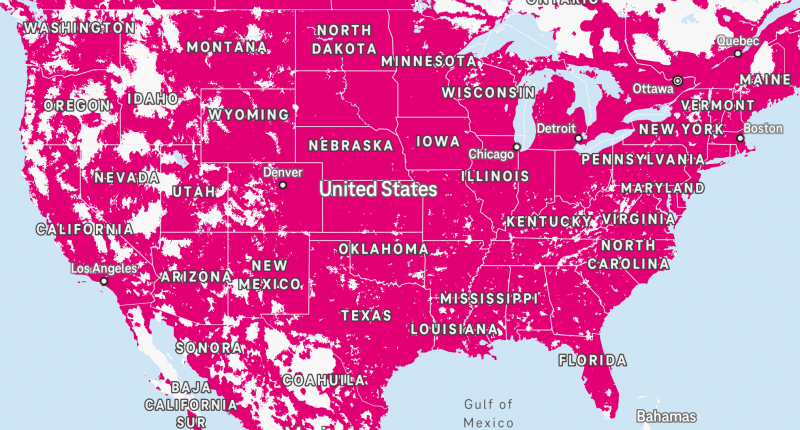 The maps show nearly identical coverage in densely populated areas. In sparsely populated areas, T-Mobile sometimes offers coverage in areas where Mint does not (e.g., central Nebraska). I suspect Mint does not have access to service from some of T-Mobile's roaming partners.
Granular Coverage Details
If you zoom in on Mint's coverage map and select a specific point, you can see granular information about the technologies and frequencies available in a specific location. The screenshot below shows a spot predicted to have 2G, 4G, and 5G coverage. The icons indicate the expected signal strength of each technology.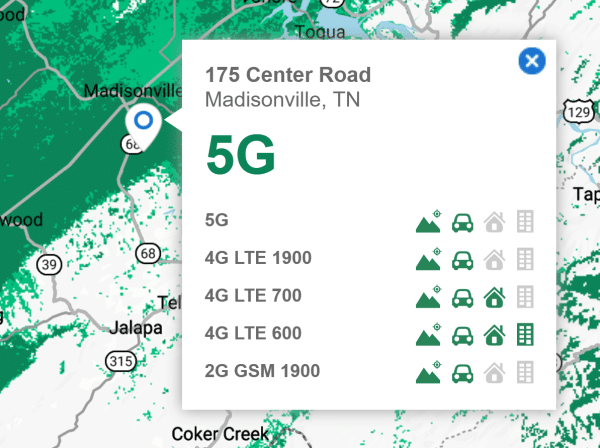 5G Coverage
Mint Mobile subscribers with compatible devices can access T-Mobile's 5G network. 5G access comes at no extra charge and includes T-Mobile's low-band, mid-band, and millimeter wave 5G services.
At the moment, T-Mobile's low-frequency 5G covers over 90% of the US population (300+ million people). While T-Mobile's low-frequency 5G isn't terribly fast, T-Mobile's much faster mid-band 5G covers over 200 million people.
Mint's 5G Coverage Bands
For the technically inclined, Mint offers 5G service over several different 5G bands. On another page, I discuss Mint's LTE bands.
Low-band 5G
Mid-band 5G
Millimeter wave 5G (extremely limited coverage)
n258 (24 GHz)
n261 (28 GHz)
n260 (39 GHz)