Cricket Wireless is a low-cost flanker brand of AT&T. Cricket offers solid coverage along with a user-friendly customer experience. Several of Cricket's plans come with tolerable limits on data speeds.
While Cricket's single-line and limited-data plans aren't outrageously well-priced, the carrier's unlimited plans offer great pricing for three or more lines.
Key details
Runs over AT&T's network
No commitment, prepaid plans
Taxes and fees included on most plans
Throttling & hotspot restrictions on some plans
$10, one-time charge for a SIM card
---
Visit Cricket Wireless' website
---
Plan structure and pricing
Fixed-data plans
Cricket offers two fixed-data plans. Both plans come with unlimited minutes and texts.
2GB of data – $30 per month per line
5GB of data – $40 per month per line
Download speeds on these plans are capped at a maximum of 8Mbps. Upload speeds are capped at 4Mbps. Subscribers who use up all of their allotted data can continue using more data at substantially reduced speeds (128Kbps).
Unlimited plans
Cricket offers two plans with unlimited data, minutes, and texts. The cheaper "Core" plan has limitations that the higher cost "More" plan does not. The price of these plans varies depending on the number of lines on an account.
| Lines | Core | More |
| --- | --- | --- |
| 1 | $55 | $60 |
| 2 | $80 | $90 |
| 3 | $90 | $110 |
| 4 | $100 | $130 |
| 5 | $125 | $160 |
On the Core plan, speeds are capped at a maximum of 3Mbps. While the Core plan does not come with mobile hotspot support, the More plan comes with a 15GB hotspot allowance.
Taxes, fees, other charges
Cricket typically includes taxes in the cost of its plans and does not add extra fees to purchases of phone service. Sales taxes may still be charged on devices, SIM cards, and accessories. New customers will have to make a one-time payment of about $10 per line for Cricket SIM cards.
Reactivation fees
Cricket is unusual among prepaid carriers in charging a reactivation fee to customers that let their plans expire. The reactivation fee is typically $5 on single-line plans and $15 on multi-line plans.1 The reactivation fee can be easily avoided by setting up automatic payments.

Coverage
Cricket runs over AT&T's network. While AT&T doesn't have as extensive a coverage profile as Verizon, it still offers solid coverage. An interactive coverage map can be found on Cricket's website.2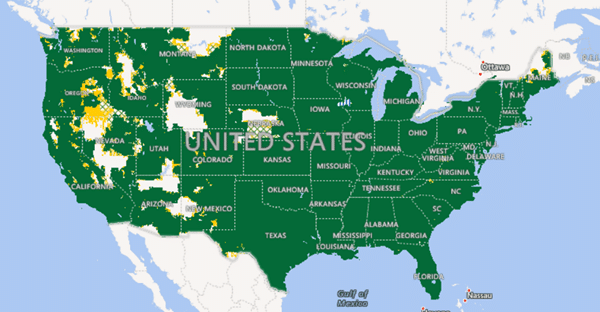 Speed
Speeds with Cricket will depend on the plan a subscriber is using and the area where a subscriber is located. When a subscriber is not throttled and AT&T's network is not congested, speeds with Cricket should be similar to speeds AT&T's own subscribers experience.
Throttled speeds
The speed test results below come from speed tests I ran in Boulder, CO on one of Cricket's throttled plans:
Looking closely at an individual speed test, we can see that speeds briefly spike to about 20Mbps (red arrow) before throttling brings speeds down to a few Mbps.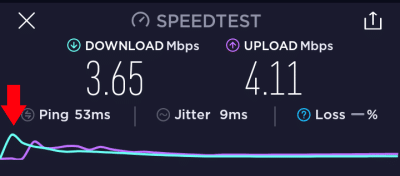 For most users, Cricket's throttling won't cause much trouble. Subscribers should still have an easy time browsing the web, streaming music, and streaming standard-definition video. Downloading apps and other large files may be a bit frustrating with Cricket's throttled plans.
Untrottled speeds
Tests I ran using Cricket's unthrottled, More plan showed much higher speeds than I experienced with a throttled plan: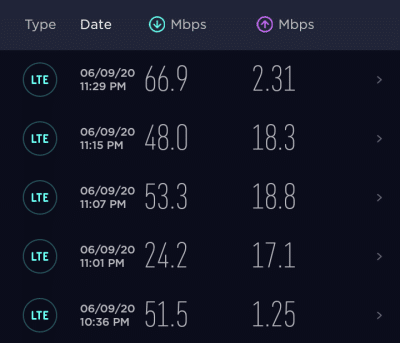 Prioritization
When AT&T's network is congested, subscribers on Cricket's unlimited plan may temporarily experience slower speeds than most other users on the network.
I found a QCI of 8 when running a test on one of Cricket's fixed-data plans. I expect I would find a QCI of 9 on one of Cricket's unlimited plans.


Video throttling
On most of Cricket's plans, video traffic is throttled to standard definition. I confirmed the throttling with a test on the app Wehe: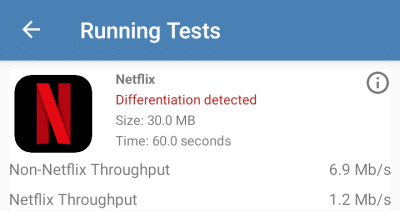 Features
Wi-Fi calling
Cricket allows Wi-Fi calling on a limited number of supported devices. Note that Cricket does not (at least officially) support Wi-Fi calling on any Android phones that customers bring to the network:3
For Wi-Fi Calling capable phones not purchased at Cricket, Wi-Fi Calling will not work on Android. It will work on iOS.
International roaming
Most of Cricket's unlimited plans include coverage in Mexico and most of Canada. Data usage in Mexico and Canada may be slowed to sluggish (2G) speeds.
International roaming is not available outside of Canada and Mexico. Cricket subscribers traveling to other countries may want to purchase temporary SIM cards offered by local wireless carriers.
International calling
Cricket's unlimited plans include calling and texting to Mexico and most of Canada. Cricket also offers international calling add-ons. Some add-ons allow calling to a specific country while others allow calling to many countries.
Customer support
Cricket Wireless offers phone support at 1-800-CRICKET. Phone support is available from Monday through Saturday from 9am to 9pm ET and from 10am to 9pm ET on Sunday.
Online, chat-based support is available Monday through Saturday from 9am to 11pm ET and Sunday from 10am to 11pm ET.
In my limited experience with Cricket's support, I found it the support to be ok but short of exceptional.
Web and app interfaces
Cricket offers a browser-based account interface and a phone app. Both are well-designed and user friendly. In my view, Cricket's app and website blow most other wireless carriers out of the water.
Screenshots
Web interface for plan management: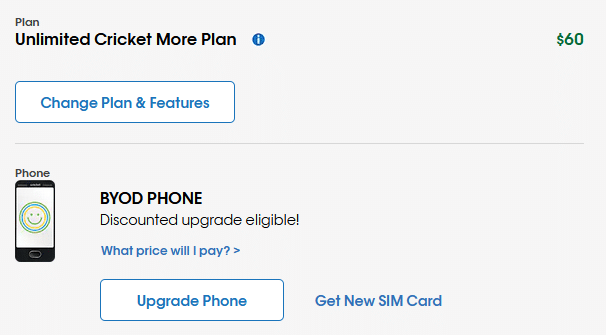 ---
Web interface for payments: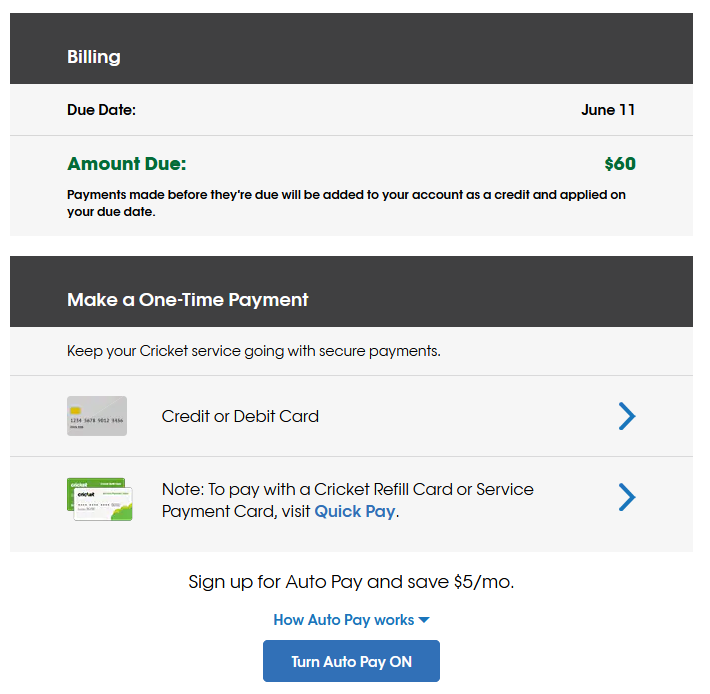 ---
App home screen: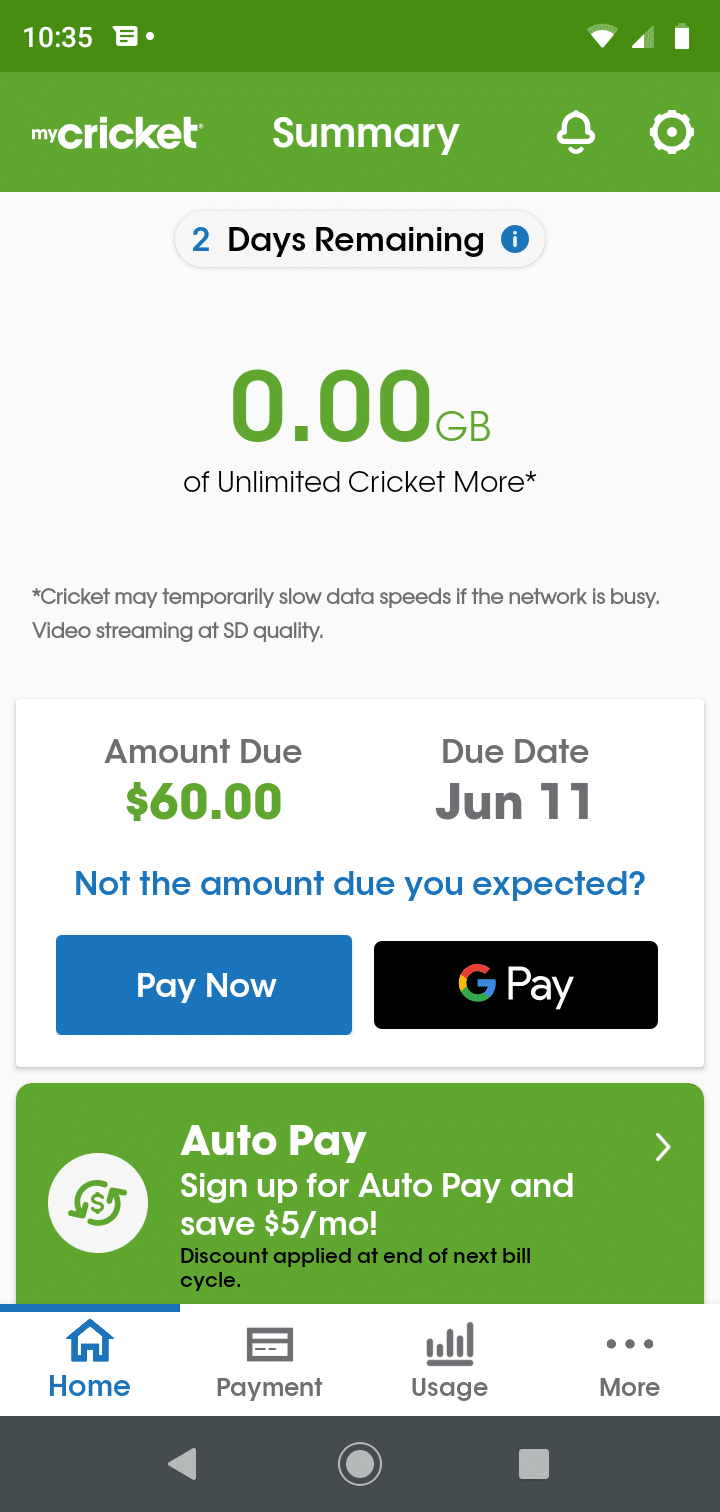 ---
App payments screen: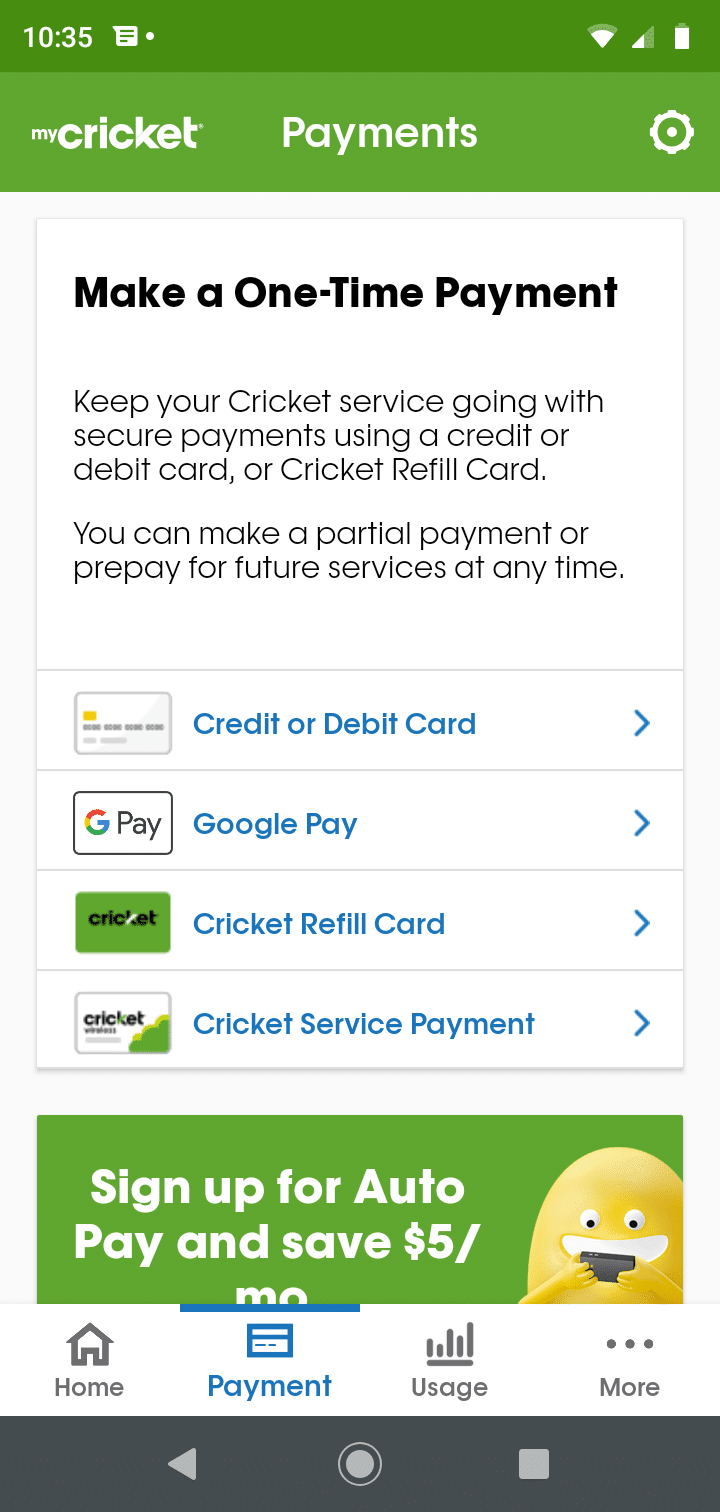 Retail presence
Cricket offers phones and plans at the Cricket website and at Cricket store locations. Cricket has thousands of stores in the U.S. that can be found with Cricket's store locator.
Device compatibility & offerings
Cricket is compatible with a wide range of unlocked phones. Customers looking to bring their own device can check compatibility on Cricket's website.
As of June 2020, Cricket also offered about 35 different phones on its website. A number of budget phones are available for free to new customers that port in a phone number. I didn't dig too deeply into Cricket's device pricing, but it looked like Cricket was offering pretty good deals on a handful of phones.
Signup and activation
In May of 2020, I ordered a promotional plan that offered 2GB of data, unlimited minutes, and unlimited texts for $15 per month. I paid another $10 for a SIM card. I didn't have to pay any extra taxes or fees for my service plan, but I paid about $1 in sales tax on the SIM card. Shipping was free.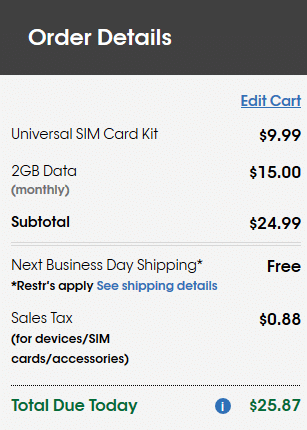 A bit later, a Cricket started kit arrived at my door: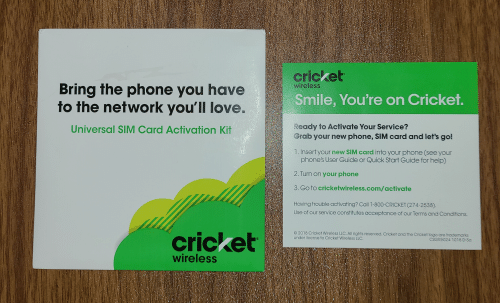 I ended up needing to call Cricket's phone support to get my phone working. The call was quick and easy.
Bottom line
Cricket offers solid coverage and a good all-around experience. The service is especially well-suited to those who want three or more lines of service and don't mind throttled speeds or hotspot restrictions.
---
Visit Cricket Wireless' website
---
Footnotes
Fees as of 6/30/2020. For more info, see Cricket's page on reactivation.
The excerpt was taken from Cricket's Wi-Fi calling page on 6/8/2020.