Many families spend close to $200 per month on cell phone service. Fortunately, large cell phone bills like that are avoidable. There are a handful of excellent, low-cost family plans on the market.
---
Xfinity Mobile

Xfinity Mobile runs over Verizon's extensive network. The service is well-priced, but it is only available to Xfinity Internet customers. All of Xfinity Mobile's plans include unlimited minutes and texts at no charge. Customers pay only for data, and they can choose either (a) an unlimited data option for $45 per month per line or (b) a pay-by-the-gig option. Pay-by-the-gig customers who don't use much data can get service for a shockingly low price.
While Xfinity Mobile's prices are excellent, subscribers should be cautious about indirect costs from being locked into Xfinity-branded services. If an Xfinity Mobile subscriber ceases paying for another Xfinity service, the subscriber will be charged an extra $20 per line each month.
Example plan: 5 lines with 10GB of shared data, unlimited minutes, and unlimited texts for only $12 per line each month.
Xfinity Mobile's website | Coverage map | Review
---
Total Wireless


Total Wireless offers excellent coverage over Verizon's network. Total Wireless' low-cost, family plans come with huge data allotments.
Example plan: 4 lines with 100GB of shared data, unlimited minutes, and unlimited texts for $25 per line each month.

Total Wireless's website | Review
---
Ting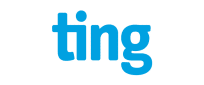 Ting offers subscribers service over one of Verizon, Sprint, or T-Mobile's networks. Ting bills according to a pay-for-what-you-use model. Ting has a base price of $6 per line plus additional charges that depend on the quantity of texts, minutes, and data used across all devices on a plan. Ting can be an excellent option for families that don't use their phones intensely. Ting is not well-priced for heavy data users.
Example plan: 4 lines with 500 shared minutes, 2000 shared texts, and 2GB of shared data for $15.25 per line each month.
Ting's website | Coverage map | Review