Earlier this month, AT&T published a news release claiming: "AT&T is the 'Nation's Fastest Wireless Network' in 2019". The claim is based on data collected by Ookla, the company behind Speedtest.net.
In the piece, AT&T writes:

With over 10 million consumer-initiated tests taken daily with Speedtest, Ookla provides invaluable insight into the performance, quality and accessibility of networks worldwide.
Ookla's reliance on consumer-initiated tests has serious downsides. For example, consumers on different networks use different kinds of phones. Premium phones tend to have hardware that supports faster connections than cheap phones. If subscribers on Network A tend to run tests using premium phones while subscribers on Network B tend to run tests from budget phones, Network A is going to have an advantage in consumer-initiated tests that's unrelated to underlying network performance.
Ookla's methodology is also prone to selection bias. Consumer-initiated tests don't occur among a randomly selected sample of subscribers on each network. Consequently, test results likely aren't representative of typical network performance. There was a clear case of this problem when AT&T began misleadingly labeling some of its 4G service "5GE." Here's an excerpt from a Speedtest.net blog post:[1]
In the final week of Q1, we also observed an increase in faster tests taken on AT&T's network. Upon investigation, we discovered that this correlated with the release of iOS 12.2 and the roll out of AT&T's 5G E icon. We also found that the increase in tests was coming from device models that would have started to display the 5G E icon, such as the newer generations of iPhone (XR, XS Max, XS, X, 8, 8 Plus), indicating that consumers were seeing the new icon and taking a test to see what speeds they were getting.
While no method for evaluating mobile network performance is perfect, I tend to think Opensignal and RootMetrics use methodologies that are more reliable than Ookla's. AT&T didn't take the top spot for speeds in RootMetrics' most recent report or Opensignal's most recent report.
Silly criticisms
AT&T's news release includes ridiculous digs at competitors:

Speedtest results show we increased our speeds by 45.7% year-over-year, while one of our competitors never 'checked the box' on speed with only a 16.5% increase year over year and the other defined what it meant to be 'Un-speedy' with only a 9.4% increase year over year.
Year-over-year changes in average speeds don't on their own indicate whether networks are fast. A visual in the news release is illuminating: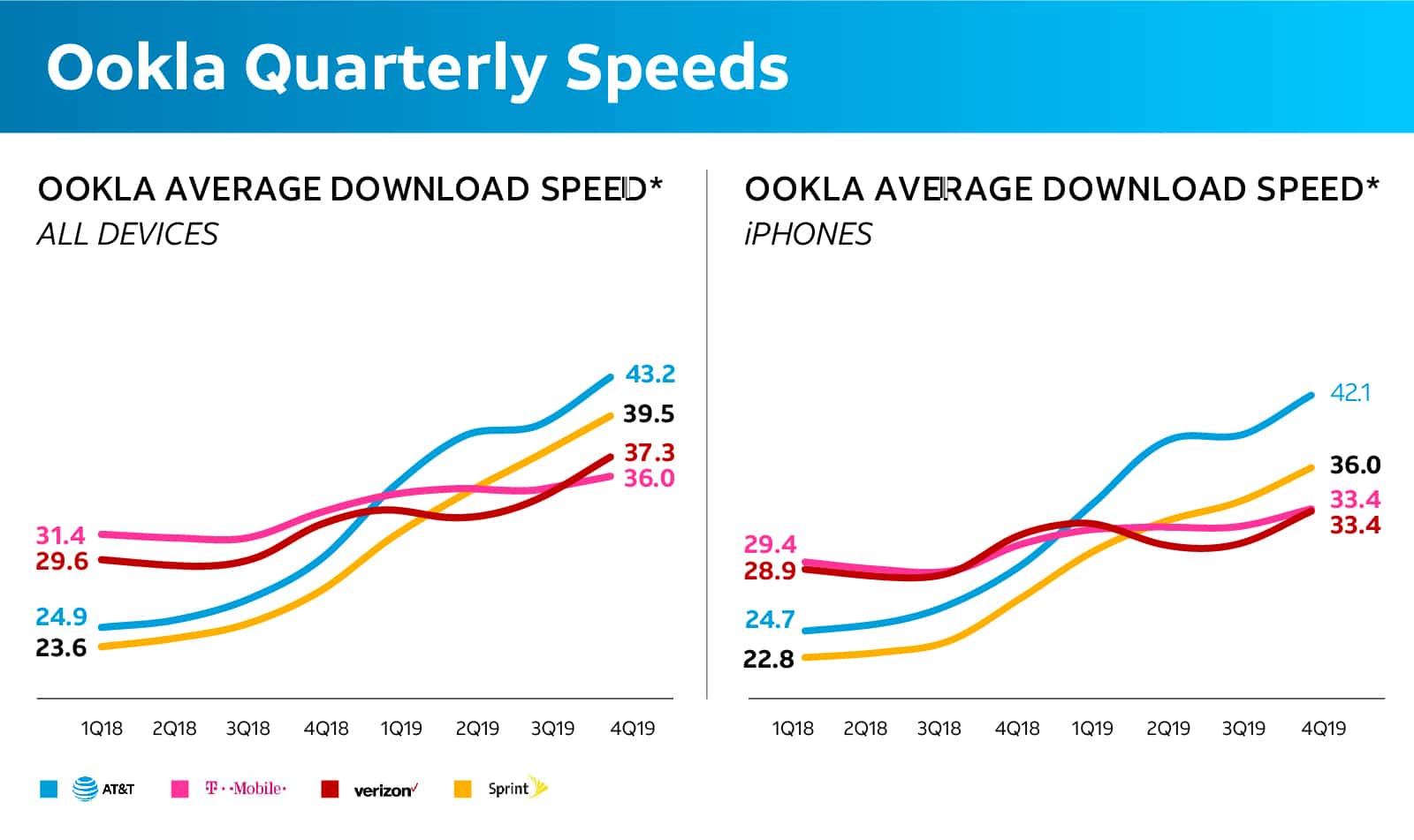 AT&T performed poorly relative to T-Mobile and Verizon in early 2018. In a sense, AT&T was able to get a 45.7% year-over-year increase in speeds because it performed so poorly in 2018.
Consistency
I'd argue that AT&T's news release ignores the most important part of Speedtest's 2019 report. In my opinion, average speed is overrated. For most consumers, it's far more important to consistently have decent speeds than to have high average speeds.
Ookla reports a consistency metric based on the proportion of tests that exceed a threshold of 5Mbps. Verizon takes the top spot on this metric, followed by T-Mobile, with AT&T coming in third. Verizon also beats out AT&T for coverage availability, another metric that can act as a proxy for consistency.[2]
Bias against Verizon
In Ookla's main analyses, data is only included from "competitive geographies." Competitive geographies only include areas where Ookla has a substantial number of test results from at least three major networks.[3] There are defensible reasons for Ookla to use the competitive geographies filter. However, it should be acknowledged that Verizon has the nation's most extensive network and likely outperforms AT&T and other networks in non-competitive geographies.[4]
Footnotes