I've been reading a ton of articles with commentators' takes on whether a merger between Sprint and T-Mobile will be good or bad for consumers. Almost everything I've read has taken a strong position one way or the other. I don't think I've seen a single article that expressed substantial uncertainty about whether a merger would be good or bad.
It could be that everyone is hugely biased on both sides of the argument. Or maybe the deal is so bad that only incredibly biased people would consider making an argument that the merger will be good for consumers. I'm not sure.
---
I like to look at how markets handle situations I'm uncertain about. In the last few years, I've regularly seen liberal politicians and liberal news agencies arguing that we're about to see the end of Trump's presidency because of some supposedly impeachable action that just came to light. I'm not Trump's biggest fan, but I've found a lot of arguments about how he's about to be impeached too far-fetched. I have a habit of going to the political betting market PredictIt when I see new arguments of this sort. PredictIt has markets on lots of topics, including whether or not Trump will be impeached.
Politicians and newspapers have an incentive to say things that will generate attention. A lot of the time, doing what gets attention is at odds with saying what's true. People putting money in markets have incentives that are better aligned with truth.
Most of the time I've seen articles about Trump's impending impeachment, political betting markets haven't moved much. In rare occasions where markets moved significantly, I've had a good indication that something major actually happened.
---
Wall Street investors have a strong incentive to understand how the merger will actually affect network operators' success. Unsurprisingly, T-Mobile's stock increased substantially when key information indicating likely approval of a merger came out. Sprint's stock also increased in value.
What's much weirder is that neither Verizon's stock nor AT&T's stock seemed to take a negative hit on the days when important information about the merger's likelihood came out. In fact, it actually looks like the stocks may have increased slightly in value.1
You could tell complicated stories to explain why a merger could be good for competing companies' stock prices and also good for consumers. I think the simpler story is much more plausible: Wall Street is betting the merger will be bad for consumers.
Maybe none of this should be surprising. There were other honest signals earlier on in the approval process. As far as I can tell, neither Verizon nor AT&T seriously resisted the merger:2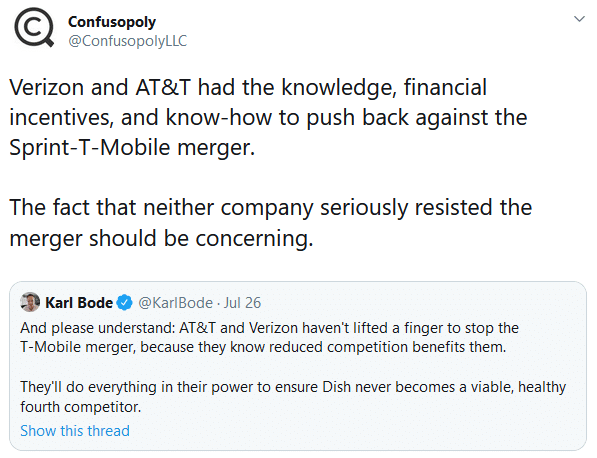 ---
Disclosure: At the time of writing, I have financial relationships with a bunch of telecommunications companies, including all of the major U.S. network operators except T-Mobile.